Remains of nine brown bears, slain and mutilated by poachers, were found by mushroom pickers
A hunting expert called in to analyse the horrifying discovery confirmed that all the animals - including several young creatures - were violently trapped and slain.
'The brown bears were killed in the most barbaric way,' said biologist Bimba Yumov.
'Poachers put the traps out, which even the bears cannot escape from, then came to finish the animals with the shot to the head.'
He stressed: 'The bears were sitting, trapped, like chained dogs. This was the only way the poachers could have shot them in the head.
'If it was the usual type of hunting, with the bear freely walking around, they would not have been able to get the animals in their heads, it is extremely unlikely - they would aim at other parts of their bodies.
'I am 100% confident that this was the work of poachers. You will not otherwise have nine skulls with identical type of bullet shots.'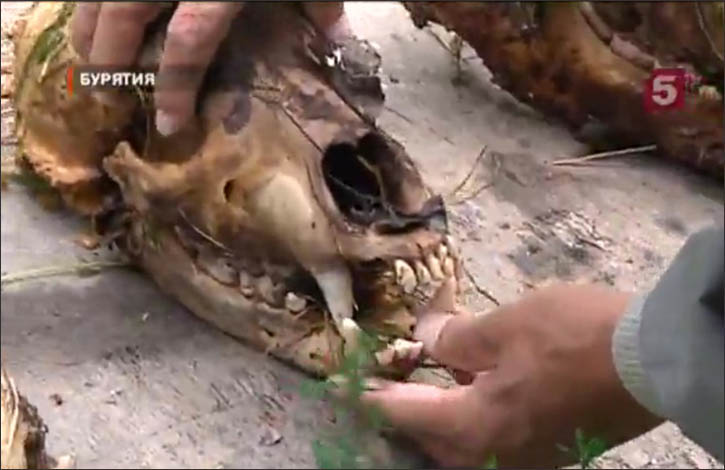 ---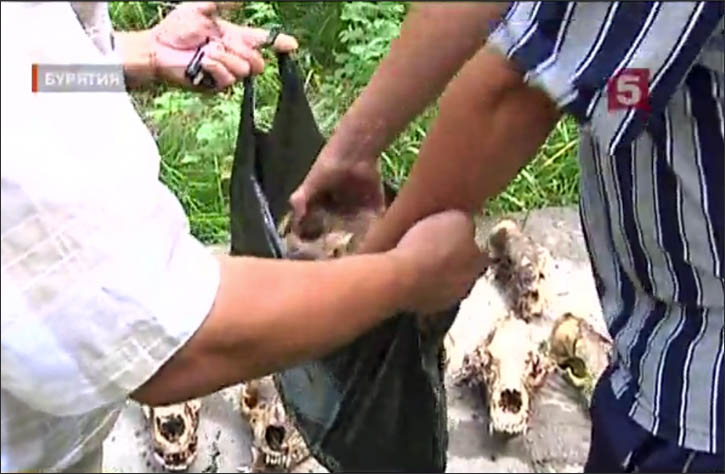 Channel 5 TV report, showing the skulls of the bears
---
All the remains in the macabre bears' cemetery were skinned and their their paws hacked off. Fat and bile was also removed, it is understood. The bears were all slain in the last six months, say experts
The fear is that the poaching was undertaken as an order from the Chinese black market where bear products have a high value as delicacies and for medicinal purposes.
The remains were most likely brought to the 'graveyard' in winter, and not hidden properly in the frozen ground.
The animals were found close to a suburb of the Buryatian capital of Ulan-Ude, but it is likely they were trapped and killed in a more remote location.
Experts suspect they were brought closer to the city to be dismembered before the high-value remains were smuggled to China.
Reports say it is unlikely the poachers will ever be found and punished.
'Such a quantity of skulls has never before been found,' said Maxim Urazayev, of Channel 5 in Ulan-Ude.
The mushroom gatherers alerted the TV station to the sinister discovery. Channel 5 then exposed the scandal.
Recently, Blagoveschensk Customs detained a Mercedes with 115 bear paws was thwarted near the village of Atamanovka in Trans-Baikal Territory.
The driver, an Ulan-Ude resident, explained that it was a cargo from Buryatia to be delivered to the village of Zabaikalsk located near the Russian-Chinese border. He did not present any documents or export papers for the gruesome cargo delivery.
The driver could not explain where the horrendous cargo came from, nor could he say who ordered it.
The found bear paws were packed and prepared for sale. A special label was fixed to each paw.
It is estimated that black market price for a kilogram of brown bear's paw is about $1000.
Vitaliy Shabanov, spokesman for Blagoveschensk Customs, said: 'We catch this kind of illegal cargo once every three months. It is one of the most widespread types of smuggling here.'