'Why on earth would they do it, what made these thugs attack?' Picture: Alexey Sergeyevich
The appalling video shows a drunken man battering the bear in the unprovoked incident as his laughing friend stands watching nearby. The little bear, which had been looking for food in the woods near the Priobskoye oil field, in Khanty-Mansiysk, western Siberia, is then dragged by its collar to a car.
Two men - reported as Igor Nikitenko, 28, from Langepas but living in Sibirsky village and Ukrainian national Yuri Rysakov, 25, who has lived in Yugra since March 2013 – have been arrested and face criminal charges of cruelty to the animal.
But there is growing anger at their actions, particularly as they may only escape with a fine. The footage was uploaded to YouTube, where hundreds of people have expressed their horror at the attack.
'Why on earth would they do it?' wrote one person online. 'What made these thugs attack? There is no profit, even if they were to kill it – no fur, no meat. It was like killing a kitten'.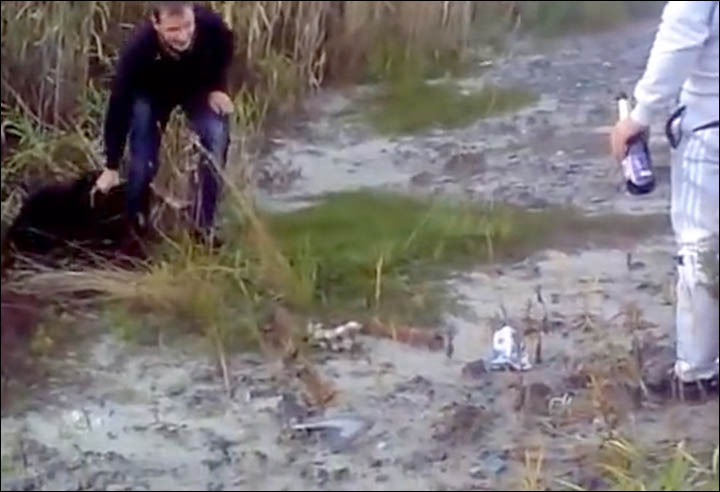 Yugra Police Office confirmed that a criminal case on animal cruelty has been opened. Picture: Alexey Sergeyevich
The footage was shot by a worker who was observing two cubs that had recently lost their mother in woods near the vast oil field. The bears had grown used to people, having been tamed by workers who fed them and they even had collars around their necks.
It meant the young animals had no fear when approached, leaving them vulnerable to a potential attack like the one captured on film.
The oil worker had been filming the bears leaving woods when two men, drinking from large bottles of beer, got out of a car and approached the animals.
Encouraged by his laughing friend, one of the men picked up a 5ft-long metal pipe - so heavy he could barely lift it – and brought it down on the cub's head as it tried to back away. The worker filming the footage is heard shouting 'What are you doing?' but fearful for his own safety chooses not to confront the louts.
The lifeless bear was then dragged along the ground by the collar to the boot of the men's car before the video ends. It is not known if the cub was put into the car, or if it was dead, but workers say it has not been seen again.
Alexey, the man who uploaded the footage to YouTube, told the Siberian Times: 'The sickening moment was filmed when both cubs came out to eat, and one of the oil workers decided to film them eating, not expecting this drunk scumbag to do what he has done. Perhaps a maximum punishment he will get will be a fine for being violent towards animals.
'They said they had let the cub go and it got better but no one ever saw it again after that incident and now only one bear gets out to eat'.
The Priobskoye oil field occupies a vast 5,466 sq km area along the banks of the Ob River, 40 miles from the city of Khanty-Mansiysk.
Bears are common in this part of western Siberia with people often holding a special Bear Celebration after hunting expeditions.
The festivities usually last up to six days with more than 300 songs and performances, including that of Nukh Kiltatty Ar, which means the Awakening Song.
The Khanty-Mansiysk Nature Protection Watchdog said the two men had been quickly identified, while Yugra Police Office confirmed that a criminal case on animal cruelty has been opened. A police spokesperson added: 'Nikitenko came to the police and wrote a confession'.