Anton Salchak, second from the left, pictured here two years ago after winning a kickboxing competition. Picture: Republic of Tyva government
Fears are rising for the fate of the young sportsmen, two wrestlers and five kickboxers, who were lost on a remote mountainside on Sunday.
The 14 to 18 year olds were lost after a five metre-high avalanche engulfed them.
Only one of the group escaped, European kickboxing champion Anton Salchak, 17, to sound the alarm with the authorities.
He went on his own to the closest camp of shepherd Biche-ool Adar-ool, sparking a search involving several hundred rescuers.
But poor weather and the threat of new avalanches meant a stop-go search as the chances of finding the six alive were reducing.
Salchak was among those searching for his friends.
'The search-and-rescue operation resumed at 09:30 Moscow time at the avalanche fall site in the Taigansky district of the republic.
'The search operation was earlier suspended over deteriorated weather conditions, particularly over an avalanche threat', said a source in the national centre of management in emergency situations, reported Itar-Tass.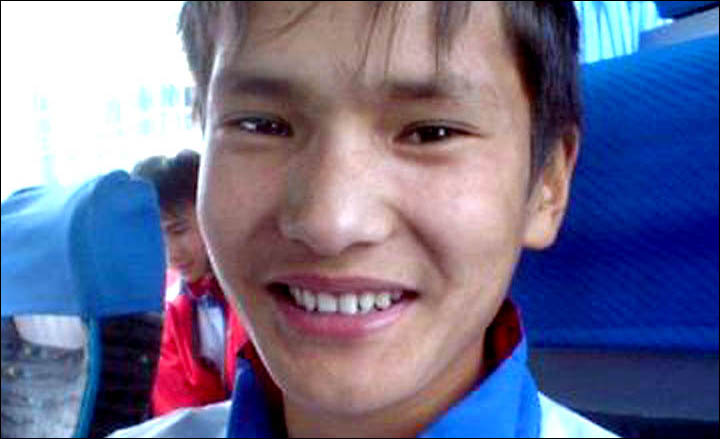 Anton Salchak, 17, has miraculously escaped the avalanche; he is now working together with search-and-rescue brigades. Picture: Republic of Tyva government
The sportsmen were evidently seeking to place 'good luck' flags on a mountain near the Russian border with Mongolia, some 5,000 kilometres east of Moscow. The placing of such flags is a local ritual and the group had done it previously.
However, on this occasion they skied down Ak-Bashtyg mountain, which has a peak of 3,250 metres.
'The avalanche is five-to-six metres deep, 200 metres wide and 600 metres long', a source in the Russian national emergency situation management centre told Itar-Tass.
A hotline has been opened for relatives and psychologists were on round the clock standby, said reports.
Tyva Republic's leader Sholban Kara-ool was heading to the scene on Monday, having earlier sent other senior officials.
'The tragedy happened because of the reckless venture undertaken by the boys,' complained Russia's Children's Rights Commissioner Pavel Astakhov in a Tweet.
'Now we are trying to find out where their parents are'.
The accident was 6 km from the village of Mugur-Aksy.