A cloned laika puppy meets its biological 'mother'. Picture: RUPTLY
Barking mad or the way to the future as cloned Laika dogs come home to Yakutia?
Here we see six year old mother Suutuk come face to face with the puppy she never knew she had cloned in a laboratory in South Korea.
They appear to be eyeing each other a little suspiciously on a farm in Russia's coldest region, also called the Sakha Republic.
And Suutuk had no chance to suckle her laboratory baby born three months ago.
But the mother and puppy Kerechene, meaning 'beautiful' in the local Yakutian language, were soon playing happily together.
'I can't really believe that it [the puppy] is a clone. If you look at the original, you can see that they both look alike,' said owner Dmitry, seen in the picture holding Kerechene.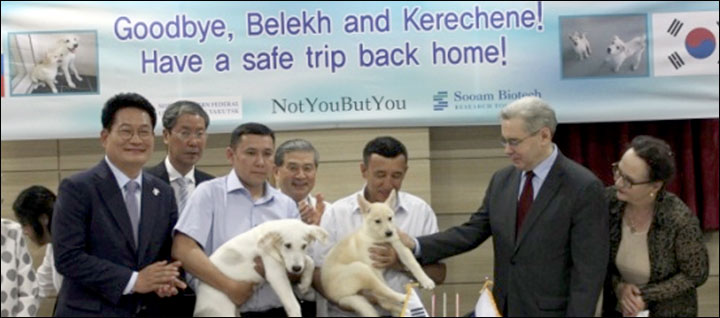 ---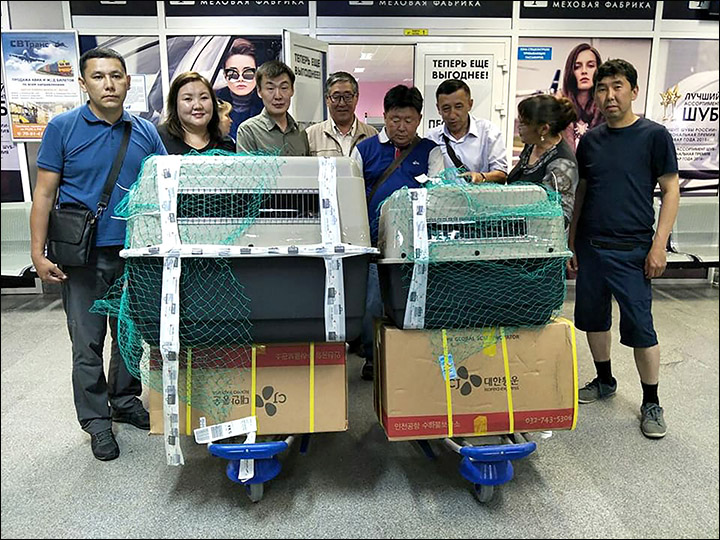 ---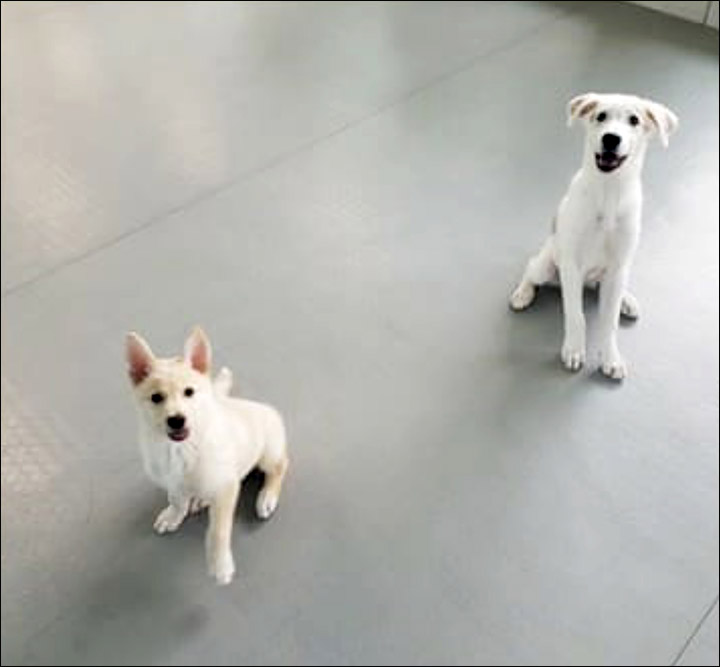 ---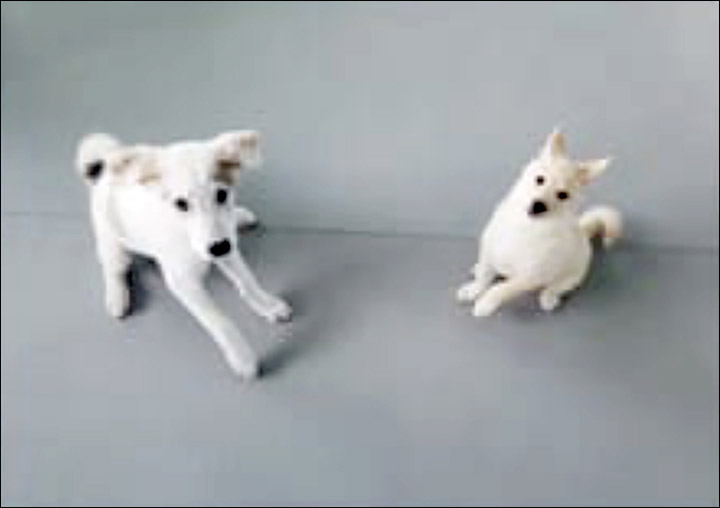 ---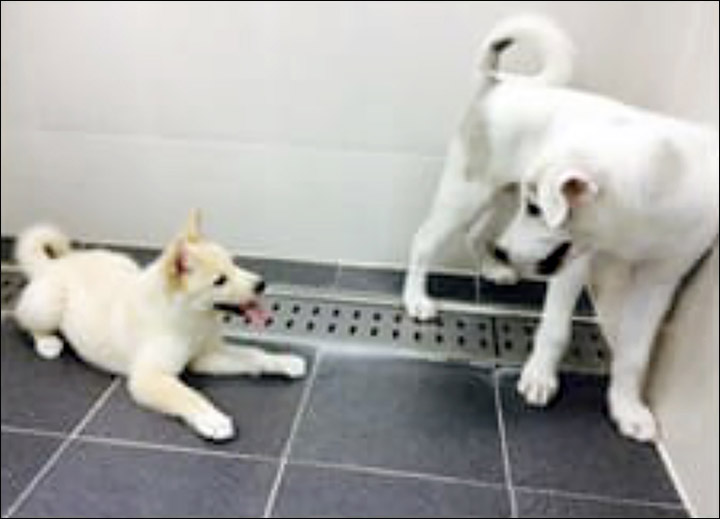 From South Korea to Yakutia, cloned laika dogs. Pictures: Semyon Grigoryev
---
Scientists also cloned a three-month-old male called Belekh, which means 'present'. The father is a 12 year old Laika.
Experts say that the lab-made animals can help to save the Laika species, which is under threat due to cross breeding.
The animals are famously used to pull sledges in winter.
The puppies, cloned by South Korea's Sooam Biotech Research Foundation, arrived in Yakutsk, the capital of Siberia's Yakutia Republic, last week.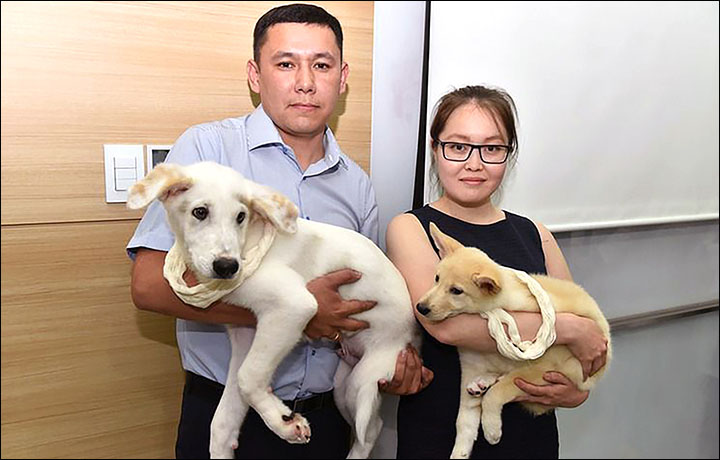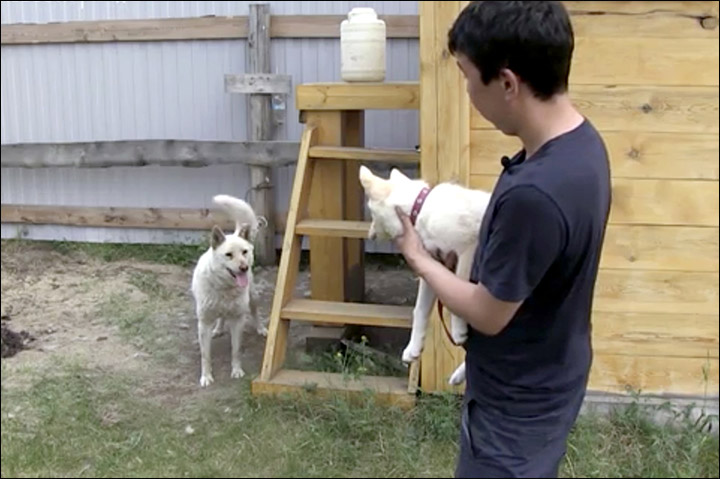 The moment cloned laika puppy meets its biological 'mother'. Pictures: Ruptly
---
This project was conducted jointly with the North-Eastern Federal University in Russia.
The research was led by Dr. Hwang Woo Suk and his team, which has close ties to Yakutia - also known as the Sakha Republic, and they are also seeking to clone extinct Siberian animals such as the woolly mammoth.
'The collaboration with the South Korean scientific laboratory is aimed at saving the original Yukutian Laika breed, whose population has seen drastic decline over past decades due to cross-breeding,' reported RT.
The puppies will be studied for genetic research.
Experts from the Yakutsk university say the puppies' behaviour 'corresponds to the norms of development, and the specialists note that they have a high ability to learn and communicate'.
The breed is used as working dogs in Yakutia.
Dr. Hwang Woo Suk in Yakutia and inside Sooam Biotech Research Foundation laboratories. Pictures: Semyon Grigoryev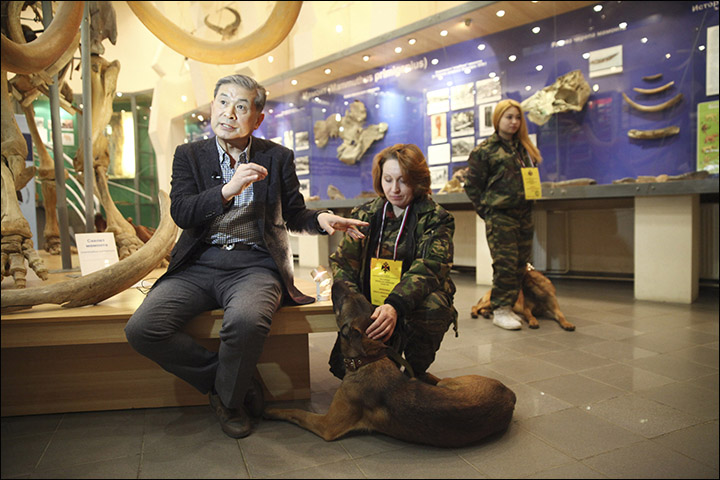 ---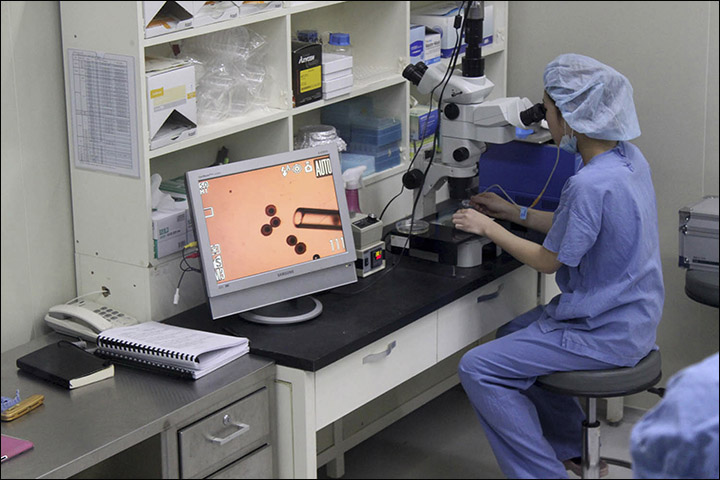 ---