New funnel in Yerkuta is reported to be 8 meters in diameters and about 20 meters deep. Picture: Alexandr Sokolov
Scientists have located two fresh craters formed on Yamal peninsula this year, with the latest exploding on 28 June with the eruption picked up by new seismic sensors specifically designed to monitor such events, The Siberian Times can disclose.
First pictures of the large craters - or funnels as experts call them - are shown here, and add to four other big holes found in recent years and examined by experts, plus dozens of tiny ones spotted by satellite.
The formation of both craters involved an explosion followed by fire, evidently signs of the eruption of methane gas pockets under the Yamal surface.
People in Seyakha village heard a 'loud explosion-like bang' then saw a fire and clouds of black smoke, according to reports.
Deputy director of the Oil and Gas Research Institute, Moscow, Professor Vasily Bogoyavlensky said: 'We heard the news (about the new crater) from a friend who saw a flame of fire and then a rising pillar of smoke.'
The head of Seyakha village, Igor Okotetto, confirmed he gad been told about the explosion.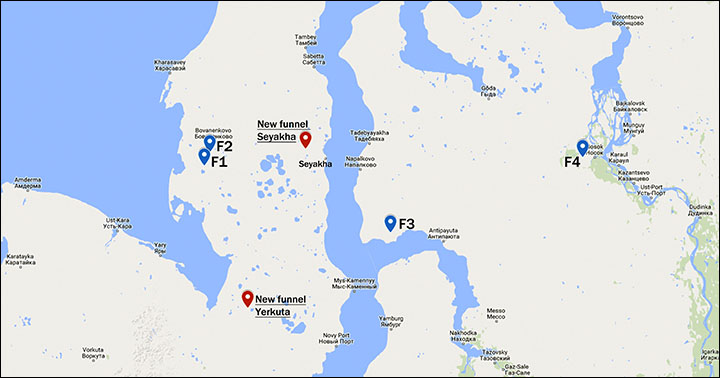 ---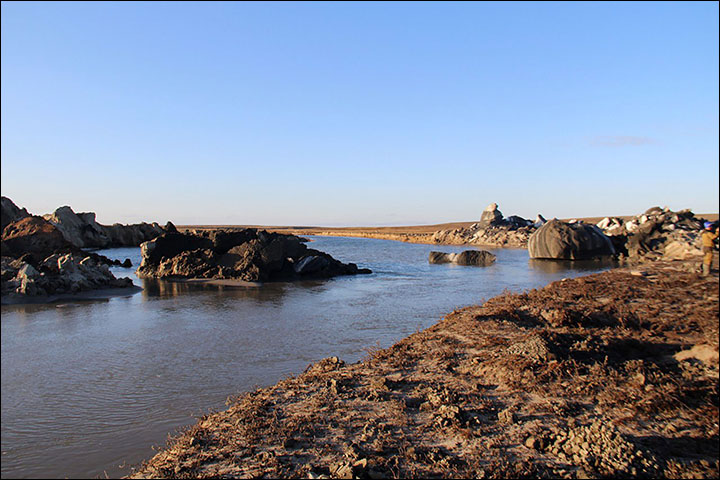 ---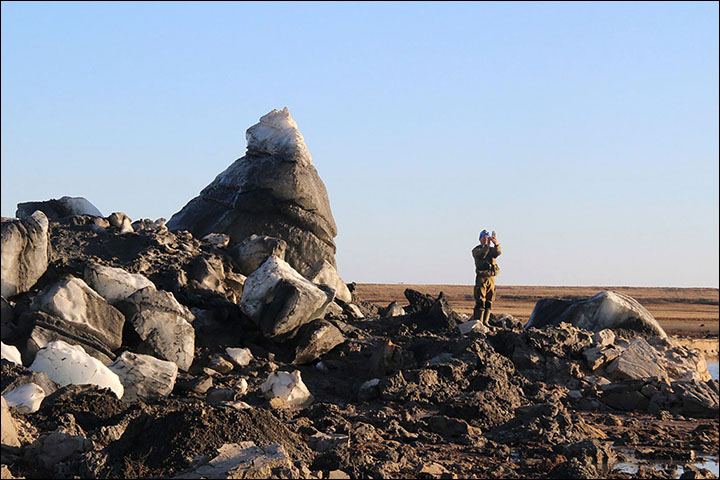 ---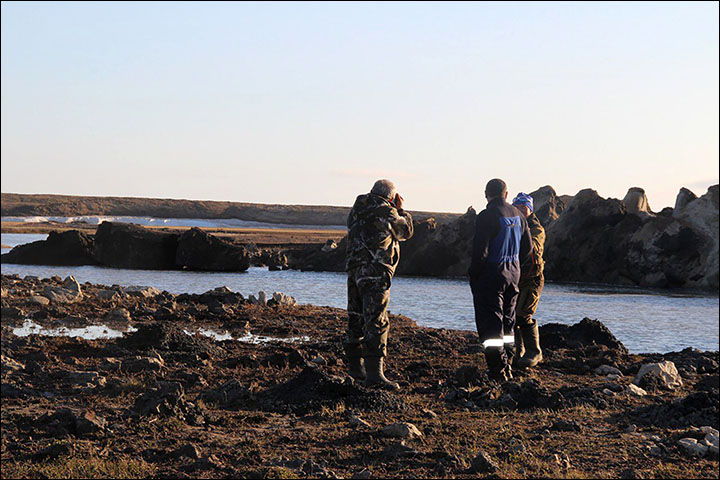 ---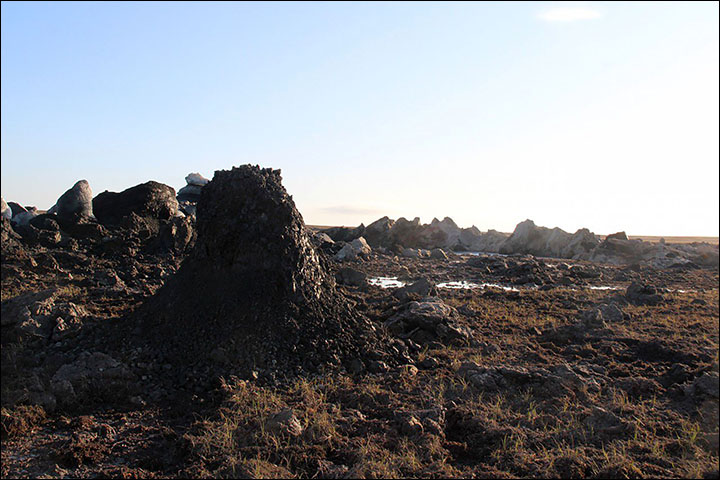 Map shows previously known funnels, according to professor Vasily Bogoyavlensky: F1 - famous Yamal funnel some 30 kilometres from Bovanenkovo, F2 - recently detected crater 10 kilometres to the south from Bovanenkovo, F3 - crater located 90 kilometres from Antipayuta village; F4 - crater located near Nosok village, north of Krasnoyarsk region, near Taimyr Peninsula. Other pictures show new funnel that formed on 28 June 2017. Pictures: The Siberian Times, Yamal Region
---
Reindeer herder Mikhail Okotetto gave details of the explosion to Vesti-Yamal television of the explosion by phone, evidently citing another herder close to the event.
On 28 June 'there was short but mighty fire' around 10.25 am, he said.
It was registered by seismic sensors as being timed around 35 minutes later.
'It happened some 35 to 40 kilometres north-west of Seyakha,' he said on local TV. 'Reindeer herder Yakov Vengo has a camp there.
'There was a hill not far from the camp, and it exploded.
'There were fire, smoke and huge chunks of soil 'flying out' of the epicentre.
'The hill has vanished.'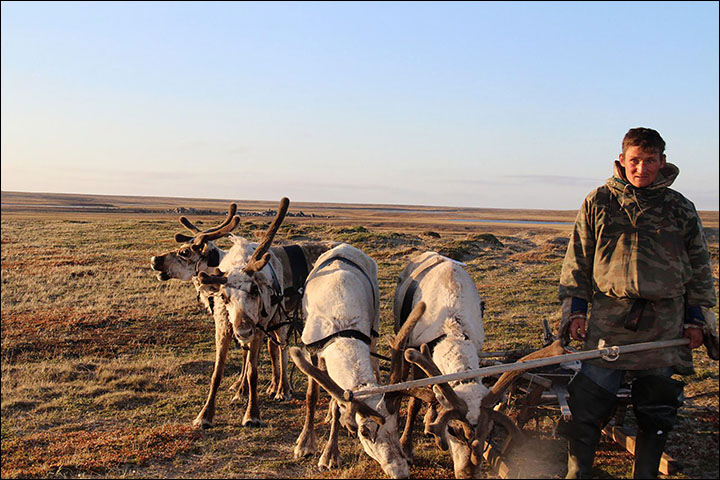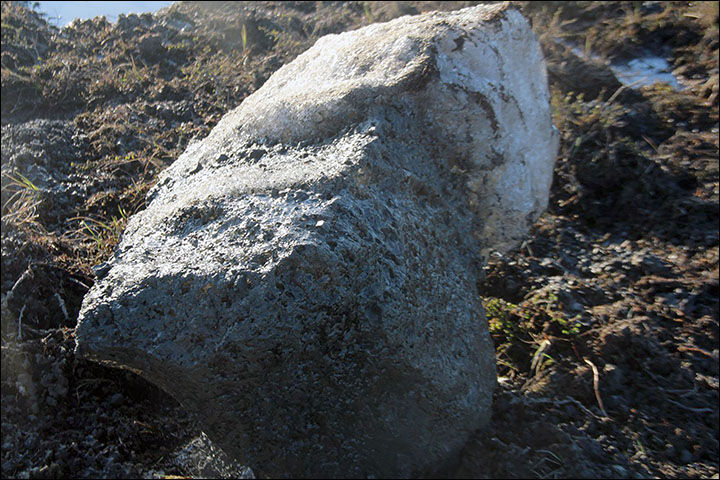 ---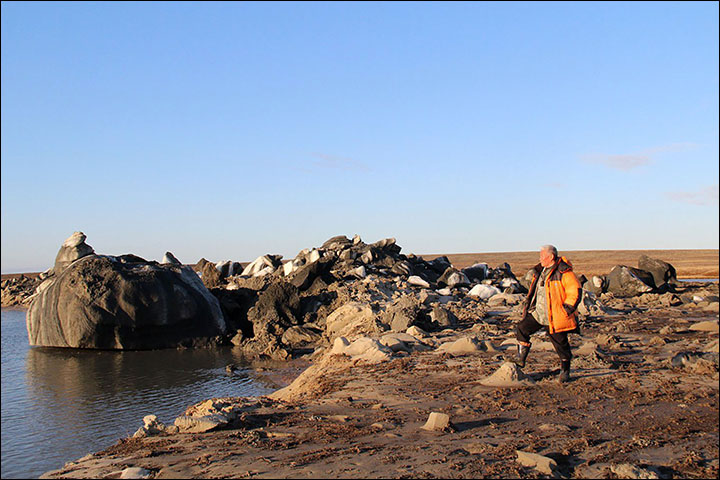 ---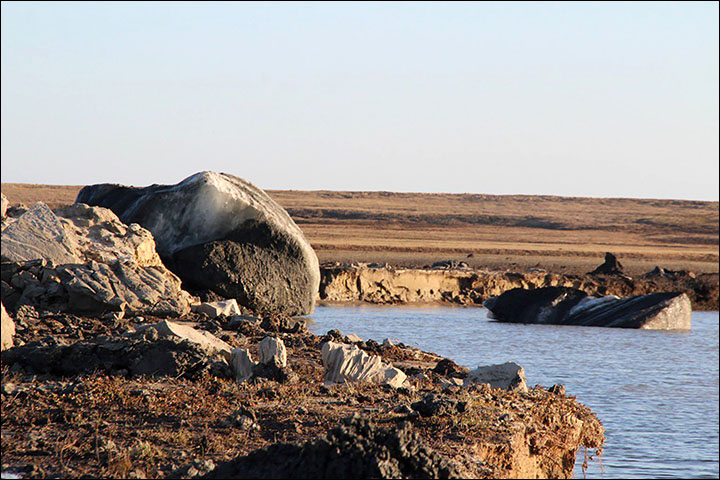 ---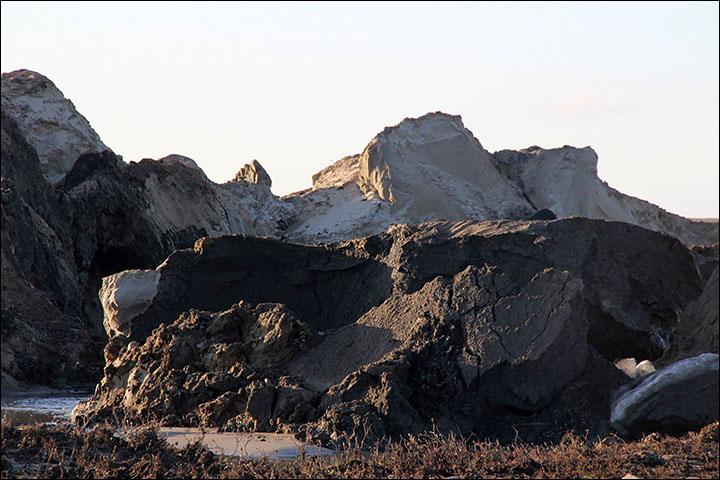 New funnel in Seyakha. Pictures: Yamal Region
---
The account of an exploding hill is consistent with the scientific theory that sees the craters as mainly - but not only - formed by exploding pingo mounds.
Helicopter reconnaissance of the site shows a crater appearing in a river, so it assumed the 'hill' was beside or abutting the river.
The crater is some 30-35 kilometres is around 100 km of Russia's new state-of-the-art Arctic port of Sabetta.
It is in an area of crater-shaped lakes.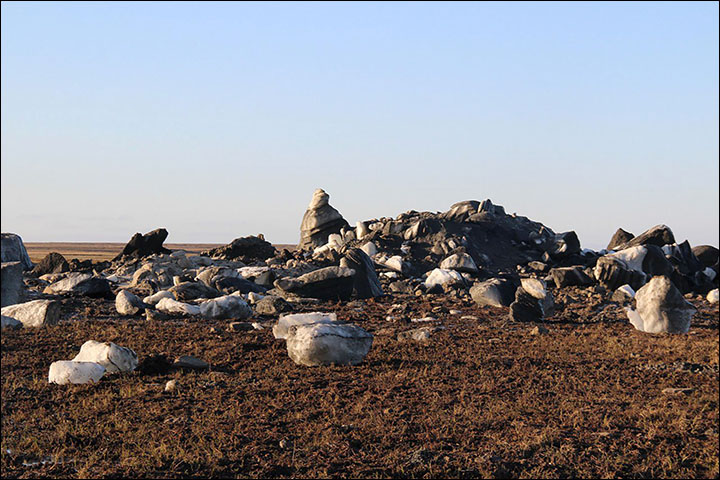 ---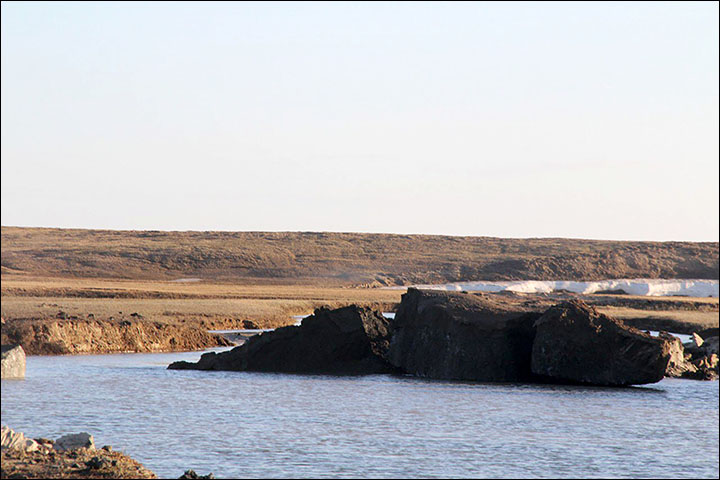 ---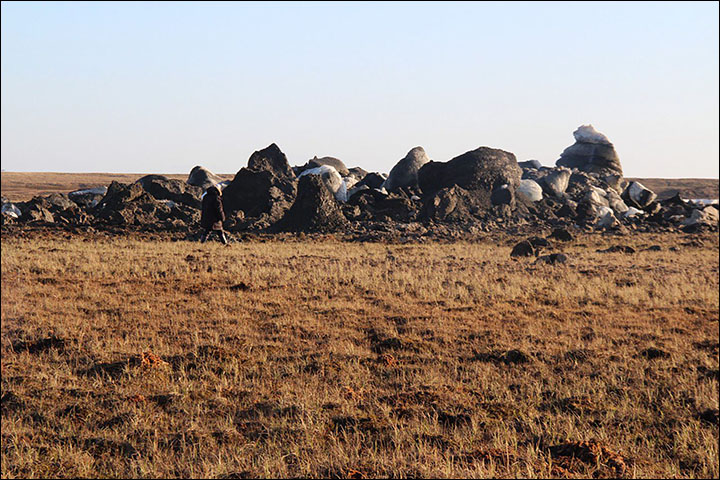 ---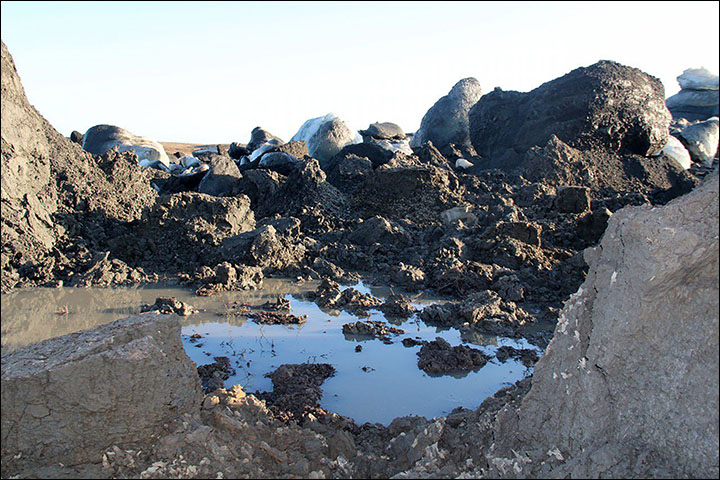 ---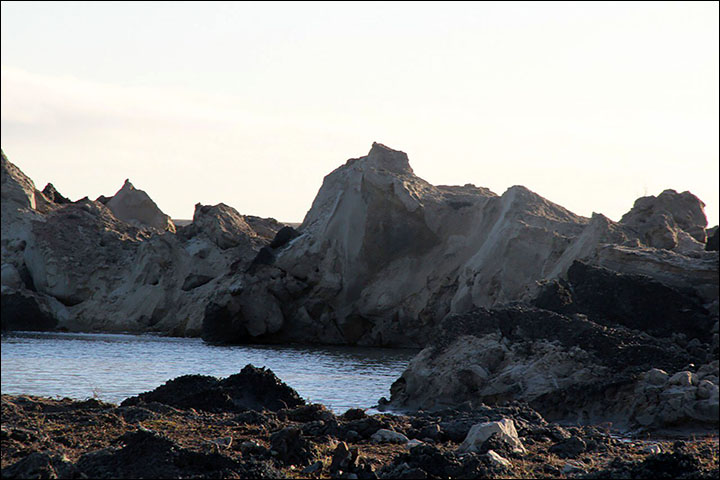 Seyakha funnel. Pictures: Yamal Region
---
The second new funnel is some eight metres in diameter and 20 metres deep and first images show a spectacular classic crater-shape.
Renideer herders are reported to have seen 'an explosion and flames of fire' when snow still lay on the ground this year, but the exact timing of the eruption has not been established.
This new funnel has been examined by a group of scientists led by Dr Alexandr Sokolov, who found the funnel on 24 June during an annual expedition for long-term monitoring of terrestrial ecosystems of Yamal.
A video of the crater was released to The Siberian Times by Dr Sokolov, deputy head of the Arctic Research station of the Institute of Plant and Animal Ecology, Ural Branch of the Russian Academy of Sciences.
VIDEO below shows two new craters, with the latest of them (second part of the video) forming on 28 June 2017. Pictures and video: Alexandr Sokolov, Yamal Region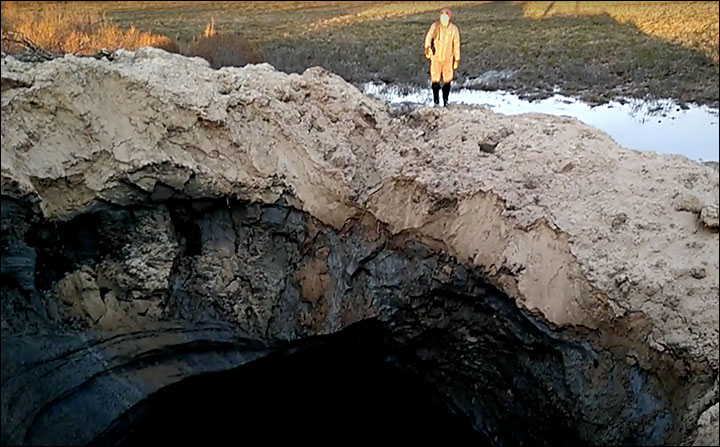 ---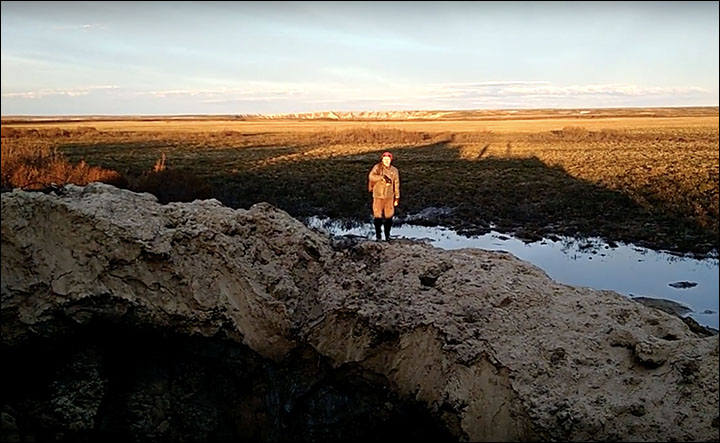 A mound of land along edges of the funnel confirms the fact of the explosion, Alexandr Sokolov said.
'This plot of land was absolutely flat just two years ago. A year ago in 2016 it bulged and we could see that soil has cracked there.'
It is believed the eruption was in the early part of this year.
'The Nenets native people told us they saw fire in winter 2017, but it might mean January to March or April.
In other words, it exploded when snow was still lying.'
This crater is around 30 km east of the Yerkut scientific station, and some 230 km north of Salekhard.
The Scientific Centre for Arctic Research said its sensors picked up the latest explosion.
'On 28 June at 11.00.13 am local time, the seismic network on Yamal recorded a seismic event, probably associated with the release of gas,' said a statement from the institute.
'The oscillations are registered by two seismic stations located in Sabetta settlement and in the area of the Bovanenkovskoye gas field.'
The sensors have been established amid fears that the erupting funnels can damage key industrial infrastructure.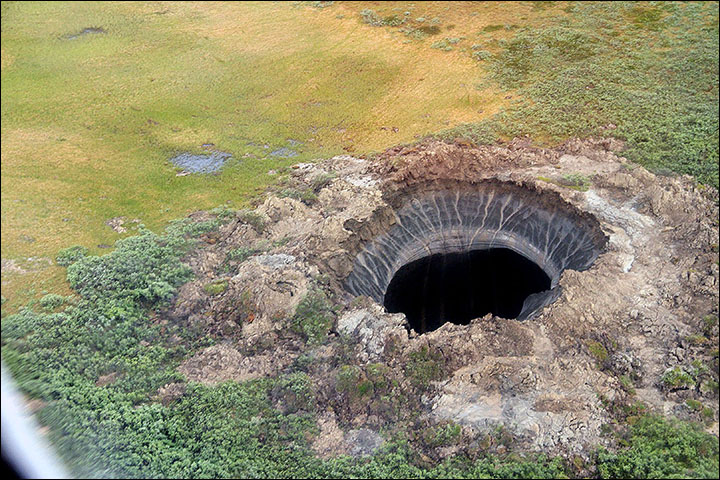 ---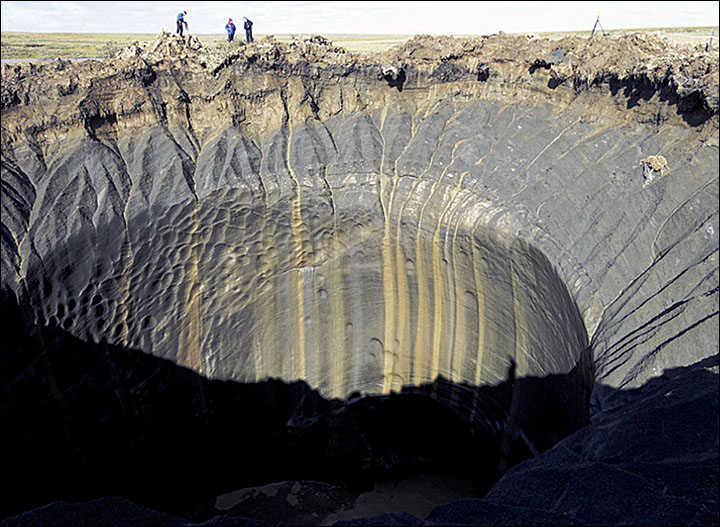 F1, the Yamal peninsula crater that was registered in summer 2017. Pictures: Vasily Bogoyavlensky
---
The craters are believed to form when underground methane gas - trapped by permafrost for thousands of years - is released due to the warming climate in this Arctic region and erupts inside pingo mounds.
Scientists say several thousand pingos, many filled with gas, could 'explode' forming giant craters in this region.
Pingos are dome-shaped mounds over a core of ice.
At least ten are known to have exploded in Siberia in recent years forming large craters, of which four have been closely examined by scientists.
The largest, 35 metres deep and 40 metres in diameter, is close to the Bovanenkovskoye deposit.
One sensor can analyse seismic processes non-stop in 200 km distance around it.
Sabetta port is being built as part of a $27 billion project by Yamal LNG on the Ob River estuary to export 16.5 million tons of liquefied gas from the Yuzhno-Tambeyskoye field.
The accounts of explosions creating the recent craters is consistent with testimony about a bang and 'glow in the sky' seen 100 km from a remote crater on the Taimyr peninsula in Krasnoyarsk region. This blowout was in 2013, it is believed.
Scientist Dr Vladimir Epifanov, the sole leading expert to so far visit the site, said: 'There is verbal information that residents of nearby villages - at a distance of 70-100 km - heard a sound like an explosion, and one of them watched a clear glow in the sky.'