Salimat Suleimanova by the grave of her first son she lost at school siege. Picture: The SIberian Times
To mark the anniversary we return to meet one of the many child heroes of this terrible massacre which began with a siege as pupils went for their first day at school. Damir Bichenov was on his first day at school when the terrorists overran School Number One in Beslan on 1 September 2004.
After two frightening days and nights trapped in the school gym, he saw his mother Tamara expire. Like many others around him, he thought she was dead, killed in the mayhem and panic of explosions and bullets.
'My mother told me to lie down next to her if there was an explosion and hold her hand,' he said soon afterwards. 'It's what I did. But then Mama stopped holding me. She was still,' he said.
He remembered her instructions as they sat on the gym floor for more than two days. 'She said to wait and if I saw the way to run, then I should run,' he said. Suddenly he saw a chink of daylight, a hole in the gym wall from the explosions. Amid all the carnage, he looked up through the pile of bodies and saw he could find a way outside.
'I thought Mummy was dead so I ran,' he said. 'Then I saw this boy called Gleb, who was three, and took his hand, and pulled him, forcing him to go with me. We ran together. We were jumping through the bullets. They were trying to shoot our legs.'
In fact, Damir's mother was not dead and she, too, was rescued. Soon they were reunited. Damir's story went round the world and his bravery was saluted in a visit to London by the British prime minister Tony Blair.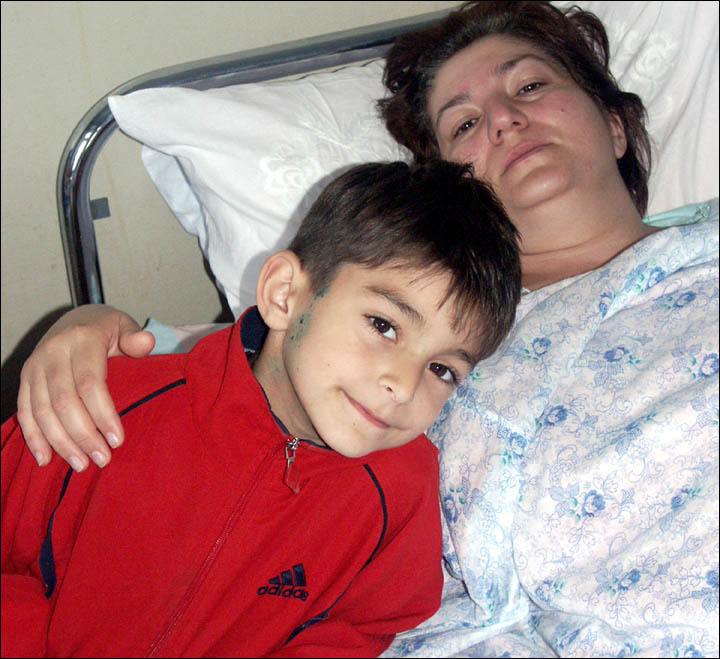 ---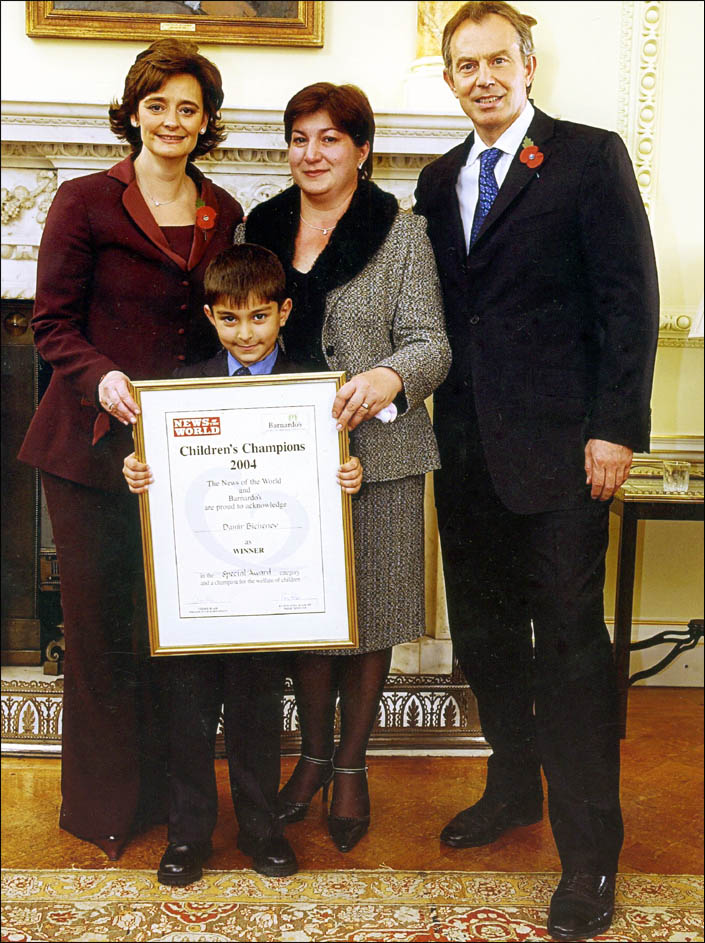 Damir Bichenov with his mother Tamara days after they were rescued from school, and below with Tony and Cherie Blair. Pictures: The SIberian Times
It took Damir an extra year to be ready to attend school, so now, aged 16, and a pupil and the replacement School Number One in Beslan, he still has two years to go before he leaves for university.
Today, like others in Beslan, he marked the anniversary of the horror and remembered his lost friends. Now 16, he said: 'I am going out soon to join others in the city. I think everyone who can goes out to the school, and the so-called 'city of angels', where all the kids and their parents lay... I was only seven years old then, and I never got back to school that year after the terrorists attack.
'I finally joined the school a year after, but it wasn't easy to stay in the class and believe that nothing would happen, that the school would stay safe. My mother says for a long, long while she could leave me to go to the school on my own, and that it took years for us both to be able to sleep normally.
'The memory of what happened is getting calmer, just about, but it will never leave me. And it will never leave anyone in Beslan. Since I started school later, I've still got two years to go, and then I plan to go to St Petersburg, to study law. I remember so vividly my trip to Britain... now looking at the pictures of myself with Tony Blair, with others in London, I can hardly believe it was me'.
Tamara added: 'Thank you for calling and remembering us. So, so much. We remember all of you, all those people who came afterwards to share the shock and grief with us, who helped us immensely by just being close by.
'We are fine now, all is well, thank you, though many who lost their loved ones can never recover.
'My mind - as always on this day - is getting back to the horrendous memories of 3 September 2004. We were so, so lucky to survive. So many of the children we knew, their parents, their siblings, and the soldiers who tried to rescue them... they were not.'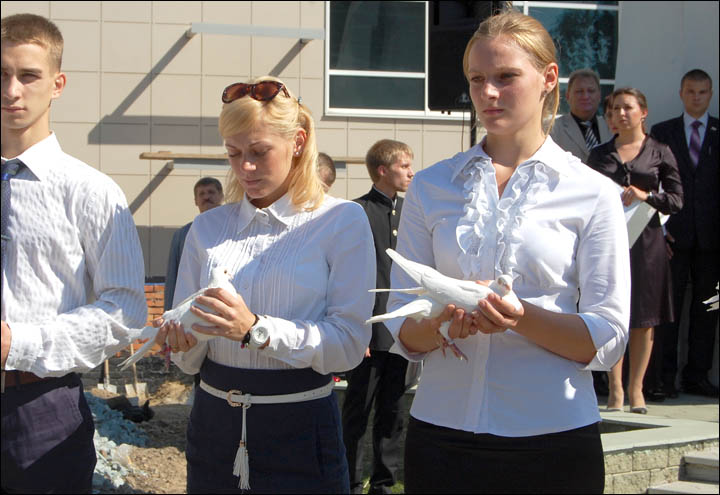 ---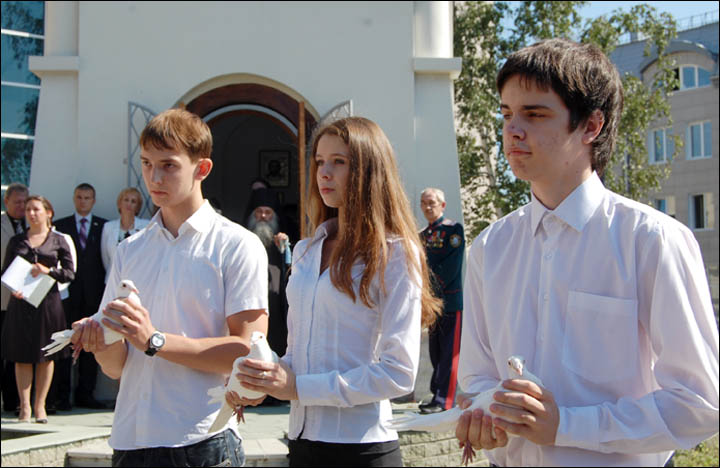 Students in Siberia mourn the victims of Beslan school siege and other terrorist attacks in Russia. Picture: Altai State University press service
As well as the shameful toll of death, 126 former hostages, including 70 children, were left disabled by Beslan.
More than 100 people still require medical help as a result of the outrage.