Mass stray dog attacks on people. Picture: The Siberian Times
The attack on Ivan 'Vanya' Tsybenko, 12, on his way to school is an increasingly common occurrence in this city of 589,000, say locals.
His mother Tatiana fears he would have been killed if neighbours had not seen the attack and dragged the child into their car.
I walked my son to school 7.30 am on 4 April, and then went to take my younger boy to kindergarten,' she said.
'I walked several hundred meters away from school with a pushchair, when suddenly there was a call from Vanya, who screamed: 'Mama, dogs are attacking me!'
'I was too far away by then to see what was happening, but I heard my son screaming, and dogs howling and growling.
'I ran back, but with a small child on my hands I couldn't even help him.
'Thank God two women who were driving past saw the attack and pulled my boy inside their car.
'It was my neighbours , I don't know what would have happened if it wasn't for them.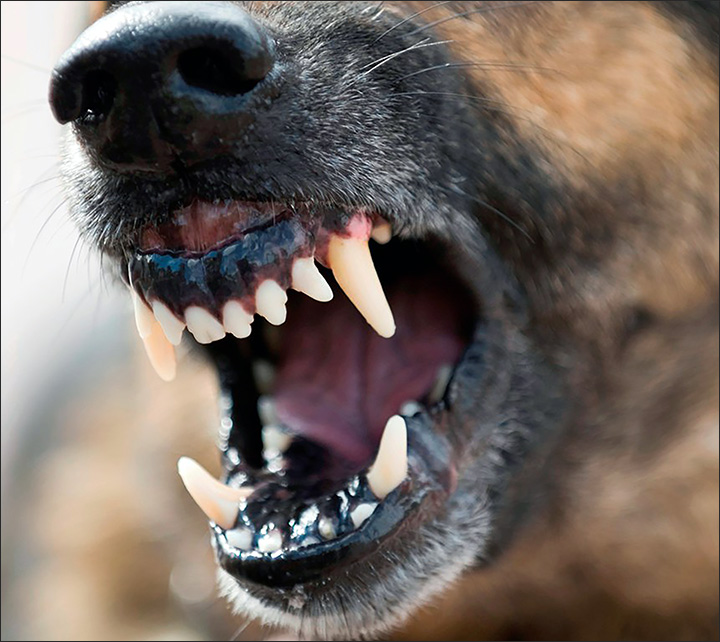 ---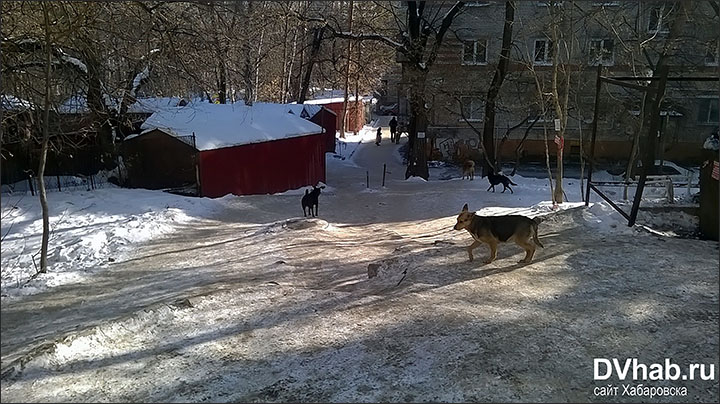 ---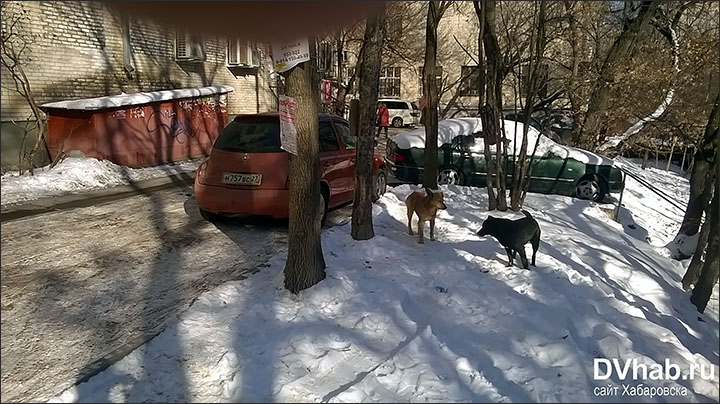 ---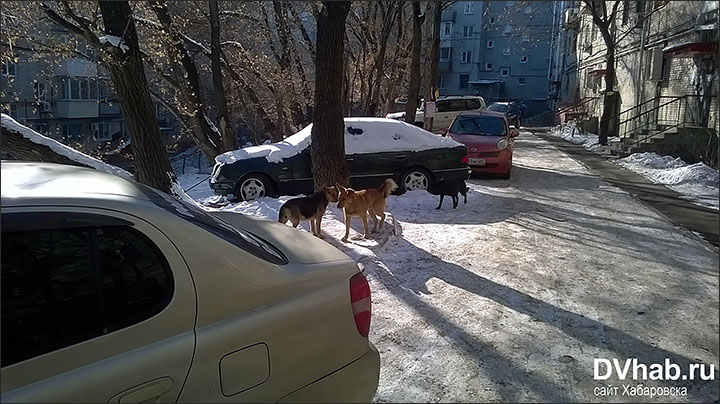 City under siege from packs of aggressive stray dogs. Picture: The Siberian Times
'They took their first aid kit to wash Vanya's wounds - his legs were covered with bites - and then drove him to hospital.'
As this distraught mother said: 'The whole area is infested with aggressive stray dogs.
'I've lost count as to how many times I was attacked by them. It is an epidemic.'
She blames 'kind-hearted' people who feed strays but says that now 'there are simply too many of them around.
'I love dogs, we have two ourselves, but they are chained and we never let them go free.
'We have a school and several kindergartens in the area, little kids always walk around.
'Parents are scared to death to leave them alone. We all make sure to walk them to and from school, and kindergarten, but in my case in didn't help.'
Marina Vorobyeva, who lives in the same area of Khabarovsk, said: 'We don't know how to fight these dogs, there are too many of them.
'I carry a stun gun, but even this doesn't guarantee you are safe. Dogs learn to recognise the noise, a click it makes when you switch it on, and it makes them even more aggressive.
'Once when a huge dog attacked me, I pulled it out, switched it on and it made the dog so furious it attacked even stronger.
'I had to use my bag to fight it off.'
The head of of the city's postal service, Svetlana Kukovyakina, said: 'We had multiple cases of stray dog attacks on postmen on Astrakhanskaya and Spetsialistov streets.
'They block postmen from reaching postboxes, and create great difficulties for our workers who just do routine business of delivering pensions and social payments.'


---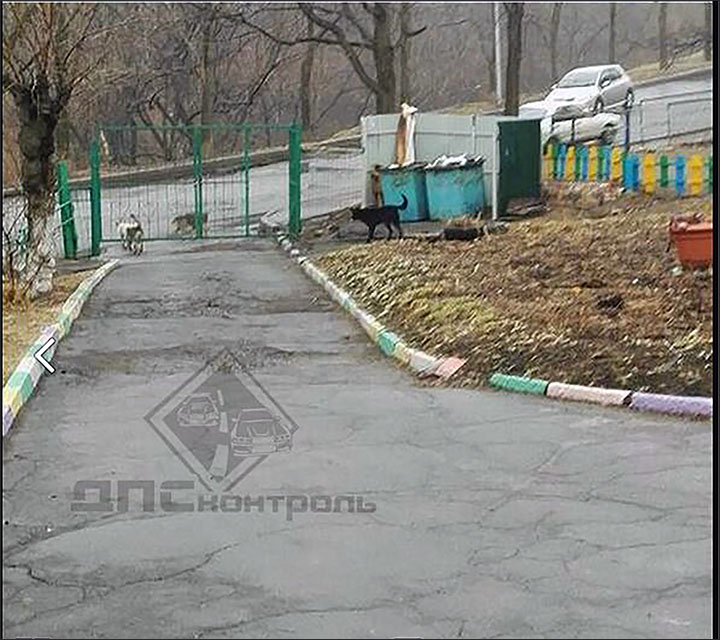 ---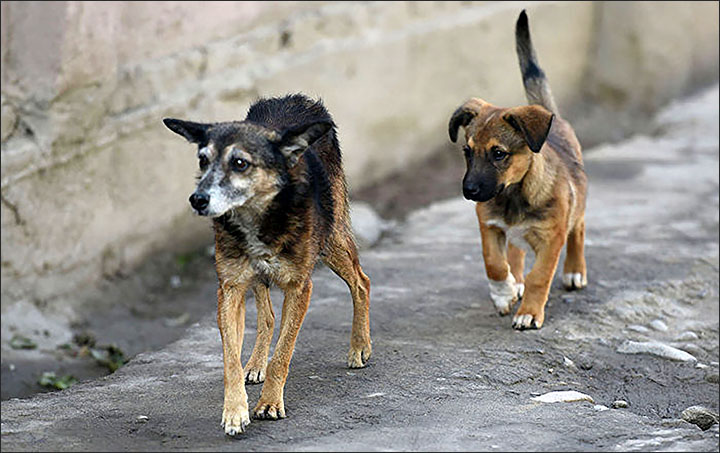 Parents are scared to death to leave them alone. Picture: The Siberian Times
The main problem is in areas outside the central district of Khabarovsk.
Despite this, Sergey Shemyakin, who lives close to city centre, said: 'We live in a 10 storey block of flats in a nice area.
'We keep seeing stray dogs packs, they seem to be very well organised indeed.
'My son was coming back from school on 21 March. He walked along Lazo Street, when a pack of dogs ran out from a transport company's premises and attacked him.
'His legs and hands were wounded, but he managed to escape.
'We called police and city hall, but didn't see any results from our complaints.'
A complaint by Japanese hydroponic vegetable grower JGC Evergreen to the city mayor appears to have prompted action.
Ekaterina Popova, aide to boss Igarasi Tomouki said: "As of today, we don't have stray dog packs around the office.
'I am not aware if the Khabarovsk administration took some measures to get rid of them, but after our letter they quickly disappeared.'
Others say that an adverse reaction including by animal rights campaigners to earlier attempts to remove strays from the streets has led to the current 'crisis;.
businessman Oleg Vonti, who led the previous campaign, has declined to sign a new contract with the city authorities.
But he warned of an 'apocalypse' in April from strays.
Some have taken their own measures, leaving poisoned food for strays.
But this is often eaten by domestic dogs.