Dare to visit Siberia Leo? Picture: RenTV
The Leonardo DiCaprio Foundation has been expressing concern over changing climates and highlighted how a village in Yakutia plummeted to minus 62C this winter.
Yet children in regional capital Oymyakon want the Hollywood star to know there's nothing to fear from the extreme cold.
Nine boys and one girl aged five to 12 lined up in minus 30C wearing no more than their Tae Kwon Do kits - without tops.
One of the children steps forward with and delivers a message to Leonardo.
'Leo, privet! (Hi Leo!)' - he exclaims. 'Thank you for thinking of us. Don't worry, we are doing well. Today the sun is even shining.
'Come visit us, we'll share a bucket of cold water! Great luck!'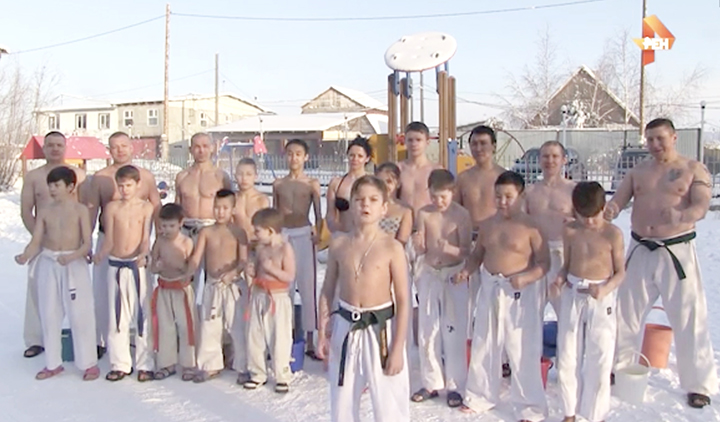 ---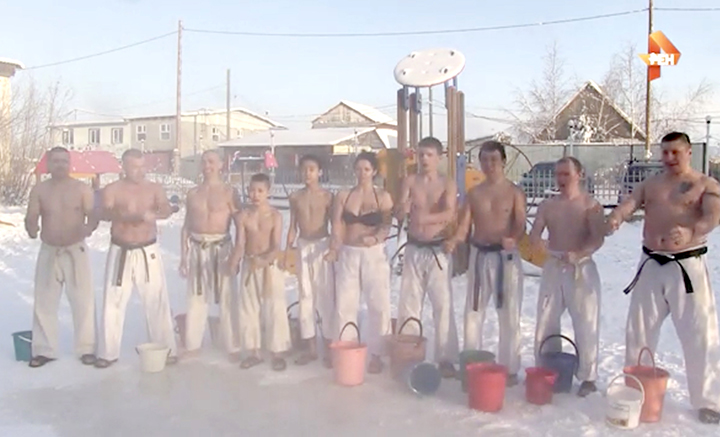 ---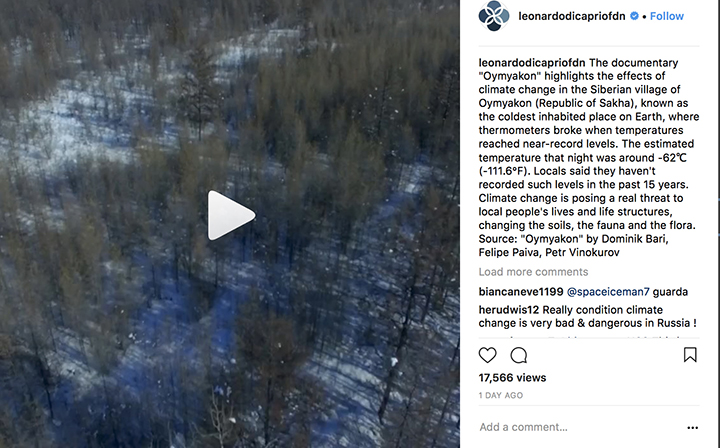 ---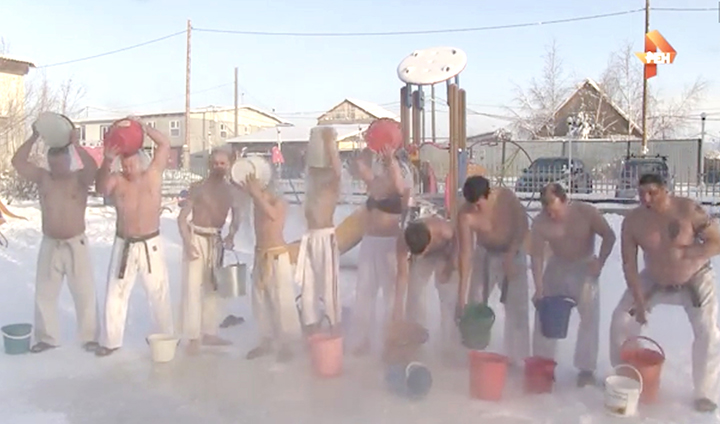 An icy message to Leonardo DiCaprio. Pictures: RenTV
---
As the boy's short speech finishes, he steps back to join his comrades.
The group shout a Tae Kwon Do welcome, and stand motionless as older warriors pour buckets full of icy water on their heads.
Children run away in clouds of steam, while the seniors pour buckets of icy water over themselves.
The winter's low of -62C was in the village of Oymyakon.
It was so cold the settlement's main thermometer got stuck.
The Leonardo DiCaprio Foundation told on Instagram how thermometers broke when temperatures reached near-record levels.
The estimated temperature that night was around -62℃ (-111.6°F).
This highlights 'the effects of climate change' in the world's coldest inhabited village, claimed the foundation.
'Locals said they haven't recorded such levels in the past 15 years.
'Climate change is posing a real threat to local people's lives and life structures, changing the soils, the fauna and the flora.'
Weather experts in Yakutia said that the Republic observes changing climate starting from early 1980s, with average annual temperature being on a constant rise.
The two warmest recorded winters were in 2016 and 2017.
The positive anomaly of the mean annual temperature for the city of Yakutsk over the last two years was 2-3 degrees centigrade.
Below: people in Yakutsk and Oymyakov, pictured during this and last winter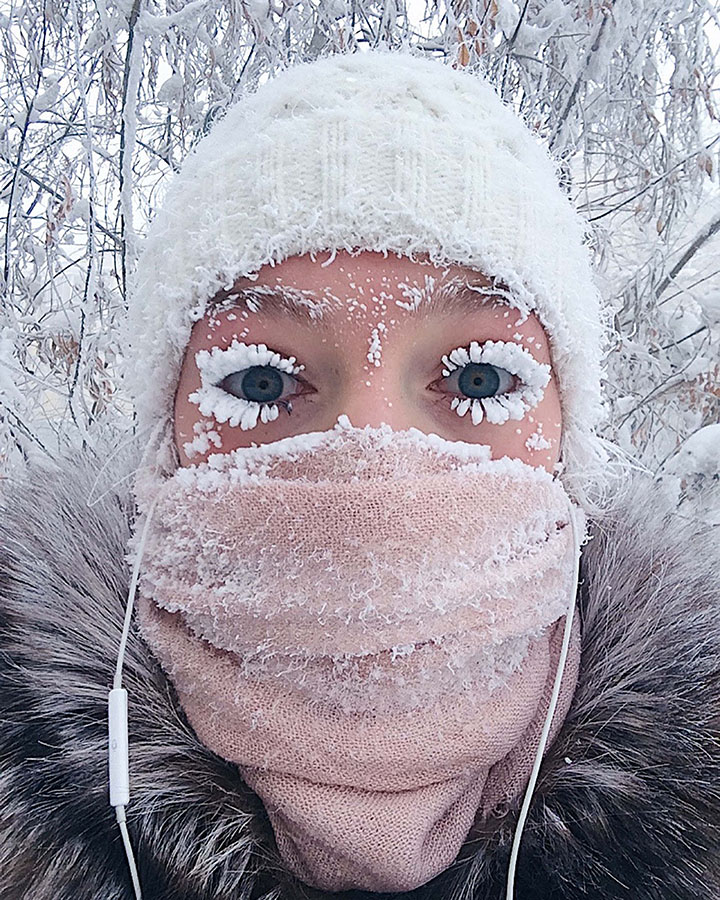 ---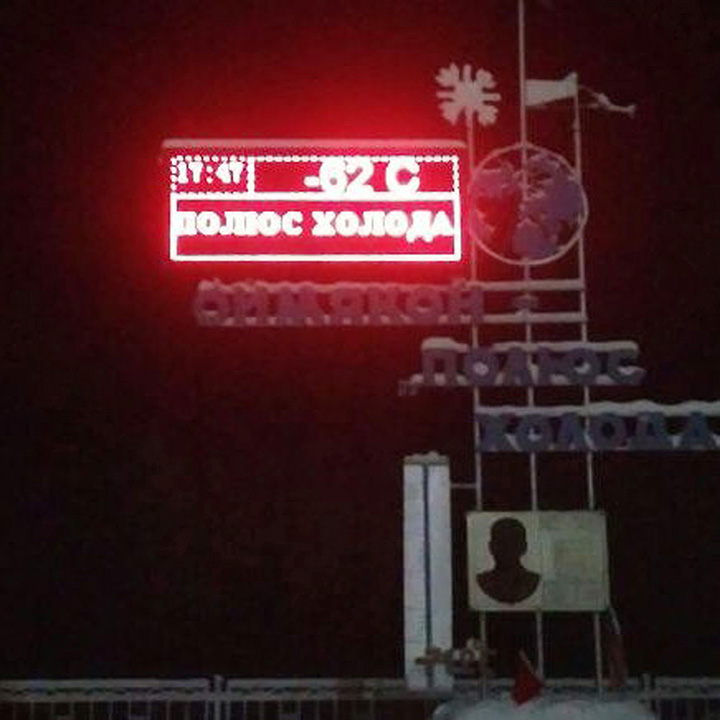 ---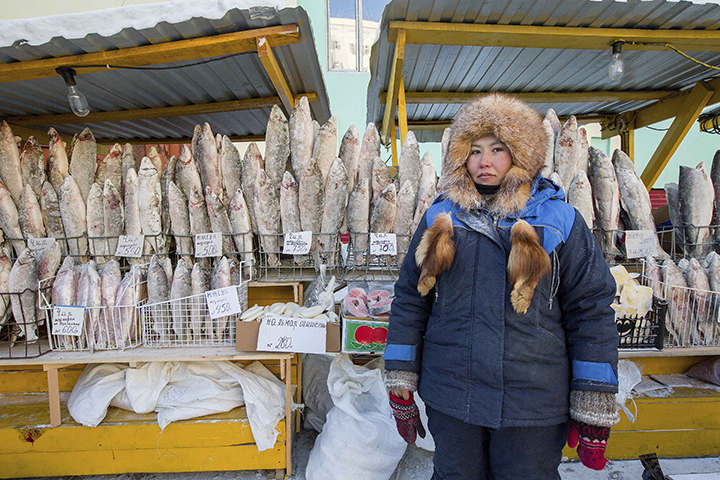 ---