Survivor Alexei Gradulenko, 35. Picture: Russian Emergencies Ministry
Police in Siberia are now trying to piece together a mystery that unfolded after four friends went on a fishing expedition in August in the endless taiga.
Three months later, only two men came back from their adventure along the remote Sutam River, after they were located in the Sakha Republic (Yakutia) by a rescue helicopter from the Russian Emergencies Ministry, which saved their lives.
Alexander Abdullaev, 37, and Alexei Gradulenko, 35, were found alive - but only just. They were extremely weak, having survived temperatures of below minus 30C in the coldest inhabited region on the planet.
One body was found and one is still missing. The police are not certain if the corpse is that of Viktor Komarov, 47, or Andrei Kurochkin, 44.
But they do think that the dead man was murdered.
And the cuts on his body suggested to investigators that he was cannibalised, according to morbid media accounts.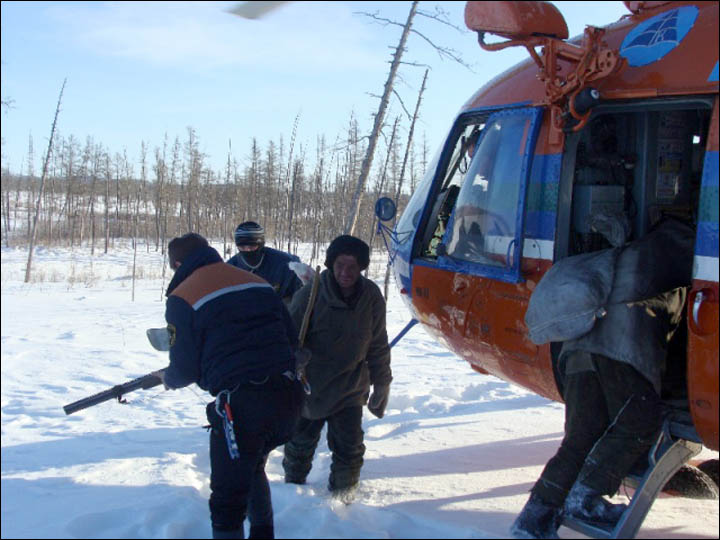 Survivor Alexander Abdullaev, 37. Picture: Russian Emergencies Ministry
Near the human remains was found a wooden stake which was possibly used as a weapon to kill the man. Another version states an axe was involved.
Blood was visible on the snow. And, allegedly, a bloodstained jacket was also found.
It is also clear that the fourth man is missing. Was he cannibalised too? This is only one of many questions about this bizarre incident.
'We suspect, the two survivors could have killed and eaten their friend just because of hunger,' an anonymous source told Life News tabloid website.
'But both deny they have anything to do with his death. Looking at the body parts found at the spot, we clearly saw cuts.
'It means the body was hacked to pieces.
'Now the body parts - some human flesh and part of the skull - are taken to the morgue.'
An unnamed investigator was quoted saying: 'What we found were chopped human bones, fragments of a skull and a bloodstained chunk of ice.'
He told Komsomolskaya Pravda newspaper: 'It's clear that this person did not die of his own accord.'
Officials in the town of Neryungri, in remote Yakutia, some 250 km from the 'crime scene' say that a murder probe has been launched.
Evidently, investigators twice visited the site and removed human body parts, suggesting violent death.
'Investigators carried out an examination of two areas. Fragments of a human corpse with signs of a violent death were discovered and removed,' said a statement from the regional branch of Russia's Investigative Committee.
'A criminal case into suspected murder has been opened'.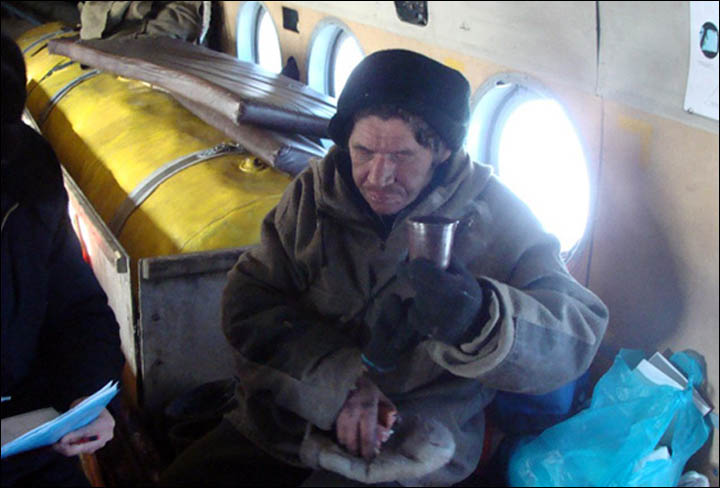 Survivor Alexander Abdullaev, 37. Picture: Russian Emergencies Ministry
Adding to the intrigue, Pravda.ru reported that after being rescued, the two survivors - both from the Russian Far East - escaped from a hospital and disappeared after police interrogated them.
They were not arrested or charged but rather than receive proper medical attention after suffering extreme hunger and frostbite from the impact of deep cold, they preferred to abscond, it was claimed.
Their odyssey had begun in Amur region, in the Russian Far East. On 8 August they left Dipkun village on what was intended to be a two or three week finish trip. Going north some 300 km, they were trapped by floodwater, by now in the Sakha Republic. Their UAZ jeep sank in the swollen river, they told rescuers.
At the end of September they managed to make one mobile phone call - but then vanished.
In November, Abdullaev's sister - Faina Mukhina - went to police to report the four fishermen missing. Asked why she did not do so earlier, she said: 'The taiga is his element, he can live there for a month or two, and he was not alone. He was with friends from Saratov.'
At one point, the men also managed to leave a note.
'We had hope. Gold diggers found a note from our men dated 20 October', added Olga Kurochkina, wife of Andrei Kurochkin. She is refusing to give up hope, saying: 'Police said that they had found human remains. But I believe that Andrei is alive. I am hoping other hunters have found him and he is not alone'.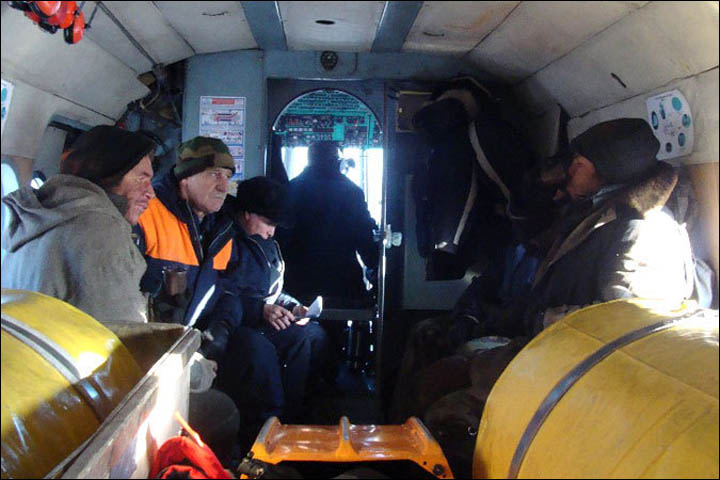 Rescued fishermen inside the rescue helicopter. Picture: Russian Emergencies Ministry
The men had visited this remote base in the taiga. 'Nobody was there, they took some food and left 3,000 rubles and a note'.
The official search got underway in earnest on 23 November, but even then it took one week to find the survivors.
'They told that they had lost their vehicle and decided to go back home on foot,' according to rescuers.
'They split up from the two other men when Andrei Kurochkin hurt his leg.
'Andrei and Viktor Komarov stayed in the hunter's winter house near the Daurka River and two other men went further and soon reached the gold diggers' house. Chancing on empty hunters houses, they 'borrowed food and clothes' and found skis.
'When there was not enough food they fried animal skin and moss and sawdust and ate it,' according to one account.
'Once they crossed a river and fell under the ice and then had to spend a day near the fire getting warm.'
Now at home, Abdullaev's mother Lidiya said: 'When I saw them, I was startled at their slim, swollen, dark faces.'
'Doctors gave them medicine and recommended a lot of good food. We are feeding them with chicken soup and manty (Siberian ravioli), their appetite is just like a beast.'
The survivors were photographed on a helicopter as they were flown to safety by helicopter. The mystery remains of how they survived and law enforcement officials must now decide if there is any truth in the cannibalism claims. DNA tests are being carried out on the human remains.
Immediately after they were rescued, the two men appeared to be starving, said a policeman.
'The whole night they just drank tea and ate pies and heated up corned beef. There was the impression there was something wrong with them,' he said.
'We put this down to terrible stress as they had had to suffer for a long time.'
Questions have been raised over why the men would need to cannibalise a friend if they were expert fishermen.
One other theory is that rather than fishermen they may have been amateur gold diggers.