Valentina Khorinyak pictures after the end of today's court hearing. Picture: Maria Ananova, kp.ru
A DOCTOR who gave painkillers to a dying family friend who was not her patient has been dramatically cleared by a court in Siberia.
Relieved Alevtina Khorinyak, 73, was acquitted on Tuesday following a case that has been watched closely by the medical profession across Russia. She had been facing the prospect of prosecution and a fine after prescribing the drug Tramadol to terminally ill Victor Sechin, despite the fact she was not his doctor.
Last spring she was convicted of trafficking illegal drugs with an intent to sell them, before the court annulled the trial and sent the case back for further investigation. But in a ruling at Oktyabrskiy District Court in Krasnoyarsk, the doctor, and a friend who bought the medication from the prescription, were both cleared.
Dr Khorinyak, a church volunteer, only authorised the drug after watching testicular cancer sufferer Mr Sechin, then aged 57, screaming in agonising pain.
He had gone 11 days without any medication after his own doctor refused to write a prescription for German-made Tramadol, which is readily available in the West but is more controlled in Russia.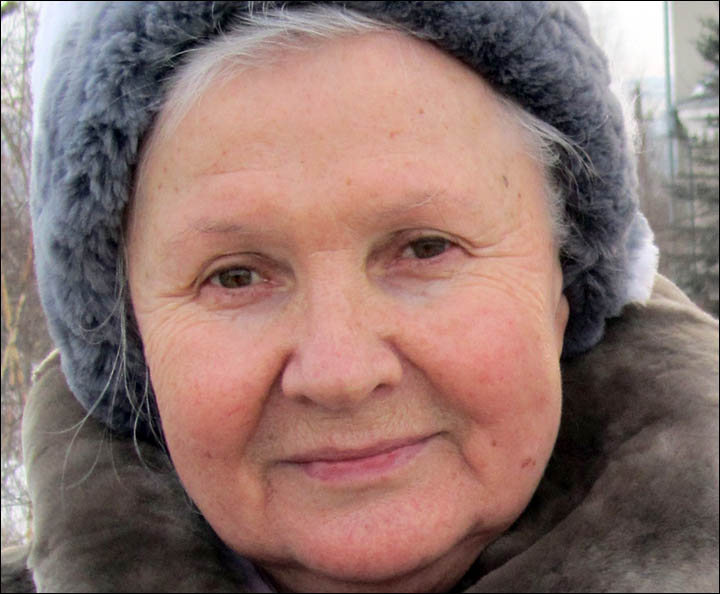 Valentina Khorinyak, 73. Picture: Alla Astakhova
---
In an interview with major Russian news source Lenta.ru, the doctor defended her actions and said she could not stand by and watch her friend 'suffering'.
She said: 'When I came to the Sechins, Victor was by then at the last stage of his cancer, having spent his eleventh day without pain killers. He was suffering. He wasn't moaning – he was screaming. He was crying.
'I wrote a prescription for the paid medication and my friend bought it with her own money. It cost 286 Roubles (about £4.33 or $6). That was the moment when I consciously violated the administrative order. Victor was not my clinic patient.
'I was ready to be told off for that, because to look at a human suffering, knowing that you can help and not do anything, is just wrong. I am a doctor. I swore to help people. But I didn't expect to become a criminal'.
Dr Khorinyak has been a family friend of the Sechins for about 20 years, back to the early 1990s when she first learned Mr Sechin and his mother were suffering from ill health. Both were officially classes as disabled and the doctor said they found it many ordinary day-to-day tasks difficult.
Joining with others in the community, she helped the family repair the roof of their house, tend to their vegetable garden and buy coal and logs for their fire.
When Mr Sechin was diagnosed with testicular cancer he was initially given Tramadol for pain relief. Launched by a Germany pharmaceutical company in 1977 it has become an effective drug and is common in the UK, US and Australia. In Russia it was available to anyone over the counter without a prescription until 2008, before later being added to a list of potent drugs by the Russian Drugs Control watchdog and then only allowed if purchased privately.
By the spring of 2009 Mr Sechin was no longer able to get the pills because his doctor refused to write a prescription since he was only entitled to free medication. By law only a doctor can prescribe Tramadol, which is a weak opioid and can take effect within just 30 minutes.
Seeing her friend in agony, Dr Khorinyak wrote out the prescription herself.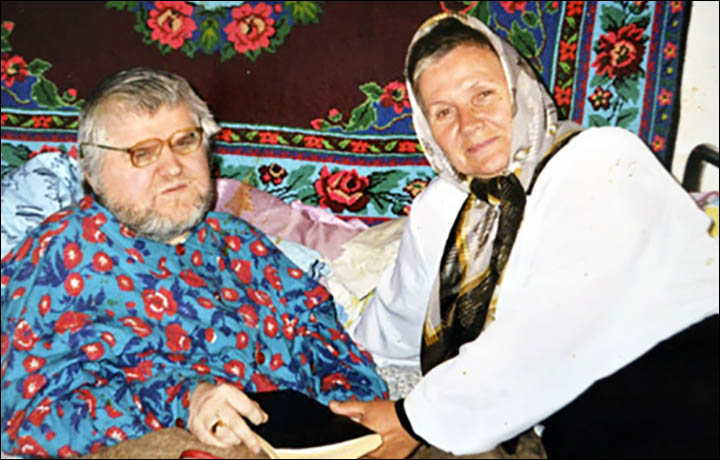 Valentina Khorinyak with Victor Sechin. Picture: Aif.ru
---
It took two years for a criminal case to be opened against her, with investigators claiming Mr Sechin – who died in 2011 at the age of 59 - did not need the drug.
At first she was charged under clause 327 of the Russian Crime Case, for falsifying documents, and under clause 234 for the illegal possession of hard drugs.
It went to trial in court last year and she was convicted and sentenced to a fine of 15,000 Roubles, before a successful appeal was granted.
Dr Khorinyak, who felt like she was being treated like a 'drugs baron', said:'They could have started the criminal case if I was to give the prescription to a healthy person. I have been supporting the Sechin family for nearly 20 years. But Victor was a needy one.
'The first trial was very showy, with the prosecutor recklessly accusing me and demanding eight years in jail. When the story went public, my colleagues and patients from all over Russia called me. Some of them offered to pay the fine for me because similar situations have been happening in other regions'.
Dr Khorinyak said the case has been watched closely by the medical profession with doctors now 'scared' to prescribe any painkillers, even in obvious cases.
She said:'We can't prescribe a strong pain relief without checks and potential problems to the point of us being accused of getting patients dependant on strong drugs. It has been a matter of principle to get justice for me. How can a doctor be prosecuted for helping their patient? Have people lost their hearts?
'When I was a student in the 1960s there was a rule that if a person cannot help himself then the State should take care of them and help his relatives by taking the stress out of witnessing their family member dying. The patient was taken to a hospital and was provided with as much pain killers as was needed. He was allowed a calm, and decent, death.
'Where has that all gone? The situation is now horrendous'.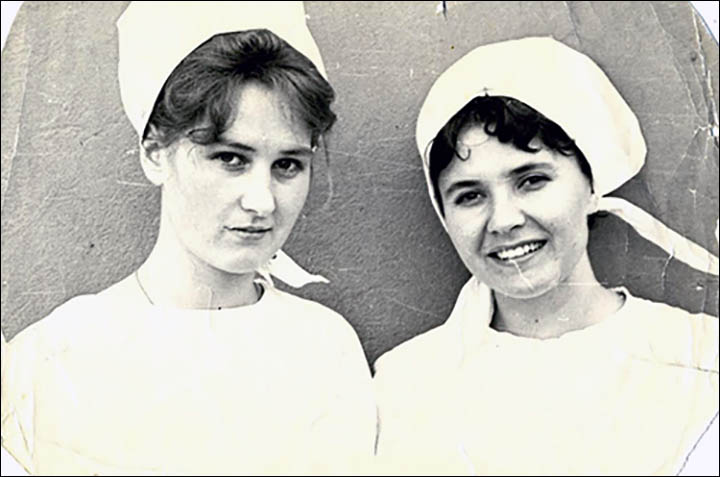 Valentina Khorinyak (right) back in 1964. Picture: miloserdie.ru
---
Dr Khorinyak, a graduate from the Krasnoyarsk Medical Institute, retired in 1994 but was immediately offered a job as the district physician in Krasnoyarsk, the third largest city in Siberia. She is well-known within the community, having worked with three generations of patients in her 50 years as a doctor.
Thousands of people had signed a petition in support of her, with doctors and human rights campaigners expressing their fears about a possible court verdict.
There have been reports that, as a result of the strict regulations on prescribing painkillers, many patients have resorted to so-called euthanasia clinics, killing themselves or even asking their own relatives to end their lives for them. In February 2014, Russian Navy admiral Vyacheslav Apanasenko shot himself in the head with a pistol, leaving a note behind that said: 'I blame the Russian government and the Ministry of Health for my death'.
His family said he could not bear the pain he endured and could not get painkillers. A month later police registered the suicides of eight cancer sufferers, while in Saratov a man was sentenced to six years for shooting his wife who begged him to kill her to end her pain. Other similar cases include that of a man from Urals who was jailed for agreeing to kill his sister who was battling cancer.