Happy duo! PIcture: Novosibirsk Zoo
The Siberian zoo team takes extra care to ensure nothing disturbs hero mother Gerda.
Even snow is not brushed next to her den.
It is vital she feels no threat.
The cubs were born on 11 December 2018, but news was withheld of their arrival.
The footage from a hidden CCTV camera shows them next to mother, who is seen carefully holding them and warming them up with her breath.
WATCH THEM GROW AND PLAY, VIDEO COURTESY NOVOSIBIRSK ZOO
Polar bear cubs are born weighing 600-700 grams and are completely helpless.
For the first weeks the mother doesn't leave them, feeding them non-stop.
Now that the cubs are over two and a half months old, Gerda allows herself to leave the den for several minutes every day to grab a bit of snow.
The polar bear twins have not been seen by the Zoo vets, but the video allows the team to see that the cubs are growing up well, adding weight and opening eyes in time.
'Polar bears live in many zoos around the world, yet they are hard to raise and breed in captivity.
'There have only been a handful of cases when mother bears raised two cubs.
'We are hoping to see our Gerda's twins doing well and are taking utmost care of her well-being. It is important that she feels tranquil', said Andrey Shilo, director of Novosibirsk Zoo.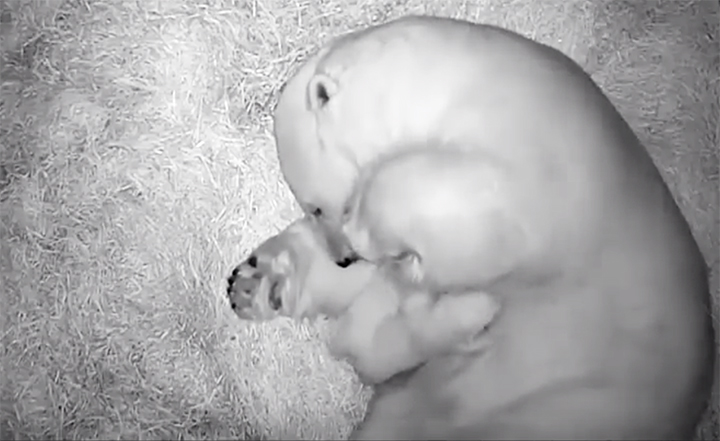 ---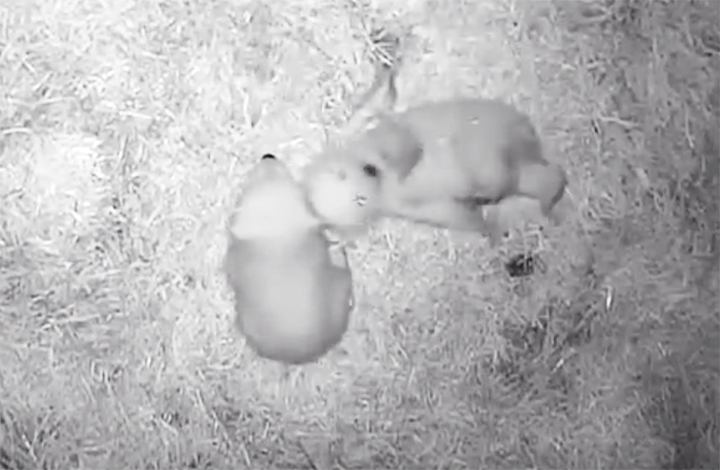 Mother Gerda with cubs. Pictures: Novosibirsk Zoo
---
Polar bears Gerda and Kai have lived at Novosibirsk Zoo since 2008, this is the third time that they have cubs.
First they had female cub Shilka in 2013, then male Rostik in 2015.
Please see heartwarming pictures of Shilka and Gerda taken by our photographer Vera Salnitskaya
Shilka now lives in Japan, Osaka Zoo; Rostik lives in Qingdao, China.