'It will be my son's choice what he will be doing next', Odzhan's father Alexander said. Picture: youtube
The young man, named Odzhan or 'great soul', was born after his painter father Alexander and musician mother Elena opted out of society to live in mud huts and primitive timber houses in the wild. Until this week, he has met hardly any other humans, missing kindergarten, school and university.
But his parents educated him in all they know, and he learned English from a dictionary they took with them when they cut themselves off from society at the end of the Soviet era. Now he craves one thing only. Not to move to a town or city or know more people. But to speak to a native English speaker to finesse his use of the language.
The handsome young hermit came to the notice of the authorities when villagers found him and brought him to the local prosecutor.
'I'm living well thank you,' he said. 'We are living well. This is the reality we have that we live here, and its quite a good reality.
'To move closer towards the city? For that we need to have a more cultural society, and of course to change how the cities smell and the pollution.
'I am happy here.'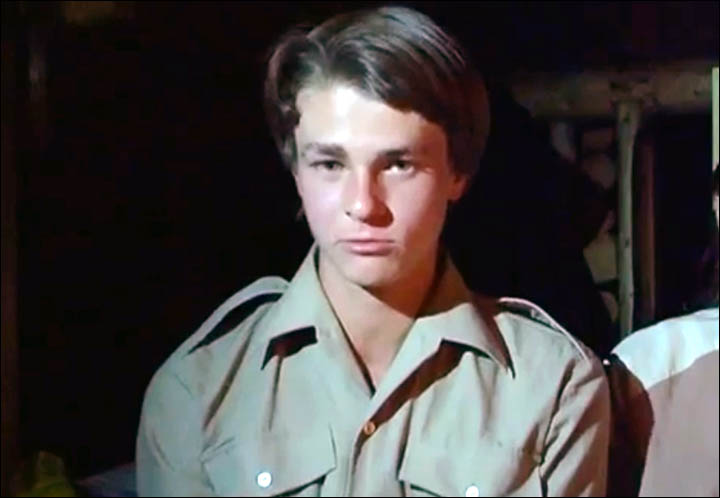 Odzhan, whose name translates as 'a great soul' is 20 years old. Picture: youtube
His bearded father had some contact with people, selling mushrooms they gathered, as well as his paintings. But Odzhan and his mother only met the occasional hunter in the forest near Belokurikha, a famous spa and mineral spring resort in Altai region, 250km south of the city of Barnaul.
'To survive, we are selling mushrooms and my father's paintings,' Odzhan said.
'Who am I talking to? Well, life puts us in touch with people when we need to do something, we don't just come together for a sake of chatting. So for now it has been mostly adults who I've seen and communicated with.
'I study English, I've got a dictionary with words in English with spelling and pronunciation rules for every word. Of course, I need to have practice - if only I could have a chance to communicate with somebody who speaks no words on Russia - at least for a month!
'But there is a psychological difficulty with my sub-consciousness not understanding why it needs to learn English. I can easily say 'do you speak English?' (he says with a good English accent), but for proper fluent speech of course I need the practice.
'My books? I've got a dictionary, and there every word is given with a spelling and the pronunciation. Do I read other books? Yes I always try to read as soon as I have spare time. Perhaps some time later I will get to read, but right now there is no spare time whatsoever.
'If suddenly I get some spare time I will get into painting. '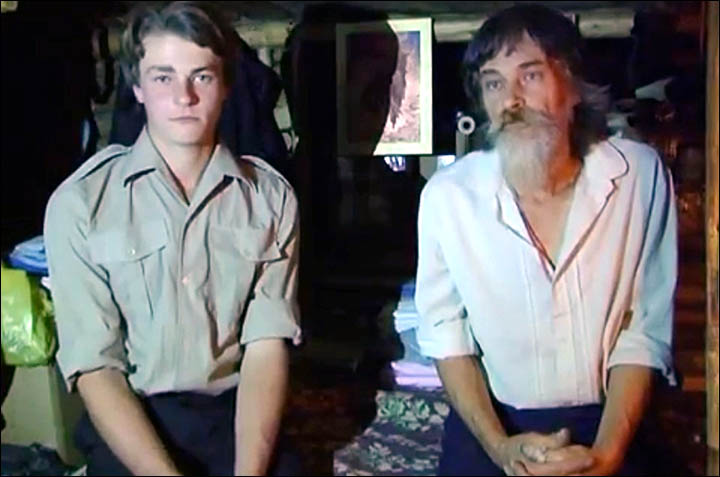 ---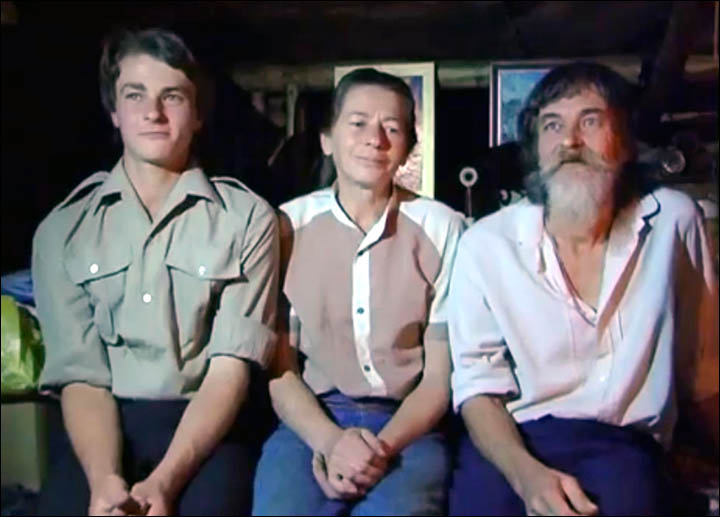 ---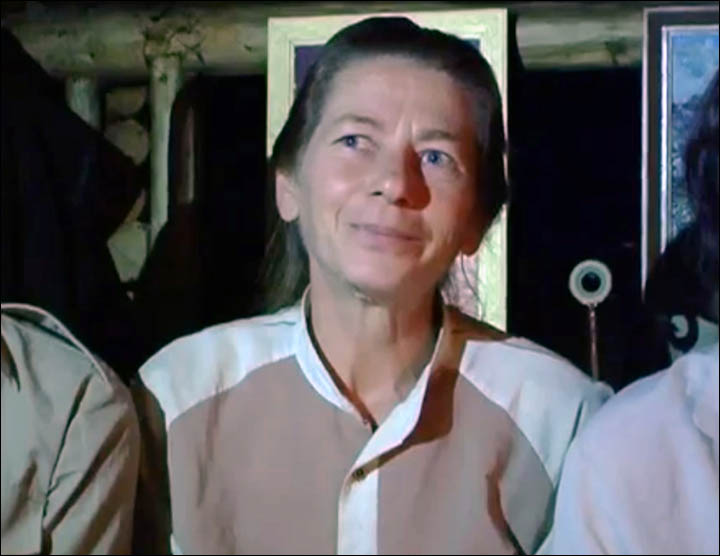 Odzhan, 20 with parents Elena and Alexander. Pictures: youtube
His father Alexander said that the family have lived in their current since 1997 'in the last century' but had earlier lived in another location.
'Our son was not attending a school or a kindergarten. But we are educated people and we were giving him everything we knew ourselves,' he said.
His family name and age were not given.
'I don't think that the fact that he skipped the school was a disadvantage for him. Our school programmes were far better than modern ones. They were broader, deeper, better. He even studied English all by himself.
'We don't want to get back to the city - and smell petrol or at best various cleaning and washing powders.'
He said the family have a small radio to keep in touch with the world they rejected.
Elena insisted: 'Its more comfortable here and happier than in civilisation. I am a musician by education, and I get upset and insulted by the quality of what's going on in the music industry these days. This is what stops me from coming back to society.
'Our son knows what labour is, and what creative work is. He could read and write aged five, and it all came naturally.
Q: 'What kind of destiny do we want for our son? '
Alexander: 'We want him to have the best destiny. We want him to become a big artist, perhaps a poet. '
Elena: 'A writer...
Alexander: 'But above all we want him to be a clever man.'
Elena: 'And a kind man. A true man.'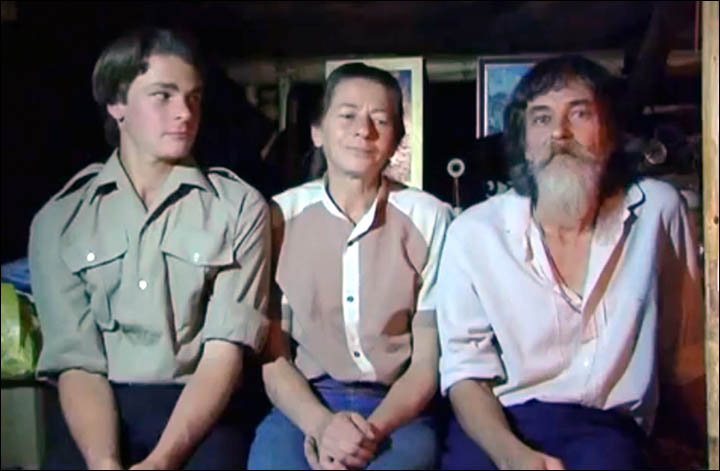 ---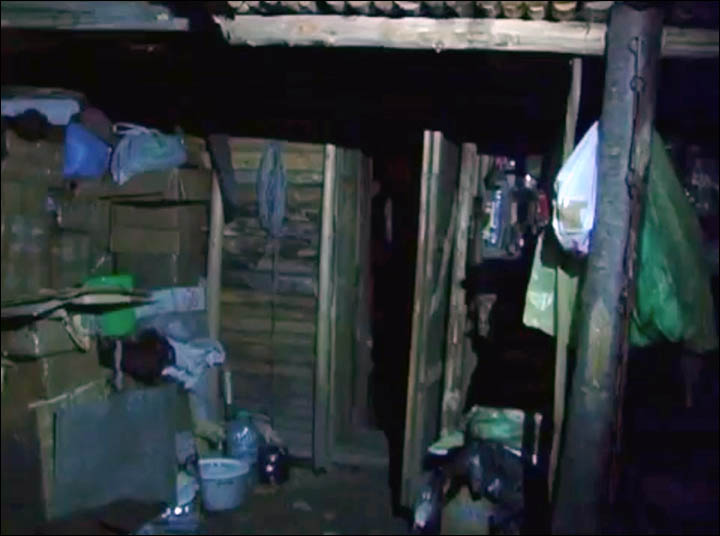 'Sometimes we have hunters coming to visit, but it happens incredibly rarely'. Pictures: youtube
'As for our life conditions perhaps we won't mind having a bit more space, like two rooms - or even three.' Currently, they have a one room home.
'Sometimes we have hunters coming to visit, but it happens incredibly rarely.'
The extraordinary story emerged earlier when Odzhan was found by locals from remote Ulyanovka in woodland 3 kilometres from the village. He told how his parents had opted out of their lives to become hermits in the forest.
His parents apparently left their hut earlier this year, leaving him alone. This led him to emerge briefly from his solitary life, though after meeting officials, stunned to discover his existence, he went back into the wild to await his parents' return.
He was dubbed real-life Mowgli, after the main character in Rudyard Kipling's 'The Jungle Book', but he must be the most educated Mowgli ever to emerge.
Belokurikha town prosecutor Roman Fomin is acting via the court in order to establish a date and place of birth of the young man 'who was brought up by a family of hermits'.
'I spoke to the young man, he said that parents told him that he was born in 1993,' Fomin told The Siberian Times.
'However, he looks younger. The way he walks is different from a 'normal' man's way of walking. You can see straight away that he spends hours walking long distances. He told me that he has never been to hospital and has no idea what the word 'vaccination' means.
'I took it that he never had any vaccinations in his life. He looks as though he is only 15 or 16 years old.
'We don't aim to bring him back to civilisation. I think the way he lives in the woods can perhaps be even better than the lives some of us lead. I also think that none of us would be able to sustain their life conditions even for two weeks.
'But we want to verify his date of birth and issue a birth certificate'.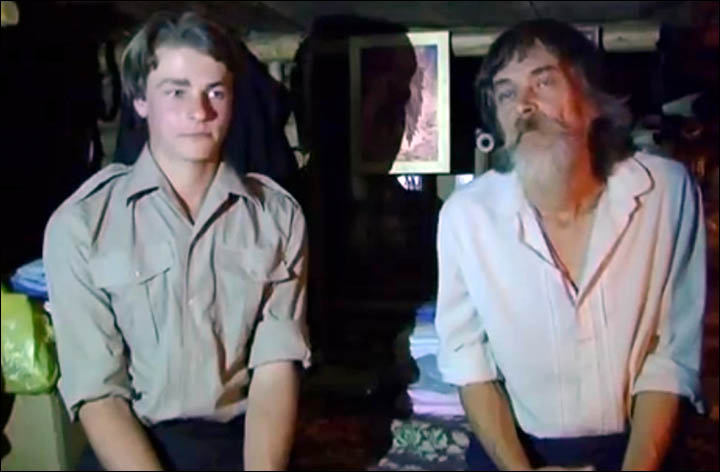 The man explained to the prosecutor that he was born in 1993 in the woods around Kaitanak village in Ust'-Koksinsky district of Altai Republic.
A local woman had brought the young man to the prosecutors out of fear that he may need help through the cold winter, but the man then had gone back to his home in the forest.
'I am not sure if he needs all this attention,' he said. 'He looked normal and healthy, he only spoke slowly, since he doesn't communicate as often as most people.'
Others who opted out of life in Siberia did so for religious reasons but Fomin says this is not the case with the 'forest boy'.
The man's family went to live in the wild as a conscious decision, but apparently not out of religious reasons. 'They are not religious people,' he said.
His existence poses a bureaucratic conundrum for the authorities since they can only account for him if he has documents, starting with a birth certificate and internal Russian passport. For this, they need to establish his date and place of birth.
If the authorities know or suspect his name, they have not released it.
'We have informed the social care body about the situation. I keep the situation under my personal control,' said Fomin.
Contact with people could pose a health risk since he lacks immunisation against common diseases. The Lykov family lived as hermits in the Siberian taiga from Stalin times, but several family members perished soon after they came into contact with people again after being spotted by geologists flying over the remote region by helicopter.
Today only one family member Agafya, 69, survives, living on her own - please read our story on The Woman Who Times Forgot