One of the draft solutions is to sedate the animals and fly them away from the town. Picture: File image of a sedated polar bear, Vesti TV
Remote Belushya Guba on the Novaya Zemlya archipelago has found itself at the centre of world attention this week with an invasion of at least 52 polar bears.
The Russian authorities are today acting to break the siege of the far-flung town, with one option being to sedate the animals and move them a long distance from the settlement.
A team was flying to the outpost to give residents respite from the wild animals.
But a ban on shooting the endangered species means a solution must be found that does not involve slaughtering the bears.
Meanwhile, videos from local ophthalmologist Ilya Mishin show life under the polar bear 'invasion'.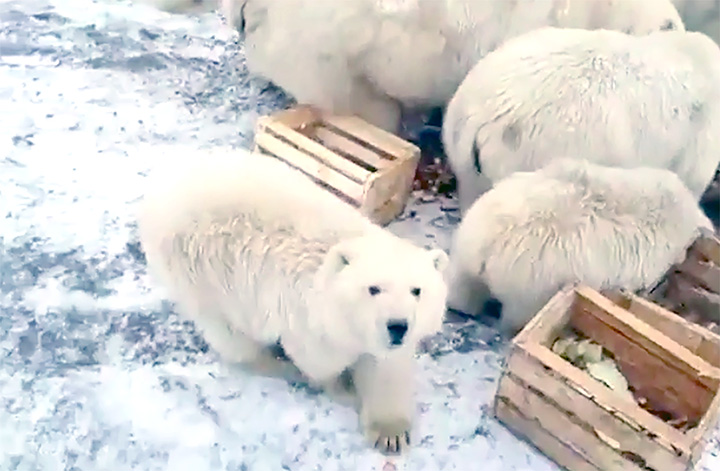 ---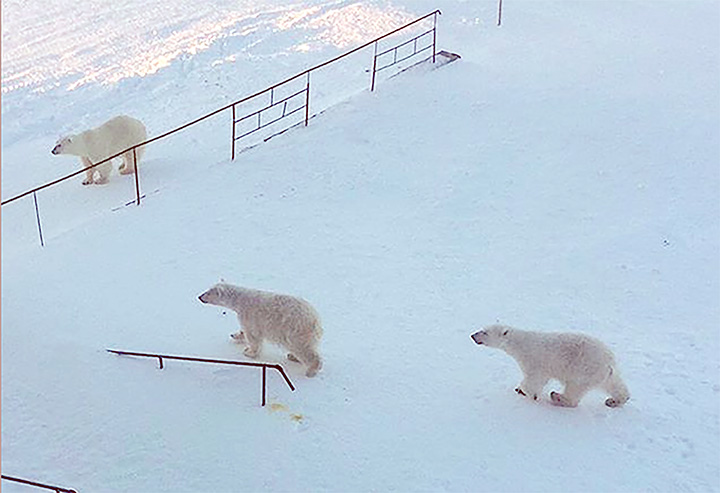 ---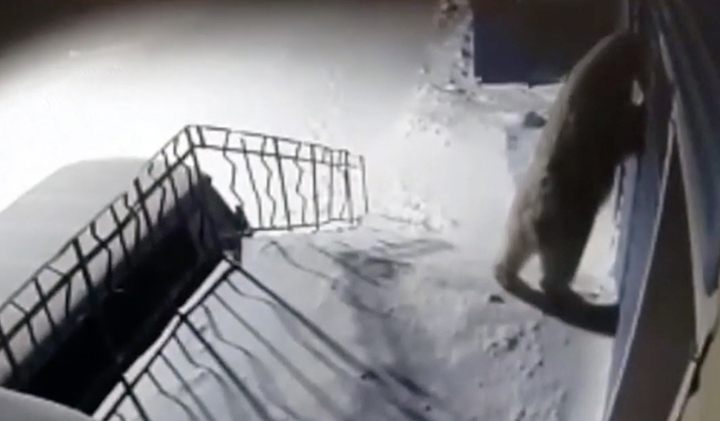 Polar bear siege. Pictures: Ilya Mishin
---
Mishin posted a night video of the beasts scavenging for throwaway food at a waste facility.
He asked: "What is your answer when they ask you to take out the rubbish?"
Another video shows a polar bear standing on two hind legs demanding entry to his eye clinic.
'How often do you get door knocks like that?' Mishin commented.
'He came for an eye check,' answered Ilya's mother Natalia Mishina.
A bear returns at night again seeking to get in through the door.
'The bear is not allowed in - again,' said Mishin.
After failing to gain entry, the bear tries the window before disconsolately wandering off.
There is also footage of stray dogs seeking to scare away the polar bears - without any success.
'The siege continues', said the eye doctor.
Local woman Nadezhda Volf, 36, said the town of almost 2,000 residents was first targeted by packs of polar bears in the autumn.
'The bears couldn't make it to the shore on time to hunt so our dumps became the only option for them to eat,' she said. Now bears are coming in packs but before one or two might appear but only rarely.
Locals admit it was fascinating to watch the predators so closely, until it got scary.
'Once I was taking my child to kindergarten, and a family of bears was walking along the other side of the lake,' Nadezhda said.
'My five-year-old daughter was lost in admiration. Another time, also on the way to kindergarten, our bear patrol was scaring away a cub - and he jumped out of a snowdrift in front of us.
'I grabbed my daughter and started running, although the rule is you mustn't run. Thank God, the patrol was near.
'I saw his little beautiful eyes but I had never been so scared before in my life. My daughter was terrified too.'
Recent Nadezhda found herself staring at seven polar bears in front of her.
'They were in distance from us, but it still was scary because they can run really fast. Adult bears were just walking, cubs were playing in snowdrifts and sliding on ice on their bellies.
'They were not aggressive, it seemed to me that they were hungry because they were somewhat slow.'
During the period when there is no daylight in midwinter the bears 'started to blend with the snow' - and terrify the locals with their sudden appearance from around the corner or at the garbage tip.
Attemps to scare them away didnt quite work as intended as the bears were not afraid.
Now a state of emergency has been declared in Belushya Guba it is prohibited to walk alone.
Special buses are taking people to work, school and kindergarten.