Tsar Nicholas II with his family, pictured in 1907
On Saturday, historians and students followed in the footsteps of the final Romanov ruler as he was taken by river to the historic city of Tobolsk.
'We wanted to feel the same emotions that Nicholas II, his wife Alexandra and their five children experienced on the way to Tobolsk,' said Lyudmila Bekdairova, the director of Azimut regional tourism centre in Tyumen.
'The children courageously withstood the hardships of that journey to full uncertainty together with their parents, and Crown Prince Alexei, tormented by leukaemia, was only 13 years old, but he also endured all hardships like a grown up man.'
The journey is one of many events related to the 400th anniversary of the Imperial House of the Romanovs, which is marked in February 2013.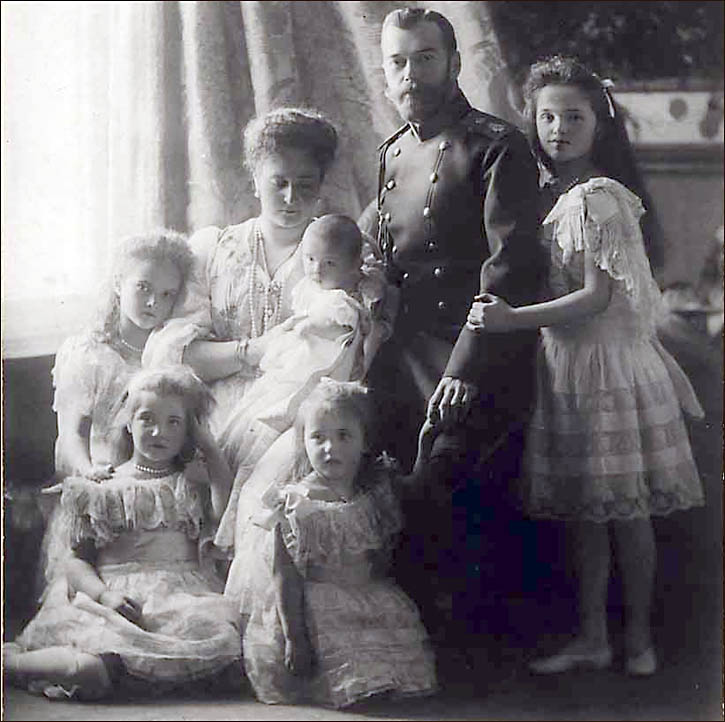 Tsar Nicholas II with his family, pictured in 1905
The tsar's diary recorded in his usual matter of fact style this stage of their odyssey in an exile which would eventually see them murdered in Yekaterinburg less than a year later.
August 7, 1917. We got over the Ural Mountains and felt the cold air. The train passed Yekaterinburg in the small hours of morning. It dragged on and on incredibly slowly, so that we arrived in Tyumen only at 11:30 pm.
The train pulled in almost to the quay and the only thing we had to do was to board a ship.
Then the reloading of cargo began and it went on all through the early morning. We departed from Tyumen by the river at around 6 am.
The participants in this month expedition left, as the Imperial family did, by boat on the Tura River from Tyumen.

'On the way, they will visit the village of Pokrovskoye where they will familiarize themselves with a museum devoted to Grigory Rasputin,' reported Itar-Tass.
'Participants in the current expedition will not be able to traverse the whole route by water, as the River Tura has become considerably shallower over the past century.'
The holy man Rasputin, of course, while adored by the royals, was also a significant part of their downfall.
The expedition highlights the potential for tourism devoted to the Russian royal links to Siberia.
Such tours are offered - including to foreign tourists - by a number of agencies in Tyumen, Tobolsk and also Yekaterinburg.
In Tobolsk, the tsar and his family lived in the Governor's Mansion in some comfort but the Bolshevik Revolution in October 1917 marked the beginning of the end of the royal family.
In April 1918 they were moved from Tobolsk to Yekaterinburg and it was here at the Ipatiev House that they were shot in the early hours of 17 July 1918.