According to local residents, two loud pops were heard just before the fire. Picture: Vesti.ru
The incident came the day after Russia shut down gas supplies to Ukraine over non-payment of huge debts running into billions of dollars.
Kiev's acting interior minister jumped to blame the explosion on Russian 'sabotage' without producing any solid evidence.
'We are considering several versions of events, including the main one -- an act of terrorism,' said Arsen Avakov. 'The pipeline's sabotage... is an another attempt by Russia to discredit Ukraine as a partner in the gas sector.'
Other Ukrainian officials put the blame on depressurization and did not mention sabotage or terrorism.
But the Interior Ministry claimed: 'According to local residents, two loud pops were heard just before the fire, which may indicate that planned explosions'.
The blast in the 1400 mm pipe was at 2.20pm local time on Tuesday.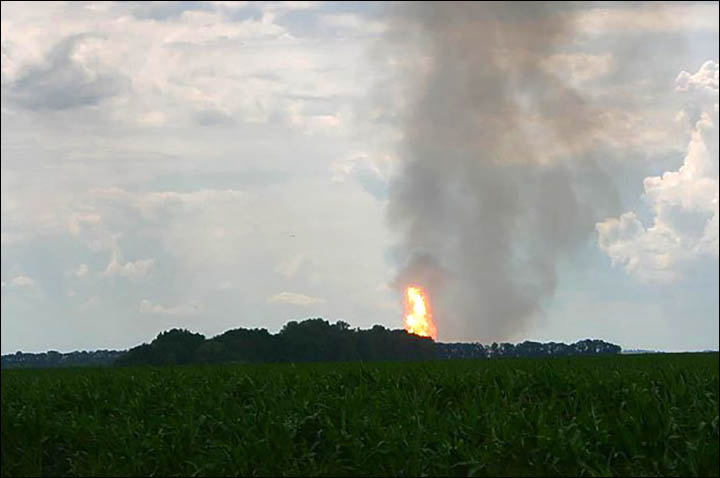 ---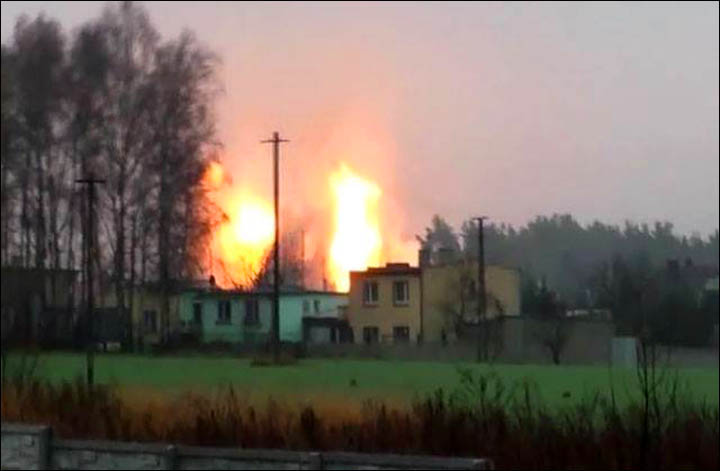 Supplies to EU maintained despite mega-blast with flames 200 metres in the sky, and heat felt 1km from fireball. Pictures: Orest Oliynik
The giant 4,500-kilometre Urengoy-Pomary-Uzhgorod Pipeline, also known as the Trans-Siberian Pipeline, is a key energy supplier to EU countries. The Russian section of the pipeline is operated by state energy giant Gazprom, and the Ukrainian segment by Ukrtransgaz.
Ukrtransgaz said the fire from the blast in a remote area of Poltava region was extinguished in less than two hours. Supplies to Europe would not be affected as the gas flow had been temporarily shifted to a parallel pipeline.
The pipeline transits through Ukraine, connecting Russia with Slovakia, with smaller offshoots transiting into Hungary and Romania.
Flows of Siberian natural gas into the European Union via Ukraine are continuing uninterrupted despite an explosion on a major transit pipeline in Ukraine, the Slovak pipeline operator Eustream.
The Urengoy gas field is the second largest in the world with over ten trillion cubic metres of total deposits.
Just below the Arctic Circle it is in the Yamalo-Nenets Autonomous Okrug of Tyumen region in western Siberia.