'No one was hurt. There is no threat of radiation. The reactor is shut down and there are no armaments onboard the submarine'. Picture: Prima Media
The fire ignited on the K-159 Tomsk nuclear powered submarine on Monday morning as it was undergoing repairs at Zvezda shipyard in Bolshoi Kamen, a 'closed' naval base in Primorsky region. As the drama was unfolding, a source at the Pacific Fleet headquarters said: 'There is no radiation hazard. Weapons have been unloaded from the submarine. The situation is completely controlled.'
15 crews of the Pacific Fleet and the Russian Emergency Situations Ministry (EMERCOM) were called to extinguish the blaze.
'Radiation in the area of the emergency incident onboard the Tomsk is normal, the reactor had been out of operation since the submarine began undergoing repairs in 2011,' a source in the Far East fleet told RIA Novosti.
All personnel were evacuated and there were no injuries, insisted the a defence source.
'According to preliminary data, the reason for the fire was violation of welding procedures', it was claimed. 'There was neither burning nor open flames onboard the Tomsk nuclear submarine, which was undergoing repairs at the Zvezda shipyard,' said a defence Ministry statement cited by Interfax.
'A spark landed on a fixture of diving ballast tanks and the space between the light and pressure hulls of the submarine filled with smoke while repairmen of the Zvezda ship repair plant were doing welding work near the light hull's flood valve.'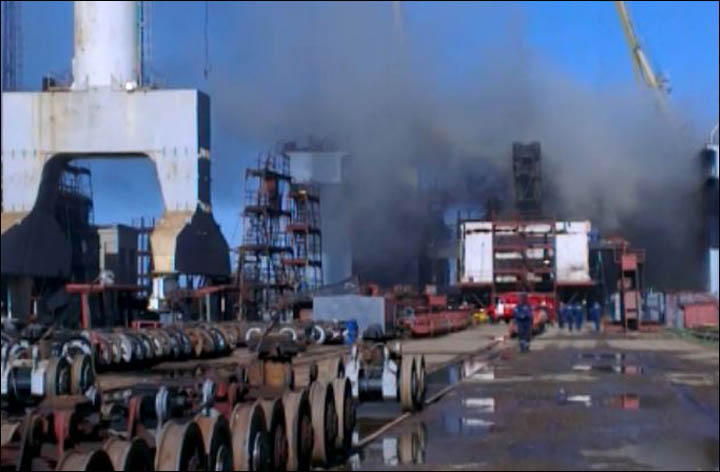 ---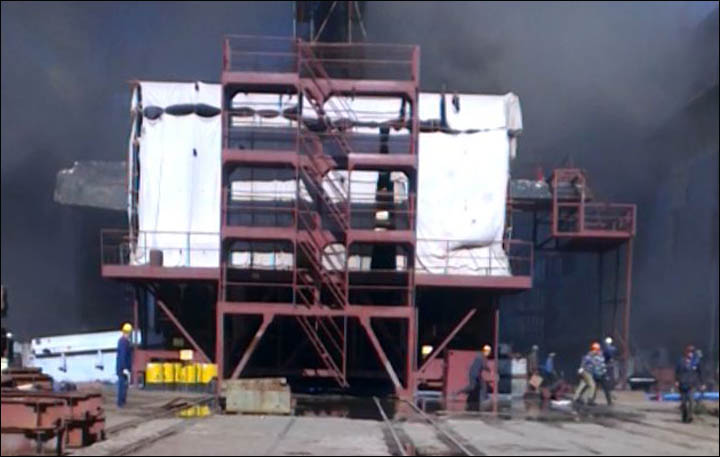 'There is no radiation hazard. Weapons have been unloaded from the submarine. The situation is completely controlled'. Pictures: Prima Media
The incident was clearly alarming since the region has a large population and is in proximity of Japan, China, and North Korea.
'Rescue teams did not find open flames or burning in the space between the light and pressure hulls of the submarine', added the statement. 'There is no smoke in the submarine compartments. The personnel have been evacuated from the dock in line according to protocol. Quick and precise actions of the fire teams of the Pacific Fleet and the Primorsky territory confined the smoke. No one was hurt. There is no threat of radiation. The reactor is shut down and there are no armaments onboard the submarine.'
The K-150 'Tomsk' submarine started operating in 1996 and is a part of the Pacific Fleet. The submarine is normally armed with a cruise missiles and mines and torpedoes. Since 2010 the submarine has been under repair in the town of Bolshoi Kamen, due to the breakdown of cooling plant at one of the reactors.
In late 2011 a massive fire broke out on another nuclear submarine in Murmansk while it was under repairs, injuring nine people.