An emergency escape ladder was seen by divers on the starboard side of the cargo ship, and the life boats were missing. Picture: vmdaily.ru, Lev Fedoseev
The crew of nine had attempted to use lifeboats to leave the stricken vessel, say officials.
An emergency escape ladder was seen by divers on the starboard side of the cargo ship, and the life boats were missing.
'They found no crew members on the bridge, and did not examine the accommodation spaces due to their inaccessibility,' said the Russian Federal Maritime and River Transport Agency (Rosmorrechflot).
'The presence of the storm ladder, the absence of people on the bridge, an open door to the deck rooms under the bridge, the absence of life rafts of the starboard confirms with a high degree of probability that the vessel's crew made an emergency evacuation attempt.'
Urgent further searches of the sunken ship will be carried out at dawn on Thursday.
It appears the vessel sank quickly when it went missing ten days ago.
Anguished relatives had been desperately hoping against the odds that their loved ones were still alive.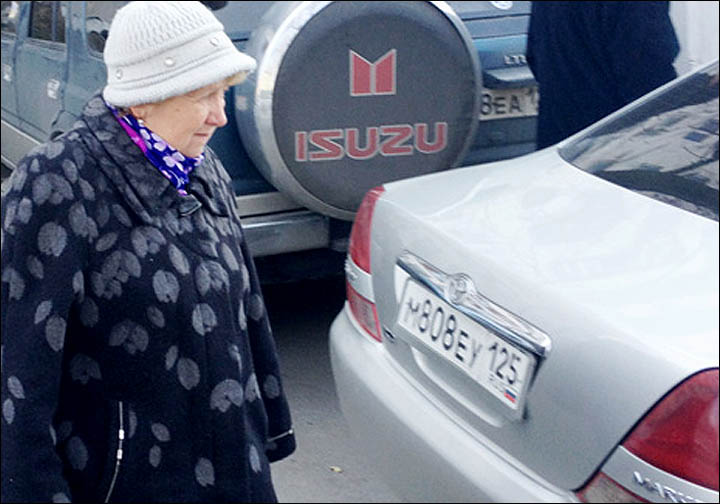 Exhaustive air and sea searches in rough conditions since 28 October - when the Amurskaya suddenly vanished after issuing an automated Mayday signal - have failed to find traces of the men or lifeboats.
'At 09:37 Moscow time today the divers who conducted the search operation from the Rubin rescue ship and examined an underwater object established that it is the Amurskaya freighter,' said an earlier statement from the press service of the Far Eastern regional department of the Russian Emergency Situations Ministry (EMERCOM).
'The divers from the Rubin vessel are to make several more dives by the end of the day for a more detailed examination of the vessel and its holds.'
Heavy currents and poor weather impeded the search.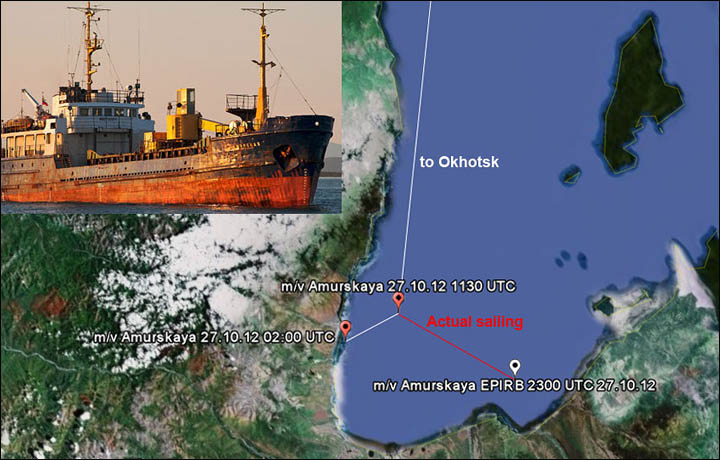 The missing seamen are residents of the Primorsky Territory; the ship disappeared in the vicinity of Shantar Island in the Sea of Okhotsk. Picture: Mikhail Voytenko, editor of Maritime Bulletin
The Amurskaya, built in 1973, sailed from Kiran sea terminal in Khabarovsk region with a crew of nine members.
According to criminal investigators, the ship was carrying 700-750 tons of gold-bearing ore, far in excess of its maximum capacity of 611 tons.
One theory is that the cargo was displaced in heavy seas, leading to the vessel's instead capsizing and sinking, reported Itar-Tass.
The head of Nikolayevsk-on-Amur Seaport Alexander Shiltsin was arrested and charged with safety violations resulting in the death of two or more persons.
'He knew for certain that the loading of raw materials on the dry-cargo ship was carried out in violation of the rules of transportation of dangerous cargoes,' said the regional investigation department.
He was also aware that 'because of the bad weather conditions the ship should not sail'.
Despite this he 'personally gave instructions to the ship's crew to sail in the Sea of Okhotsk', it was stated.