'It is impossible to walk on - you fall through.' Picture: Oleg Shabalin
The large 20 metres deep depression in tundra of the Gydan peninsula is full of sludge.
'It is impossible to walk on it as you fall through', said Oleg Shabalin, head of Gyda village, who reported the find.
Recently there have been accounts of 17 large crater-like funnels mainly on the Yamal peninsula caused by methane build-ups in thawing permafrost and initially it seemed the giant slump in Gydan had a similar origin.
Shabalin said: 'Perhaps a funnel with some gases emerged, which is increasingly common throughout the tundra zone of Russia, and we caught the moment when it was filled with thawed soil.'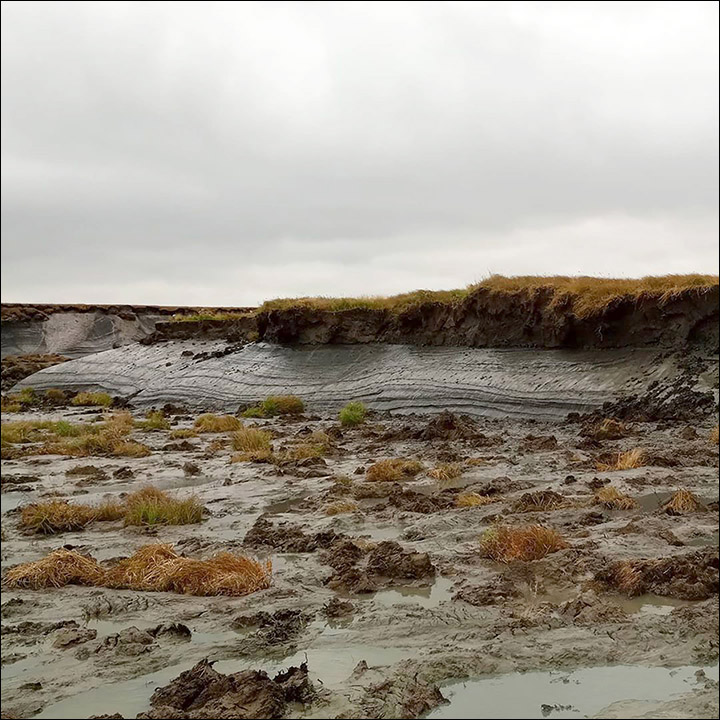 ---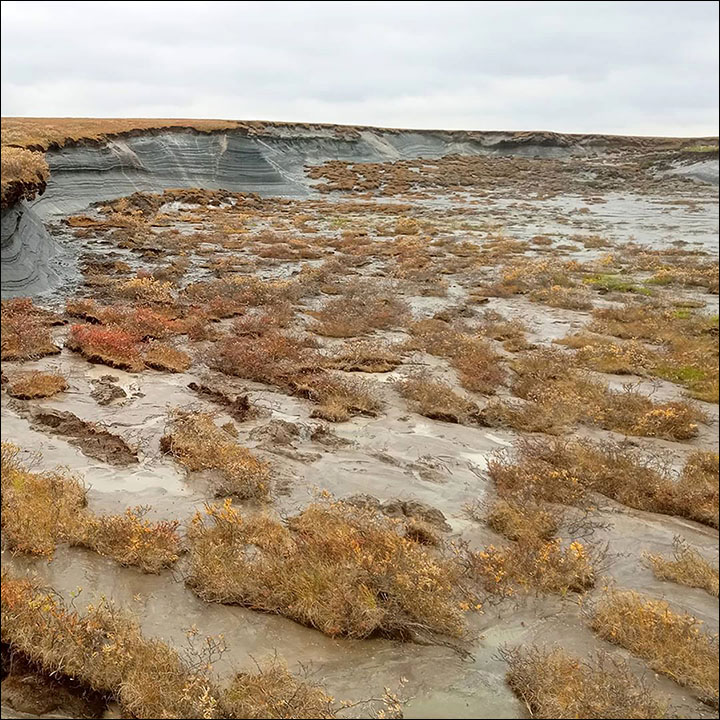 200 metres wide thermocirque seen weeks after scientists find new crater in the Yamal peninsula, caused by the build up of methane. Pictures: Oleg Shabalin
---
Permafrost expert Dr Marina Leibman, from the Earth Cryosphere Institute of the Siberian Branch of the Russian Academy of Sciences said gas emissions were not the origin of this phenomenon.
'This is a thermocirque; gas funnels have nothing to do with it.
'We have been studying thermocirques for many years, they became active in warm year 2012.
'They look like huge landslides of semi-circular shape with outcrops of ice.
'Earlier such thermocirques were observed near the sea, now they are seen deeper on land. They are associated with ice layers and warming, alike to funnels', she said.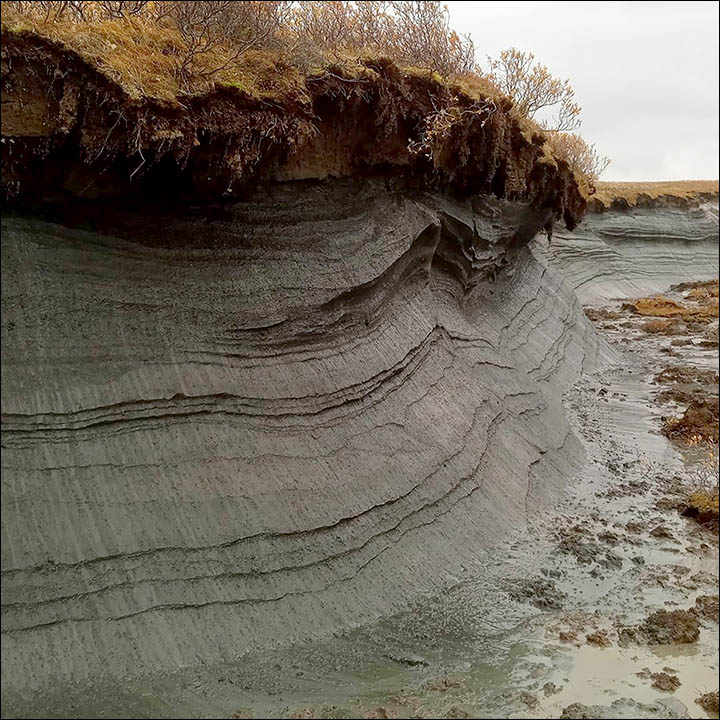 ---

Ice layers can be seen on the sides of Gyda thermocirque. Pictures: Oleg Shabalin
---
An unusually hot summer melts thick ice under the surface leading to subsidence, filling the 'hole' with slushy soil.
'Thermocirques are more common for the Yamal peninsula. There are thermocirques in Canada, though not as impressive, and in (the Russian easternmost region of) Chukotka', Marina Leibman said.
Another expert, Dr Vladimir Olenchenko, Head of the Laboratory of Geoelectrics at the Institute of Petroleum Geology and Geophysics, also said: 'This is a typical thermocirque which forms when the ice layers thaw.'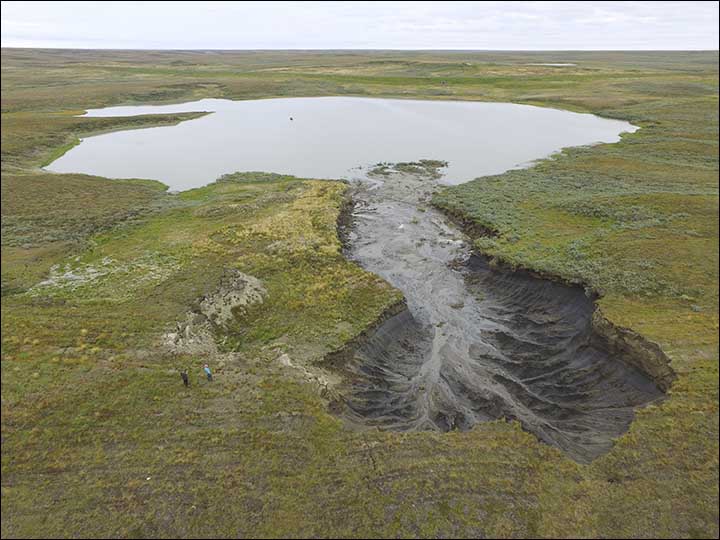 Thermocirque at 'Vaskiny Dachi' pictured during the expedition of the Earth Cryosphere Institute of the Tyumen Scientific Center of the SB RAS in 2016. Picture: Marina Leibman
---
As well as 17 large 'craters' caused by methane explosions, Russia has identified 430 'gas bombs' which could erupt causing hazards to settlements and disrupting natural gas energy supplies.
The phenomenon has been widely seen as being directly due to climate change, but experts caution that this link is still being studied.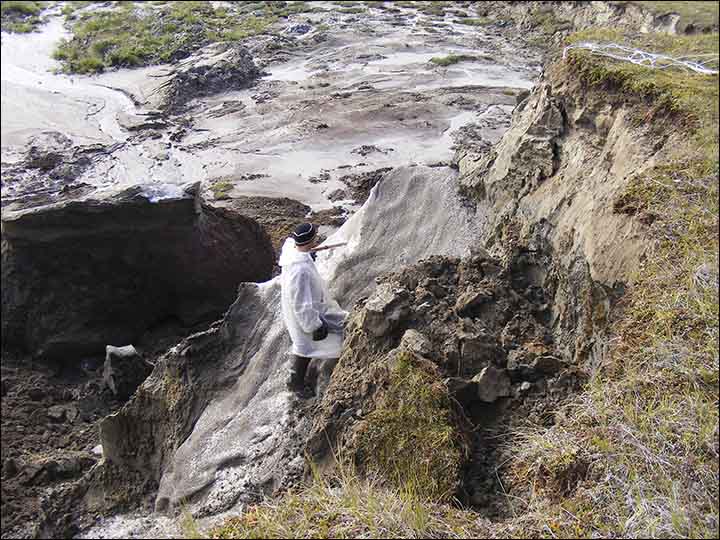 'This phenomenon is also associated with ice layers and with warming'. Picture: Marina Leibman
---
Professor Vasily Bogoyavlensky, of the Russian Oil and Gas Research Institute in Moscow, has suggested action alike to sappers's work is needed to 'defuse' the potentially explosive methane buildups by releasing the gas.
Some 7,185 mounds have been identified from satellite image analysis, he saod.
'Five to six per cent of them are really dangerous,' Vasily Bogoyavlensky said.
The newest - number 17 on Russian scientists' list - 'crater' appeared earlier this summer in an undisclosed location on the Yamal peninsula. They are believed to be caused by the build up of methane gas in pockets of thawing permafrost under the surface; these swollen pingo-like formations then erupt with gas blowing off thick caps of soil, shooting out chunks of ice and soil as large as 150 cubic metres. Pictures by Andrey Umnikov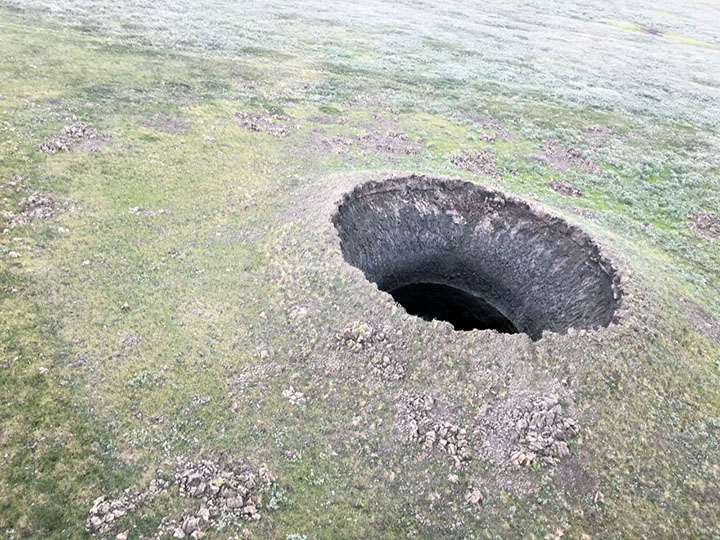 ---
---