Where have you been flying?! A happy ending for the Yorkshire terrier found a week after it's been blown away by a gust of wind. Picture: Ivan Vislov
The terrier - weak, frostbitten and petrified - was found five kilometres away from home.
Owner Vladimir was losing hope after days of searches brought no result.
On 13 November, the day when a 'black storm' came to Norilsk he took the dog for a walk, not realising that the wind gushes could be as strong as 30 metres a second.
'I didn't have a lead', Vladimir said.
'I knew about storm warning but didn't expect it to be so strong that soon.
'Several metres after we started the walk I heard a yelp, and my dog was gone!
'All I could see was that he was blown in the direction of bus stop.'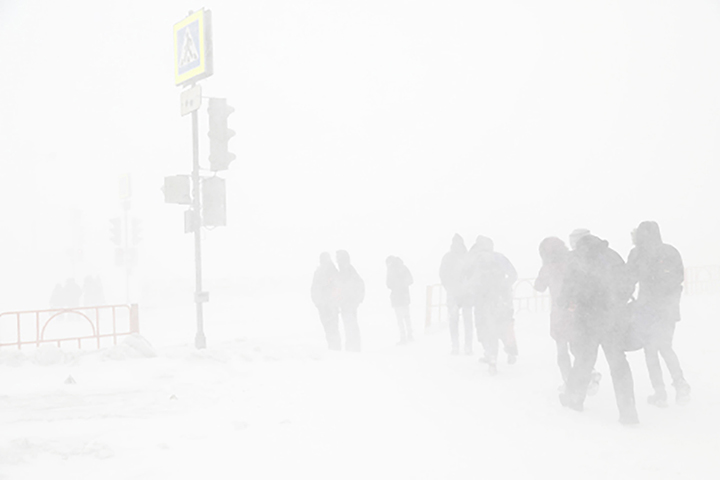 ---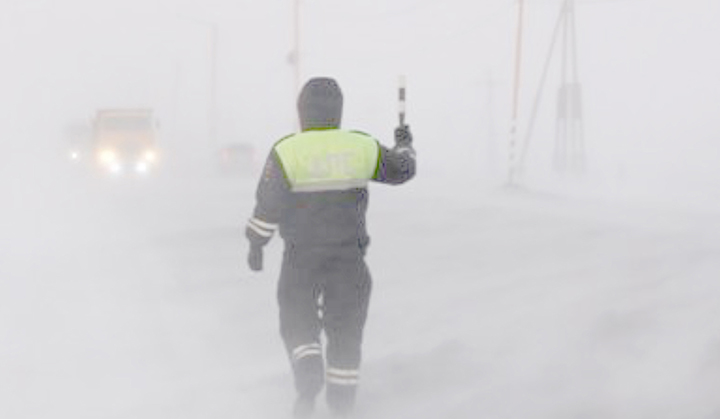 ---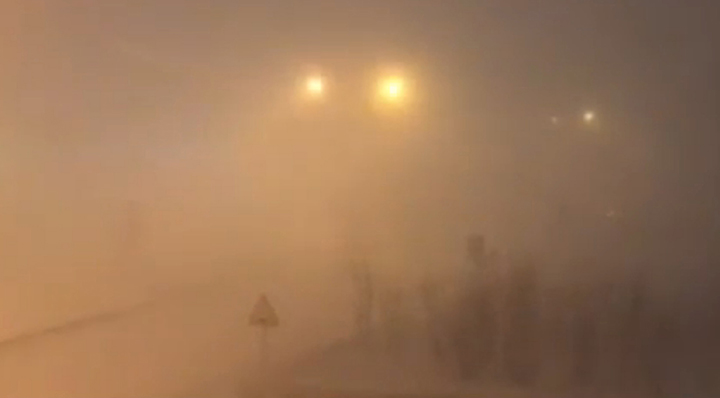 ---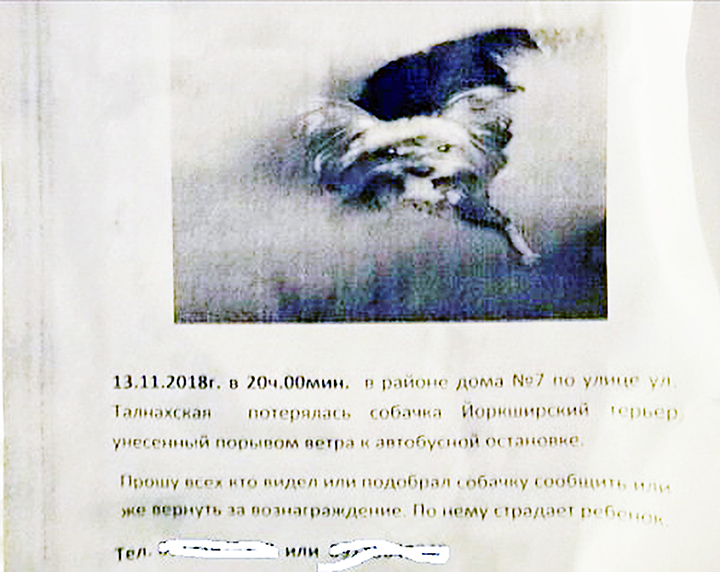 Black storms in Norilsk, and a poster that Vladimir the dog owner pinned all around the city when the dog got lost. Pictures: Typical Norilsk, Zapolyarnaya Pravda
---
The owner spent several hours trying to look for the terrier around block number 7 at Talnakhskaya Street, but the wind and snow were too strong.
Despite the storm, he rushed back home, printed posters with his dog and went out sticking them all around the area, begging people to help find his pet.
He also copied posters on social networks, but for a week there was no news.
'I got so worried and guilty I could hardly eat or sleep', Vladimir said. 'The whole family was very upset.'
A week later there he got a call, and a man said he read the poster and saw the dog shivering from cold.
'We found the dog!!!!' Vladimir posted online, and said he received a lot of skeptical and critical comments from fellow people of Norilsk.
'I heard all sorts of things, from 'people get blown away, and you took out some 200 grams creature without a lead', to 'next time just put the dog on a window ledge when the storm is that strong, it'll be enough', but I am so grateful that the dog is back I don't mind people saying this to me', Vladimir said.
The dog is doing well.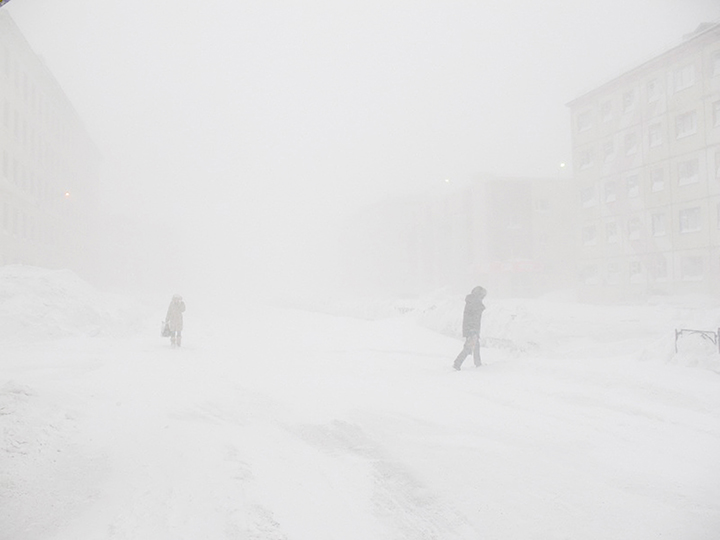 ---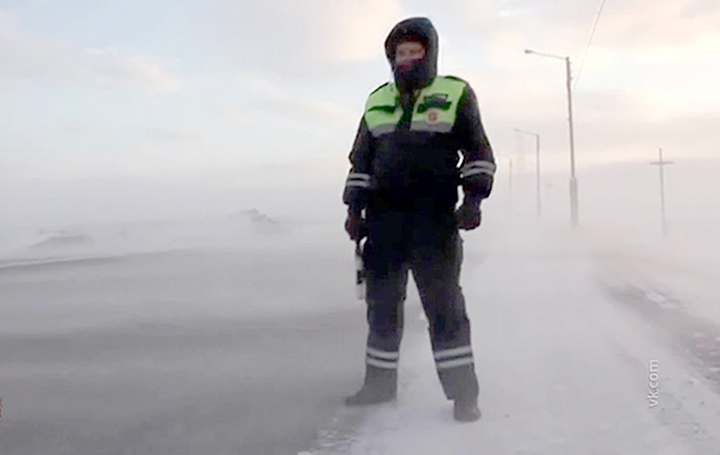 ---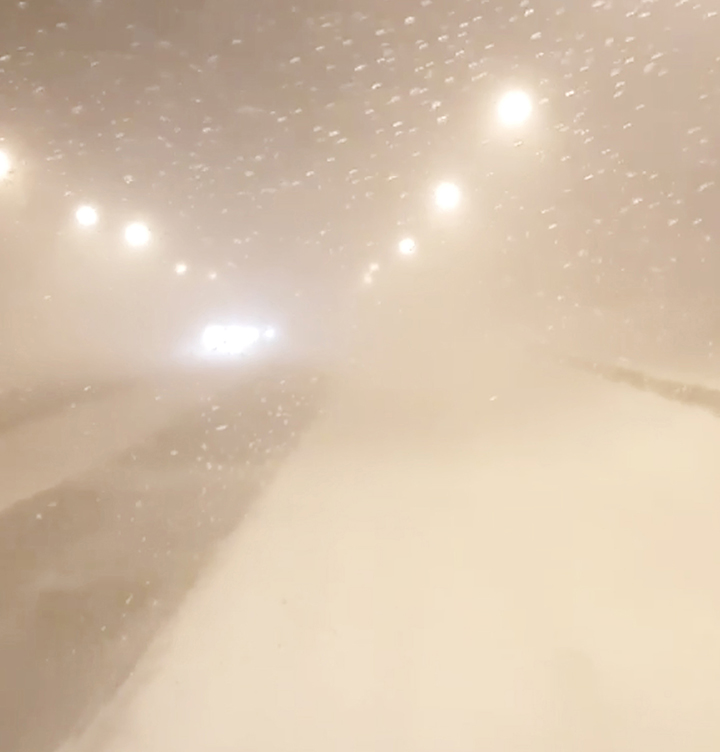 ---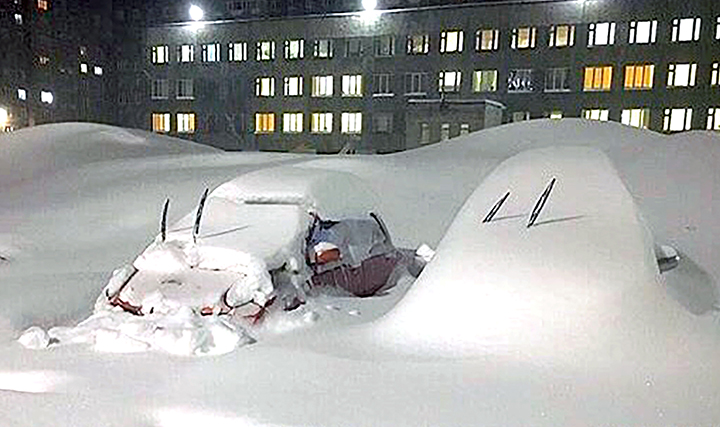 A black storm and its aftermath in Norilsk, noth of Krasnoyarsk Krai. Pictures: Typical Norilsk
---
Russian Dog handler Yelena Kavrus said: 'Yorkshire terrier are hunting dogs. They are small, but their nervous system is quite robust. It is clear that the dog of such size can't be taken out when it is that stormy outside'.
This was the first of two strong - locals call them 'black' - storms in Norilsk during the last couple of weeks.
They are typical for this time of year, with wind reaching 30 m/c and air temperature dropping to minus 30C.