Search teams included 363 people, Mi-8 helicopters, An-26 and An-2 planes. Picture: Tyva Online
A massive search in one of Siberia's remotest regions has yielded a complete blank as emergency workers seek to understand what has happened to the helicopter. Radio contact was lost when it was en route between Sorug and the republican capital Kyzyl.
A state of emergency was imposed on Saturday after it vanished 220 km east of Kyzyl. An early report that a mobile phone of one of the men on board was ringing AFTER the crash has not led to the location being established.
The head of the press service of the Siberian Regional Emergency Centre, Alexey Khlapov, said: 'There is a signal of a cell phone belonging to a man on board. No-one picks up. We have appealed to the Ministry of Internal Affairs of Khakassia and Tyva asking to get a fix on the signal to locate it'.
An emergency beacon on the helicopter evidently gave no signal.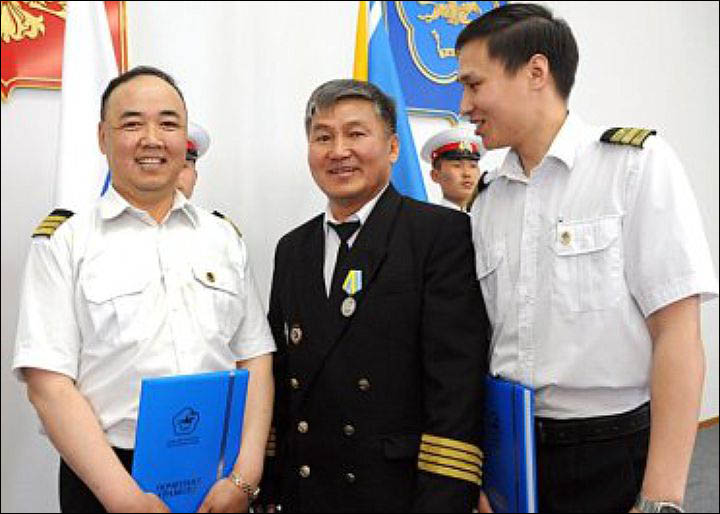 Adar-ool Norbu (middle) is one of Siberia's most experienced pilots. Picture: Tyva Online
The helicopter was piloted by Adar-ool Norbu, one of Siberia's most experienced pilots, himself a hero of a rescue mission last year after six young sportsmen were buried in an avalanche in the republic. Specialists on the helicopter had been making snow measurements close to the Sayano-Shushenskaya hydropower plant, it was reported.
Search teams included 363 people and 52 so-called 'units of machinery' including ten aircrafts - Mi-8 helicopters, An-26 and An-2 planes.
The republic's head, Sholban Kara-ool, instructed Vice-Premier Damba Huuraku to ensure interaction of all authorities with the rescue groups.
'Our guys are among the most experienced pilots and I pray that all is well with them,' said the government chairman.
There are seven passengers, three crew members and two technicians on board.
The helicopter belongs to Tuva Airlines and was leased for private purpose. The rescue has been hampered by poor weather and high winds. But the conditions when the helicopter was lost were not exceptional. Tyva has borders with the Altai Republic, the Republic of Khakassia, Krasnoyarsk Krai, Irkutsk Oblast, the Republic of Buryatia in Russia, and with Mongolia.