Drugs parcelled into small balls with green and yellow covering. Picture: SITV.ru
The impact is terrifying. One young man covered in blood, clutching a knife, threatened to throw himself from a window, before being talked down by neighbours.
Others crash cars, violently attack neighbours, or suffer seizures in which their hearts and brains stop functioning.
At the last count there are 12 addicts in the intensive care unit of Surgut District Hospital, and another 13 suffering acute psychosis in Surgut Neuro-psychiatric Clinic. Many more are undergoing hospital treatment.
In the local cemetery, journalists saw three graves - all male and aged around 30 - related to the epidemic.
The youngest to die was 18, say the authorities.
Andrei Novikov, head physician at the clinic, said: 'As a rule, they are brought in unconscious or seriously agitated. They can thrash about the ambulance or hospital emergency room. They feel that they are being persecuted.'
Symptoms include fear, anxiety, enlarged pupils, unsteadiness, and hallucinations. Some victims fell into a coma.
Victims bought the killer drug online for $39 a hit, it was reported.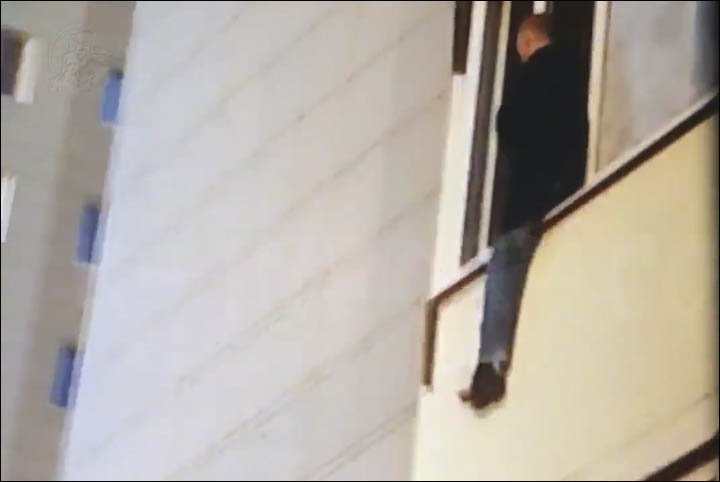 ---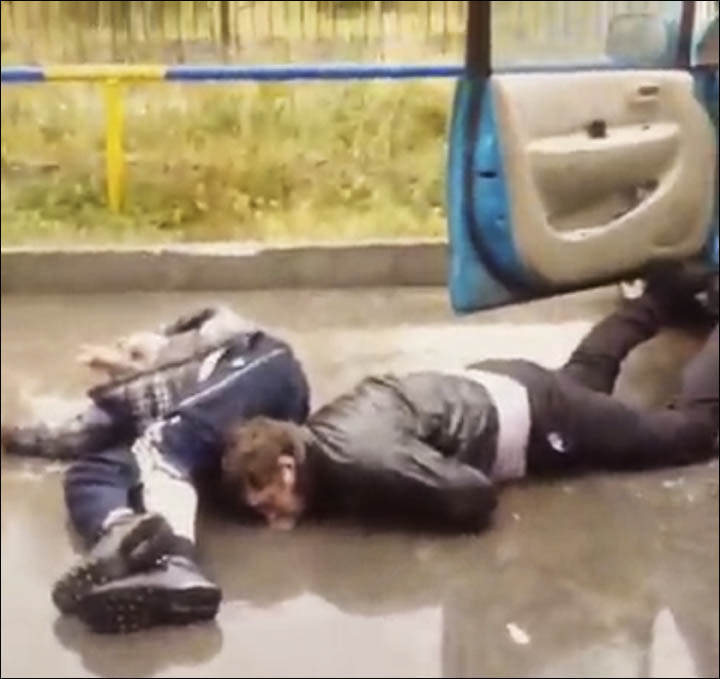 ---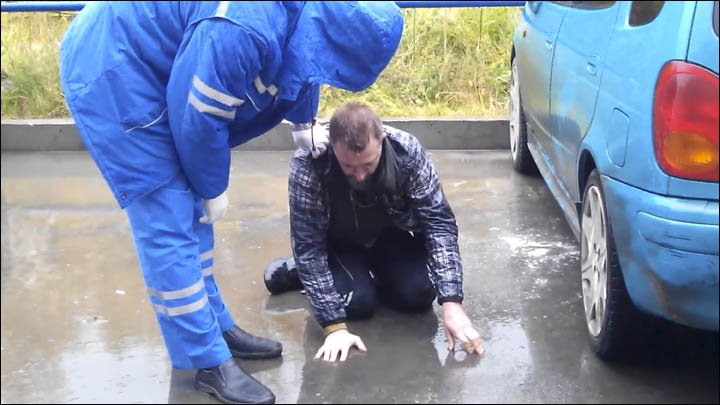 ---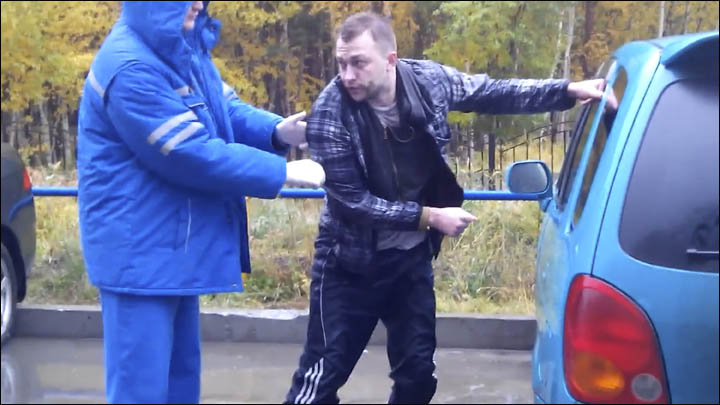 People intoxicated with new 'designer drug'. Pictures: Renata D., Alexey Mokhov
Five drug dealers were reportely detained. At least four were Ukrainians recruited three weeks ago in the city of Nikolaev, it was claimed. They were offered $3,000 a month to spread the drug in Siberia.
Serious poisoning by the lethal drug cocktail also occurred in Kirov.
There is deep concern by health officials and parents over the spread of synthetic drugs known as 'spice' and 'bath salts' in a number of Siberian cities, but this latest variant was unknown to experts when it appeared this month.
Notices offering drugs for sale are posted on fences or notice boards, but in Surgut, in Khanty-Mansi Autonomous Region, the drugs were bought over the internet, say law enforcement officials.
Inga Snatkina, spokeswoman for the regional prosecutor, said: 'The dead people bought the 'designer drug' in Surgut via an internet shop.
'At the moment we are trying to find out how it was delivered to them. Besides shutting down the website where the drugs are being sold, we will hold the owners responsible, but it will be hard to find them.'
She said: 'The number of people who died of the designer drug of unknown origin reached 7, and 180 were poisoned.'
All smoked the drug.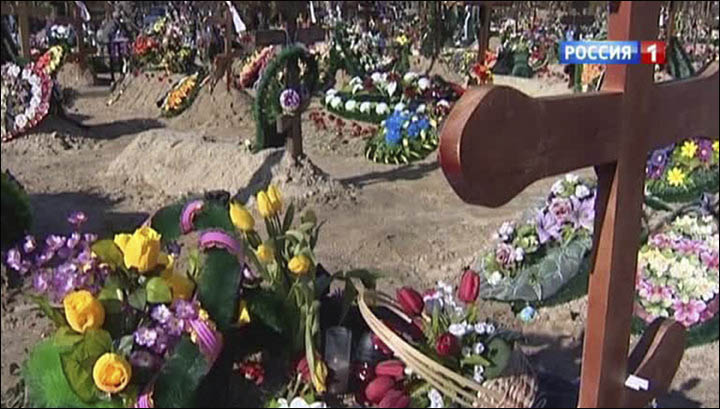 ---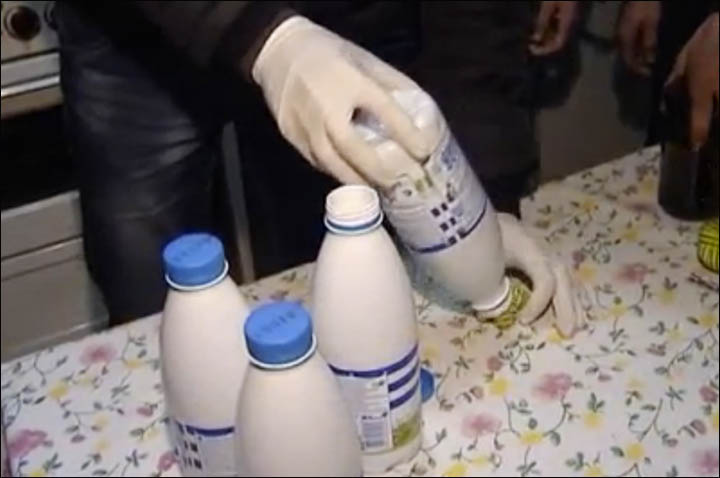 Fresh graves of young men died of designer drug (top). Horrific drugs were hidden in milk bottles (bottom). Pictures: Russia 1, SITV.ru
According to the Federal Drug Control Agency, 'this substance is an absolutely new designer drug made from two components'.
The drug control agency's deputy head Nikolai Tsvetkov said the the components of the fatal drug had been identified and were now being added to Russia's banned list.
During searches of the detainees, police seized about 1 kilogram of drugs. Substances parcelled into small balls with green and yellow covering were hidden in milk bottles, the packaging of mobile phones, and coffee jars.
A similar group was detained in the city of Kirov.
Andrey Chernikov, head of the Federal Drug Control Service in Khanty-Mansiysk Autonomous Region, said: 'It is possible that it is one and the same criminal group, maybe even organised criminal association, which sells a variety of drugs.'
Vladimir Zuenok, investigator from the regional Investigative Committee, said: 'We are interrogating the victims. As they say, they bought the smoking substances on the internet. All of them felt dizziness and weakness.'
Police say there are about 20 internet drug dealers in Surgut.
The clients put money on a bank account and then they are told the address, number of door entrance, floor and precise location where the drug is stashed.
The Federal Drug Control Agency stated: 'From 24 September until today, police found 25 hidden stores of drugs in Surgut and seized them, 1.5 kilograms in total.
'Five people are currently detained.'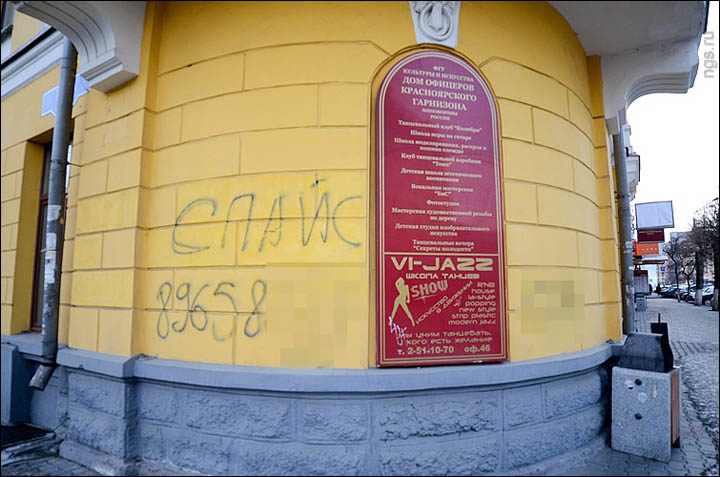 ---
Advertisment for 'spice' and 'bath salt' on the walls of apartment blocks in Krasnoyarsk (top) and Berdsk (bottom). Pictures: NGS.ru, Berdsk Online
Yelena Sherman, spokeswoman for the Investigations Committee in the region, said: 'Experts from Yekaterinburg are doing their best to track down the origins of the synthetic drug and are examining its composition.
'The results of the expert study will be made public in the first days of October.'
Surgut is some 2,100 km east of Moscow.