Otto Christian Ludwig Lagerfeld. Picture: Walter Frederick Willig
The Siberian Times salutes historian Andrey Sokolov, the acting member of the Russian Geographical Society, who gathered information about Otto Lagerfeldt's years in Vladivostok.
The great fashion guru and artistic director for Chanel died in Paris this week aged 85.
A hidden aspect of the life of his father Otto Christian Ludwig Lagerfeld can now be revealed based on records from the tsarist era in Vladivostok.
While Lagerfeld sometimes spoke of his farther as Swedish, all the evidence shows him to be German - and moreover to have paid a heavy price during the First World War.
In 1914, he had been living and working in Russia's Pacific capital Vladivostok for seven years having arrived 'as a 26 year old bachelor' in early December 1907 via Japan from San Francisco, where he had experienced the city's earthquake a year earlier.
This followed an apprenticeship in a coffee trading company in Hamburg, his birthplace, and German military service after which he had a stint in Venezuela before moving to join a brother in the US.
In Vladivostok, evidently fluent in spoken and written Russian, he was a successful salesman of canned milk under the brand Gwosdika and was part of a thriving expat community which socialised in German and English.
Papers kept at the Russian state historical archive of the Far East show that Otto Lagerfeldt - to use the family name before he changed the spelling - was mid-height, had black hair, grey eyes and spoke good English, revealed local historian Andrei Sidorov.
In Russia he styled himself Otto Ottovich Lagerfeldt.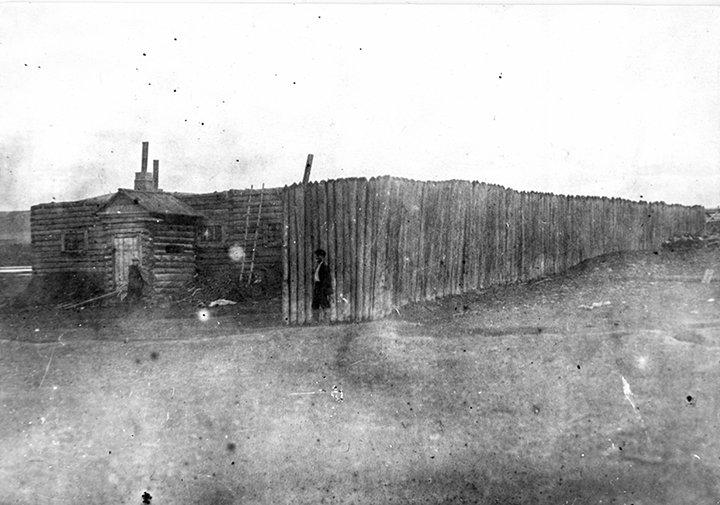 ---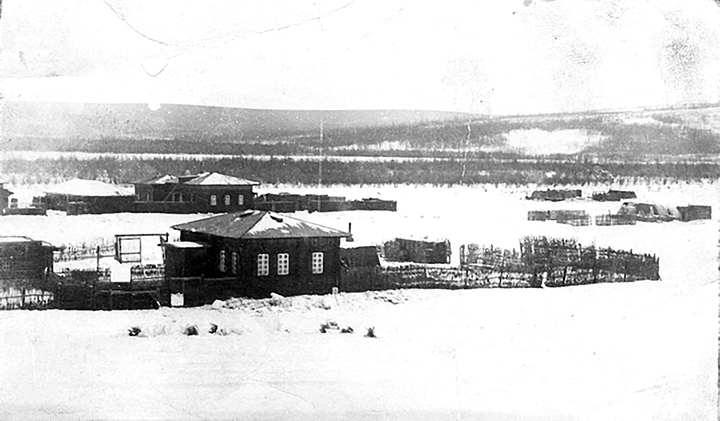 ---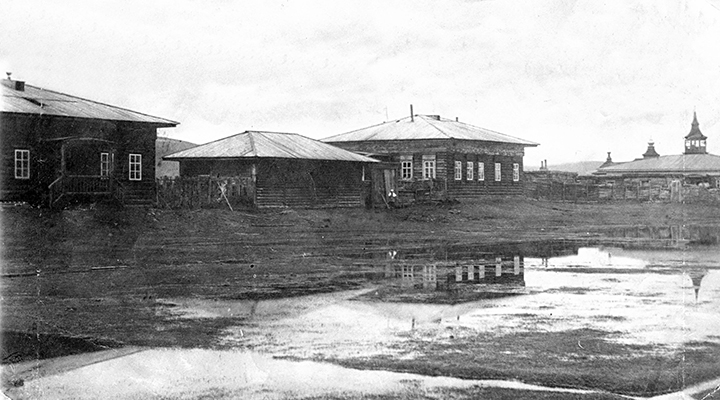 Jail in Verkhoyansk (top) where Otto Lagerfeld was kept from 1914 till 1918
---
Here in the Far East of Russia young Otto owned a trading company that sold condensed milk under the Gvozdika, or 'clover', trademark.
He lived on Pavlovskaya Street in a building now occupied by the state historical archive.
The world changed for him and so many people in 1914, and in particular on 1 August when Germany declared war on Russia. Records show that Otto submitted an application to the Russian authorities to be allowed to retrace his steps from seven years earlier and leave for America.
His written plea stated: 'I came to the conclusion that with the suspension of trade operations between London and Hamburg, the normal course of my activities cannot be sustained.'
Yet this fell on deaf ears in the tsarist secret police.
On 3 August he was detained as a suspected spy, and handed to the superintendent of Vladivostok fortress to be kept at a guardhouse on Larionov Cape, Russky island.
One week later, on 10 August, records show he was transferred to Vladivostok regional jail on Nikolayevsky Prospekt, as an individual suspected of 'espionage'.
Russia's empress Alexandra may have been German, but the hunt was on everywhere for spies.
Then on 26 August, in a group of eight Germans and an Austrian he was ordered to be interned by the Irkutsk governor whose responsibilities stretched across eastern Russia.
His decision was that Otto be sent to Verkhoyansk - above the Arctic Circle - in what today in Yakutia region, or the Sakha Republic.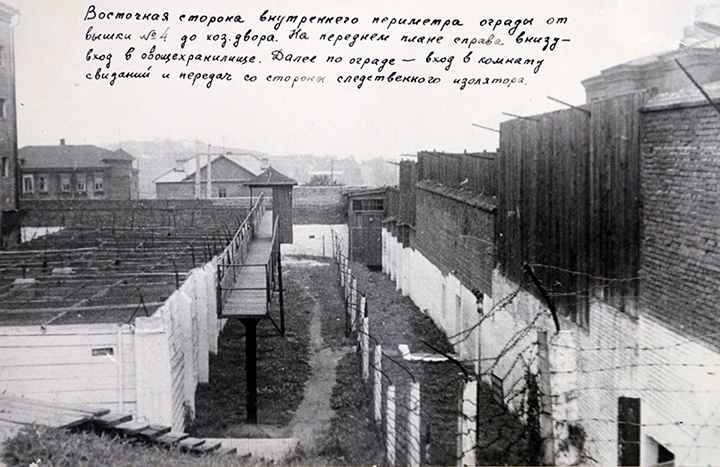 ---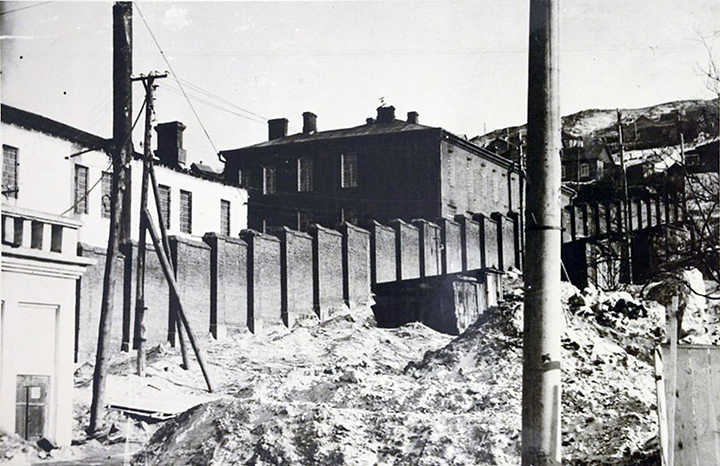 Jail in Vladivostok where Otto Lagerfeld was kept before being sent to a four year long exile in Yakutia. Pictures: Gorod V
---
Remarkable testimony remains of the day he was sent by train out of his adopted home of Vladivostok.
It comes from American Eleanor Pray who was living in Vladivostok with her husband, a merchant apprentice.
In letters she recorded life at a period of tumultuous change; they were kept by Eleanor's relatives in the U.S. until they were found by Birgitta Ingemanson, a professor of Russian literature.
Eleanor would go on chronicling life in Vladivostok until early Stalin times, but one of her earlier letters tells of how she stood on the platform at Okeanskaia station to wave farewell when German friends bearing names like Schultz, Tolle, and Lagerfeldt were sent into internal exile.
She did not speak to Otto, but she mentioned him as being one of those being sent to internment camp.
'We have just come back from Okeanskaia where we went to say goodbye to our friends who are being sent into captivity,' she wrote.
'We took flowers for Mrs Schultz and Mrs Tolle, and Mrs Kastner took for Mrs Hansen. Mrs Tolle did not come out, and we were not sure she was on the train until it was too late to look her up.
'I was so sorry because she is the oldest of my friends in that party and is the daughter of a Russian officer.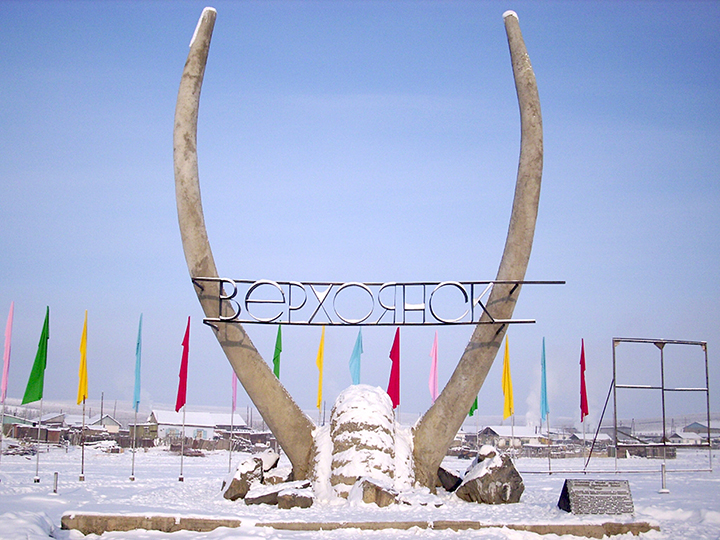 ---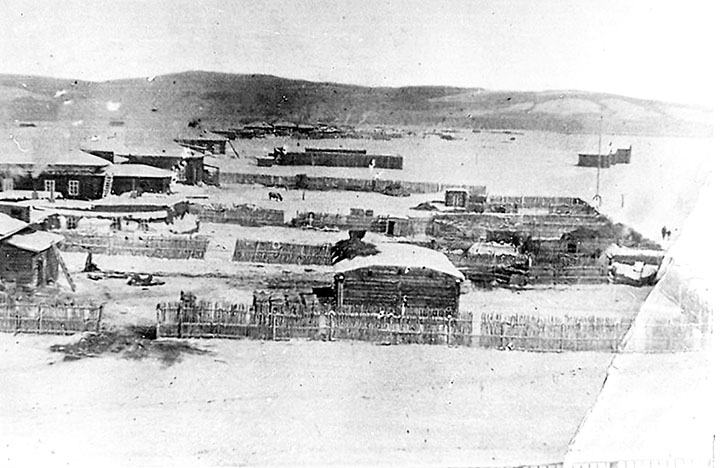 Verkhoyansk now and back at the beginniong of 20th century when Otto Lagerfeld lived there from 1914 till 1918
---
'We saw Mrs Schultz and Mrs Hansen', Eleanor continues, 'and then, through the window of the third class wagon almost at the end of the long train, Messrs Schultz, Ebert, Ollandt, Kogan, Janich and several others.
'We talked with them a little and then one of the guards rather roughly told us we must speak in Russian.
'Some woman spoke up and said, 'These people are not speaking German but English.'
'No matter— they must speak Russian,' was all she got to that— and as far as I remember we kept on in English, at least we said goodbye to them in that.
'Behind this wagon was a common convict wagon with barred windows and there Messrs. Tolle, Lagerfeldt, Wubbens and one other were confined, several soldiers being on guard.
'Our friends did not come to the window, so we did not see them.
'Common thieves, murderers, etc., travel in those wagons, and these were four perfectly respectable men, whose only crime is that they are German.'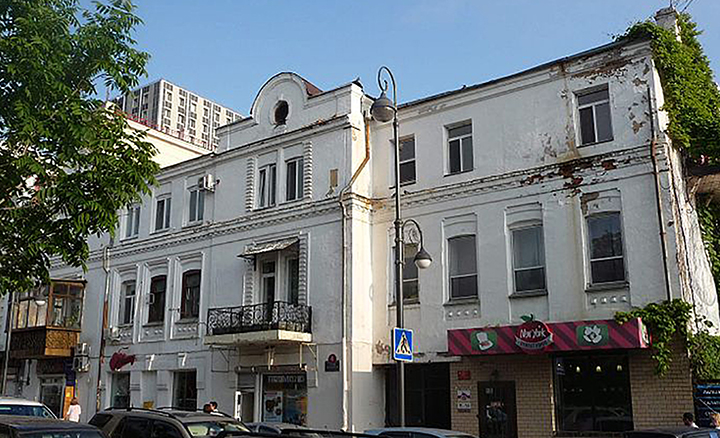 ---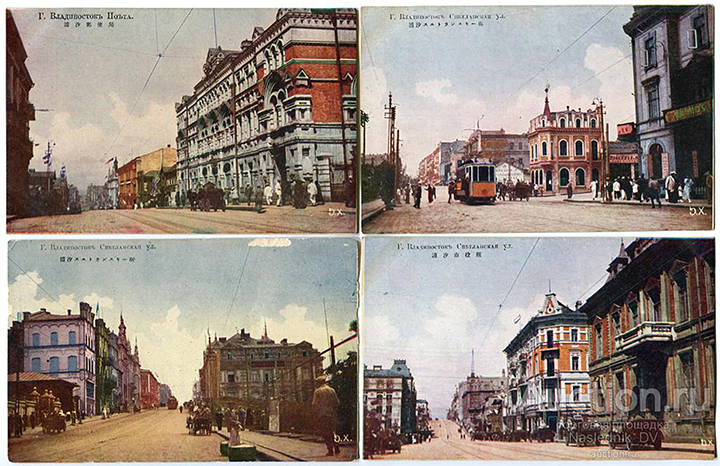 Block of flats at 4 Svetlanskaya street where, now and more than a 100 years ago where father of Karl Lagerfeld had office
---
Otto's exact route on the 2,700km journey - due north - is not known.
Verkhoyansk is on the Yana River and probably a large part of the journey was by river, but Eleanor Pray's testimony shows that long trip into exile began by train.
Pictures exist of this harsh camp in Russia's oldest settlement above the Arctic Circle to which he was sent.
It is one of the world's coldest towns with an average January temperature of -45°C.
Some 22 years before Otto arrived here a temperature was recoded of −67.6 °C (−89.7 °F), at the time the lowest ever for a permanent settlement, and the coldest in the northern hemisphere.
He would remain here until 1918, probably early in the year - covering a period when the Russia underwent two revolutions.
Early on he had applied for Russian citizenship, the records show, but the application was refused by the governor general of Amur region N.L. Gondatti on 23 September 1914.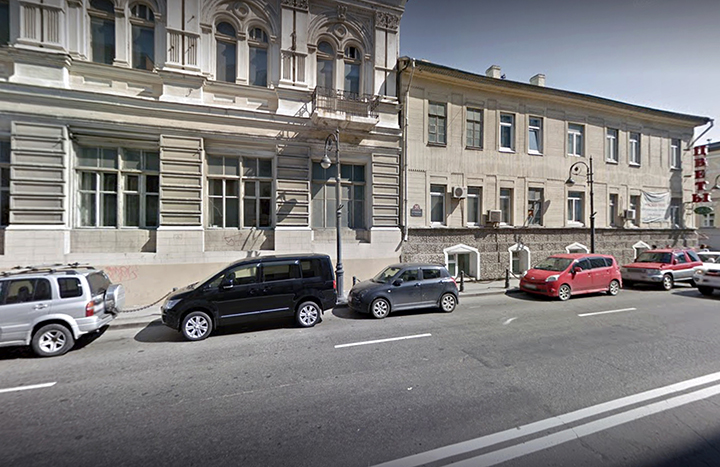 ---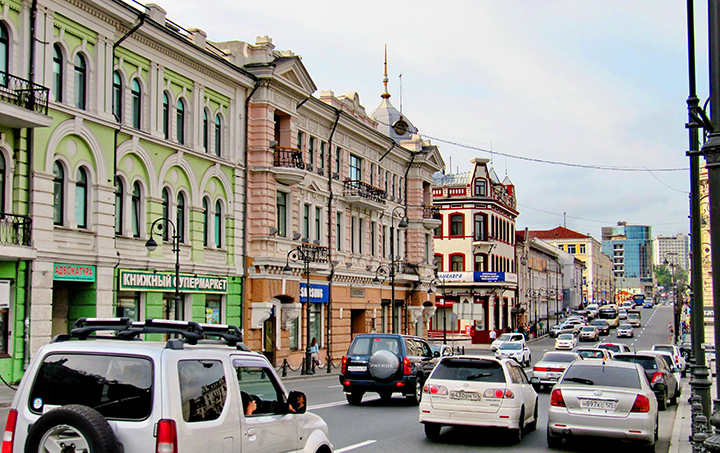 Block of flats (top) and GV of Aleutskaya street in Vladivostok where Otto Lagerdeld lived from 1907 till 1914
---
By the time of his release, Russia was engulfed by civil war - and indeed although the Bolsheviks had taken power in November 1917, their writ did not run to Verkhoyansk.
How exactly Otto returned to Germany - where he was in business by 1919 - is not known.
Russian sources say he never returned to Vladivostok after he went into internal exile.
Possible routes out might be via China to a southern seaport or across Russia but if so he would have had to cross from Siberia, then controlled by the whites, and in to Bolshevik territory.
Karl Lagerfeld - born in 1933 in Hamburg almost a decade and a half after Otto's return from Russia - claimed at various times that his father was Swedish though he was German.
He appears not to have spoken publicly about his father's Russian work and exile in any detail.
Yet in one interview he did mention Vladivostok to highlight how cut off it had been in the past.
Hailing the role of the Internet, he said in 2006: 'Before, no fashion magazine reached a little village. The Internet reaches every little corner in the world. So, all this has changed. In the middle of Siberia, you can be informed in the seconds. In the past, you needed three weeks from Berlin to - to Vladivostok by train.'
Famously, he also held Russian men in some contempt.
Surrounded by female Russian models he said: 'If I was a woman in Russia, I would be a lesbian, as the men are very ugly.'
Prhaps he was expressing a son's resentment for his father's bitter wartime experience in Russia.