Russia has about 200 officially registered baiting stations. Picture: Spiridon Sleptsov
Critics of the new law passed by the Russian State Duma, or parliament, but declined by the Federation Council, the upper house, took to streets in Moscow, St Petersburg and Yakutsk.
So-called baiting stations are used to train dogs by allowing them to chase chained brown bears, wolves, foxes, raccoons, boars and martens to develop and polish their hunting skills.
Multiple allegations have been made that wild animals were being abused at such stations, leading to deputies initiating the new law.
The law would force owners of such stations to install a mesh or glass fence to prevent physical contact between wild animals and dogs.
It would also ban dogs not classified as hunting animals from training at baiting stations.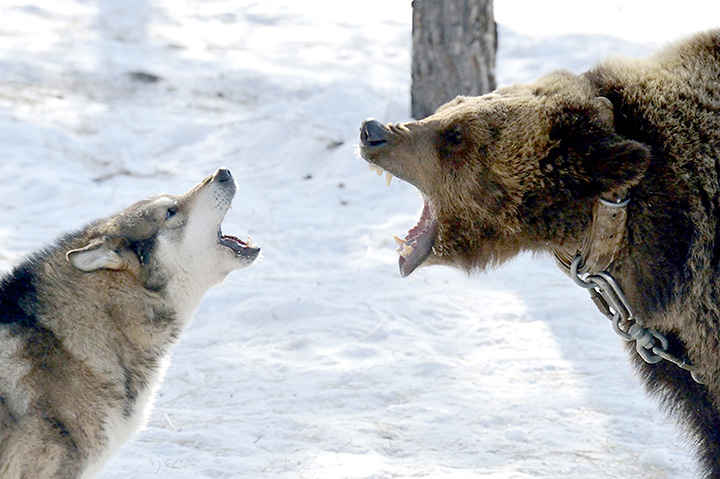 ---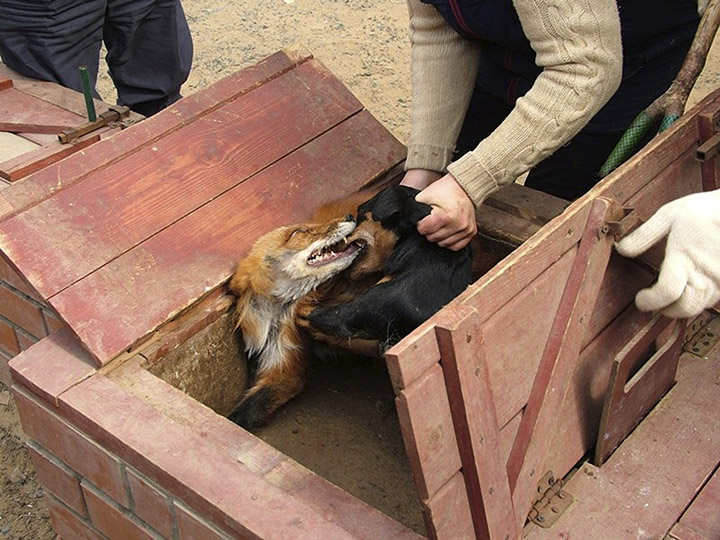 ---
On 21 December, the State Duma passed the law banning baiting stations. Pictures: Spiridon Sleptsov
'A dog can only be taught at a baiting station', said Zakira Ivanova, chairman of Yakutia Hunters and Fishermen Societies.
'Working with a mesh or glass fence would never allow a dog to understand how to hunt.'
'We stand with hunters all around Russia for the correct hunting and traditional dog breeding.
'Every hunter is a defender of forest and nature, and a correctly trained dog is a guarantee of success and safety.'
On 21 December, the State Duma passed the law banning baiting stations, with 408 deputies voting in favour, two against, and three abstaining.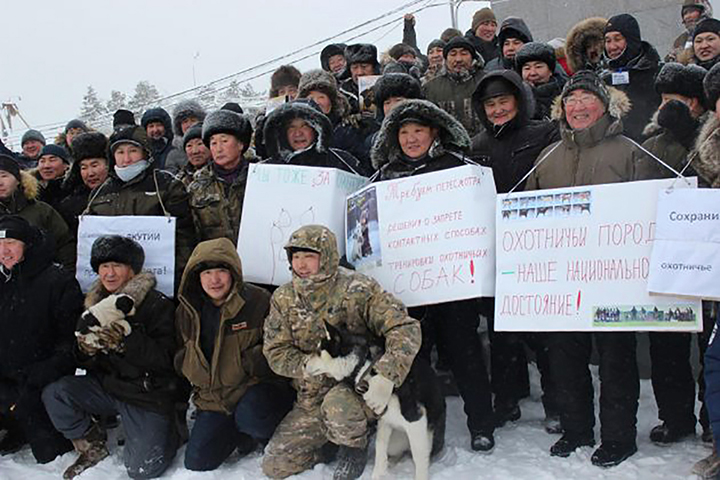 ---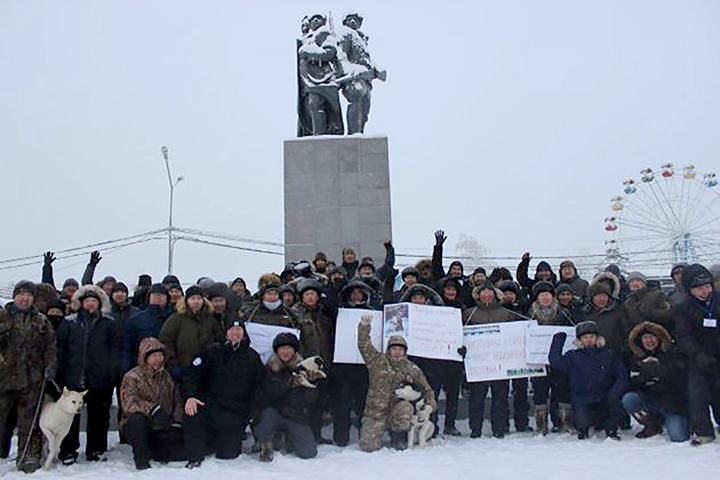 ---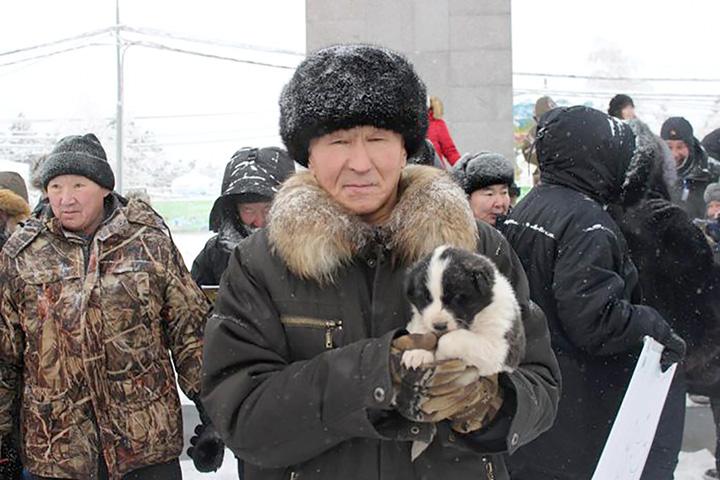 Hunters and dog breeders took to streets in Yakutsk to protest against baiting stations ban. Pictures: YSIA
---
Russia has about 200 officially registered baiting stations, with rules of dog training on wild animals approved by the Federation of Hunting Dogs.
'Baiting stations train dogs regardless of the season, they work primarily for the benefit of wild animals,' said Yelena Gorbunova, head of the Women Hunting Club And Its Friends.
'A badly trained dog might not only spoil hunting, but let a wounded animal go, making it suffer for days.
'During training, contact between wild animals and dogs occurs under control, so that they don't injure each other.
'Medical help is given instantly in case of emergency, and wild animals are the priority in receiving it.
'Wild animals are kept in very good conditions, they are well fed, they receive timely vaccinations.'
VIDEO OF TWO LAIKA DOGS 'WORKING' ON A BROWN BEAR
Gorbunova emphasised that people started using wild animals to train dogs since beginning of hunting, stressing this is part of human history.
'I stand against a sadistic attitude to wild animals, but don't mix an official baiting station with a bastard who keeps wild animals in his garage for the sake of fun.
'No sane hunter would do it', she stressed.
A ban on baiting stations would raise a risk of people going undercover, she said, leaving no control over way of how baiting will be done.
Protests went ahead amid fears that the new law could still be enacted despite the Federation Council sending it back to the Duma.
Pictures below: Yelena Gorbunova, and pictured of various baiting stations provided by VITA.org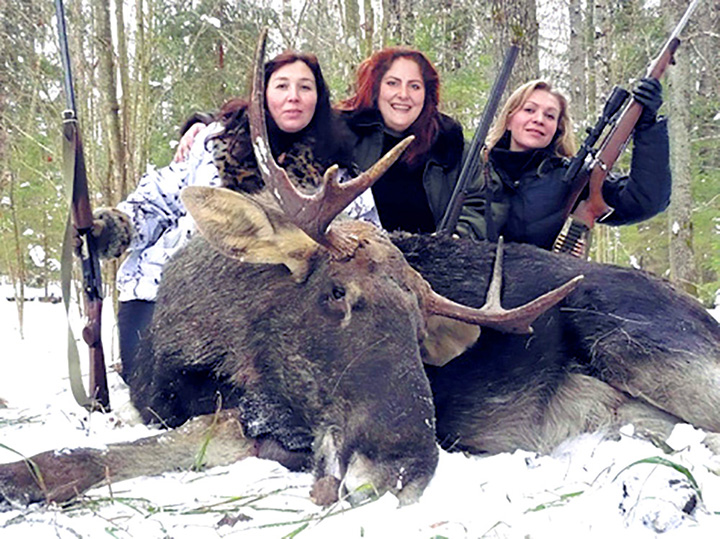 ---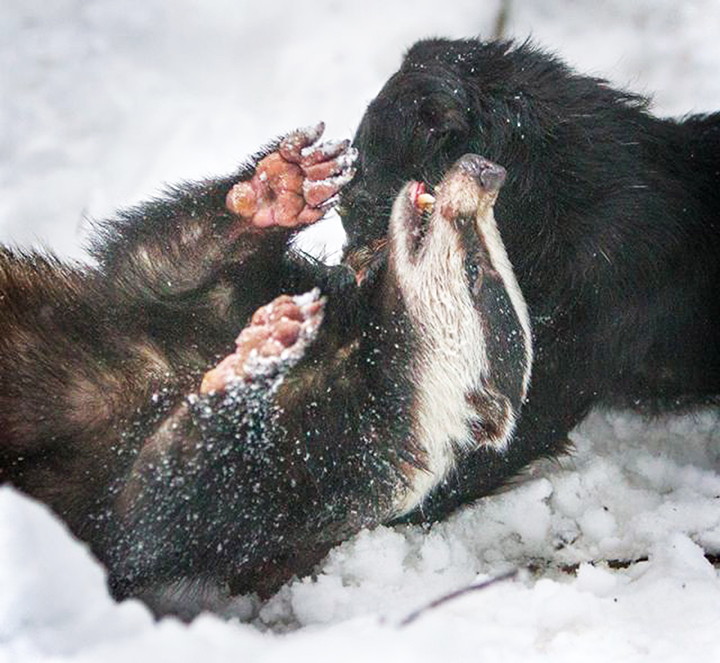 ---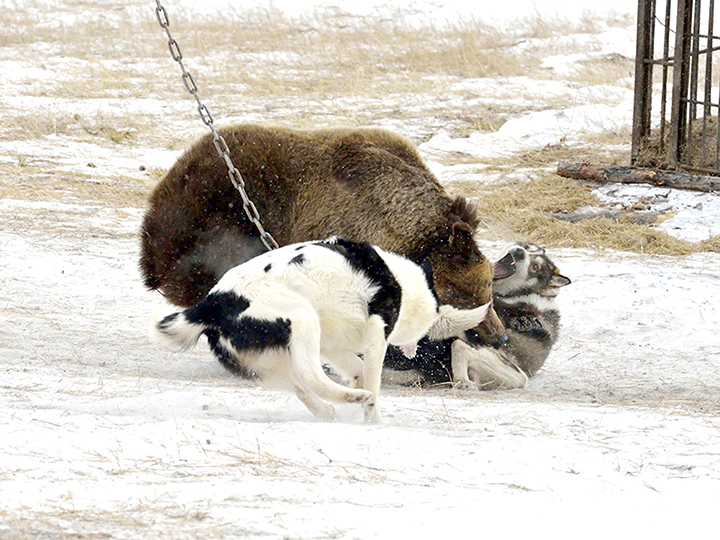 ---