Sergei Rumyantsev, 55, at hospital in Yakutia. Picture: Russian Public Television
Sergei Rumyantsev admits he was 'scared'. He had no time to reach for his gun. The 55 year old horse breeder from the Sakha Republic suffered serious injuries when the bear lunged at him as he fed his horses at a remote enclosure in Russia's largest region.
'I went to the countryside to visit my horses when I was suddenly attacked from nowhere,' he said in his first interview from hospital where he is being treated for serious wounds to his face and temples.
'The bear attacked me sharply, unexpectedly. I had a gun with me in a case, but did not have time to get it. All I had to hand was a knife'.
He stayed calm and repeatedly stabbed at the brown bear which clawed and bit him.
'We fought and fought, I stabbed him with the knife again and again, but he he did not let up. He almost defeated me, I thought - it was the end. I knew I must pierce him with my knife right in the heart. Only then did he calm down'.
He slayed the bear with a traditional Yakut blade, believed to be 130 millimetres in length.
---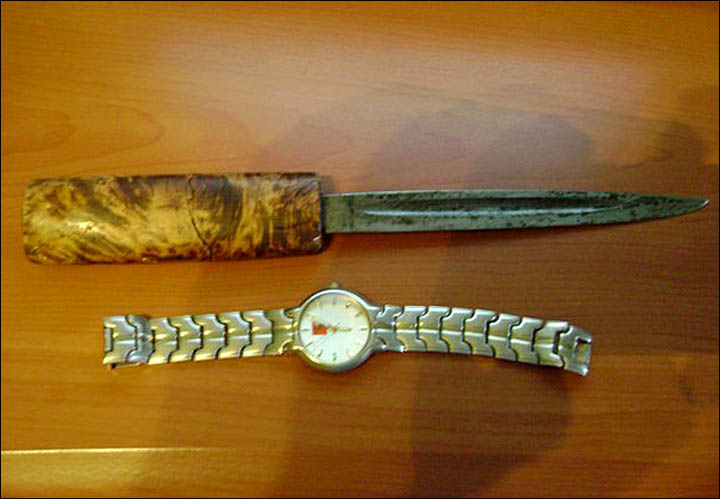 Sergei Rumyantsev, right, with a friend, and one of traditional small Yakutian knives like the one Sergei fought the bear with. Pictures: news.ykt.ru
While in a serious condition, Sergei - who hunted bears until four years ago - is expected to make a complete recovery. His life is not in danger, said doctors, though he is covered in bandages in hospital in Borogontsy, 129 km from the republic's capital Yakutsk.
Asked if he was scared during his ordeal, he laughed: 'Of course. Try to meet up with a bear, and let me look at you.
'I was attacked by a big bear, and it was aggressive. I would say he was ten years old.'
The attack was at a remote horse enclosure around 50 km from Eselyakh village in Ust-Aldansky district. Afterwards, dripping blood and covered in wounds, he rode back to his village on horseback, a journey he cannot now recall.
'I don't remember how I managed to get home, how I entered the gate...', he said.
Yakut people associate bears with many superstitions, one of which is that these owners of the Siberian taiga never forget insults.