Stereotypes...what stereotypes? Isn't Siberia all about bears and snow?
Her aim? To show Siberia as it is today, and to look beyond the stereotypes of this magnificent and mysterious Russian region. Kate's 'Go East' route resembles a crown perched on the top of Russia, and will include many jewels on the way, starting in Tobolsk, the original Russian settlement west of the Urals in Siberia, founded in 1586 by Yermak's Cossacks.
You can follow Kate's progress through modern Siberia in The Siberian Times, on her blog and Facebook. On the way, journeying through six time zones, she will meet a fascinating cross section of people living and working in Siberia, comfortably the largest region in the world.
'I will travel by plane and train - sometimes on the world famous Trans-Siberian - but also will hitch rides on trucks and sleighs on frozen rivers and lakes,' said Kate. 'Often if you mention Siberia, people in the outside world think of endless snow, bears, Gulags, vodka, and Yetis. Follow me on my trip, and see if it's true.'
From Tobolsk, with its stunningly beautiful white stone Kremlin, she will head for Khanty-Mansiysk, otherwise known as the Oil Capital of Russia. A sharp move up north will bring her to Salekhard, the only town in the world located exactly on the Arctic Circle, and Russia's gateway to Arctic territories and their untapped natural resources. Sliding down the crown, Kate aims to sojourn in Surgut, nowadays one of Russia's richest cities, famous for oil mining and gas processing. Then to Tomsk with its splendid historic wooden houses and large student community, which makes it Siberia's youngest city in terms of population, and also gives it a reputation for fun.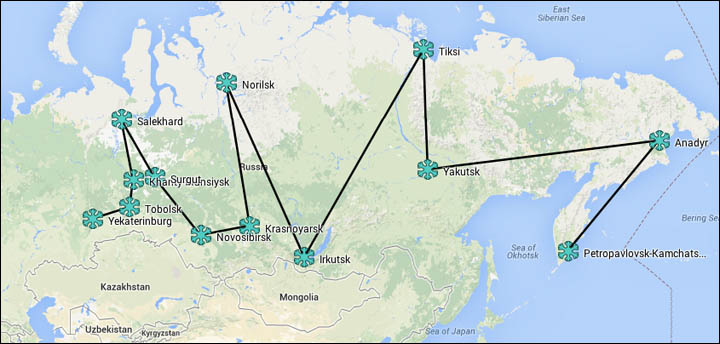 15,000 km, 12 cities (and towns), 3 months, 1 person. Picture: The Siberian Times
Further south and east, she will arrive in Novosibirsk and its satellite town of Akademgorodok, known to some as the brains of Russia and others as Silicon Taiga for the high number of skilled IT experts, sought by companies in Russia and around the world. Novosibirsk is the unofficial capital of Siberia, one of Russia's youngest and busiest cities, and the largest between the Urals and Pacific.
Her routing then takes her to Norilsk, famous for nickel, copper, cobalt, platinum and palladium - and for its stoic people living in the second largest city on earth inside the Arctic Circle. 'I have heard about pollution here, and about stunning nature, but I want to discover more,' said Kate.
Sliding down the crown again, Kate will visit the great city of Kransnoyarsk, built on the Yenisei River, founded in 1628 and seen by Chekhov as the most beautiful in Siberia. A night on the train will take her to Irkutsk, once called the Paris of Siberia, one of Russia's historic treasures, and the stepping off point for Lake Baikal. It was from here - in the middle of Siberia - in the 19th century that trading outposts were administrated as far afield as Fort Ross in California (1812-42) and Fort Elizabeth on the island of Kauai in Hawaii (1817-53).
Time for a leap north and the travel odyssey will take Kate to the shores of Laptev Sea, and the outpost of Tiksi, a settlement that appeared to be dying. But is it about to be reborn as Russia develops the Arctic sea routes and exploits to the energy riches under the ice?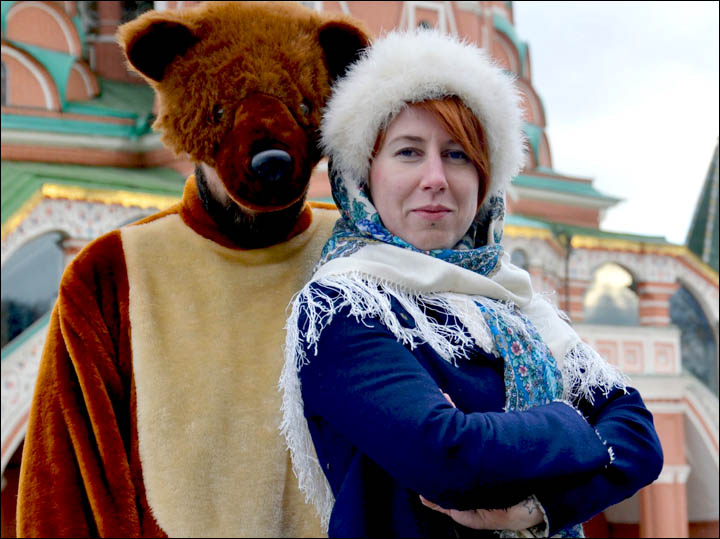 Kate's 'Go East' route resembles a crown perched on the top of Russia. Picture: The Siberian Times
Veering south, Kate will then visit Russia's diamond capital Yakutsk, the coldest city in the world in a meteorological sense, but one that is gaining a reputation for its warm welcome to foreign tourists who venture here to the capital of the Sakha Republic, also known as Yakutia. The penultimate stop will be in Anadyr, the capital of Chukotka, so far east it almost touches Alaska.
This is a region that was rescued from economic peril by tycoon Roman Abramovich, owner of Chelsea FC in the UK, and formerly the governor. What might the future hold here? A rail link between Russia and the USA?
The final link in the crown takes Kate to Russia's land of fire and ice, Kamchatka, one of the greatest jewels of them all, to see its volcanoes and glaciers.
You are welcome to follow Kate on her 15,000 km and three months long journey!