'Our daughter was born on January 28. I named her Ofuji after Mt. Fuji'. Picture: Mendeleev's Scientific Archive, Saint Petersburg
Generations of students have memorised Mendeleev's periodic table but they were unaware of one detail about the great Russian scientist. In the latter years of his life he actively supported a granddaughter in Nagasaki, though it is not believed he ever met her.
Mendeleev's son Vladimir was a sailor in the Russian Navy and a member of the crew that sailed with future emperor Nicholas II on his 'eastern journey'.
On the trip the man who would be Russia's last tsar survived an assassination bid in Japan in May 1891. The crown prince returned to Russia immediately but some of his party continued travelling in Japan and it seems to have been during this period that Vladimir met a young Japanese woman named Taka who became pregnant by him. She gave birth to a daughter called Ofugi.
A letter Vladimir sent to his father on 22 April 22 1892, reads: 'I am in Nagasaki for nearly a month. It's comfortable to anchor in Nagasaki. It's warm here.'
New Japanese research states: 'Calculating back from Ofuji's date of birth, it is highly likely that Vladimir became acquainted with Taka around that time, and Taka became pregnant. Vladimir returned to Russia soon after and died of illness in 1898 at the age of 33'.
The Japan News reports: 'According to Masanori Kaji, an associate professor at Tokyo Institute of Technology who is researching the life of Mendeleev, Taka's family name was Hideshima. After Vladimir died, Mendeleev sent money every month to support his half-Japanese granddaughter in Nagasaki. Mendeleev's daughter Olga wrote about this in her memoir'.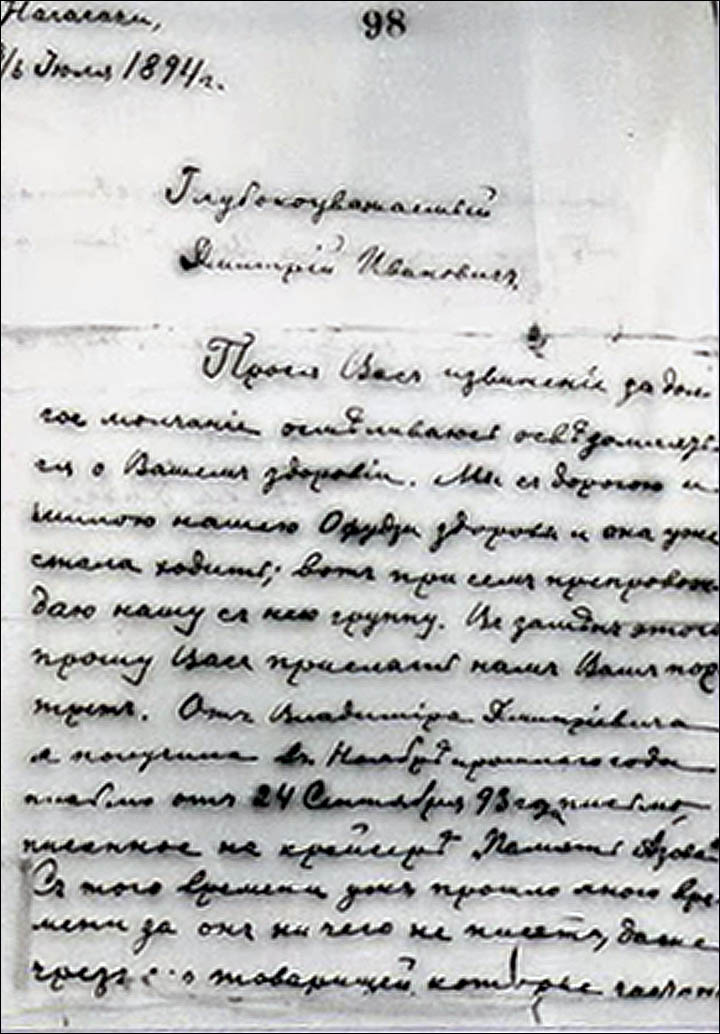 'Dear Dmitry Ivanovich, apologies for long silence...'. In her letter to Russian scientist, grandfather to her daughter Ofuji, Taka says she is desperate to hear back from his son Vladimir. Picture: Mendeleev's Scientific Archive, Saint Petersburg
Mendeleev had himself fallen in love with an actress he met in Germany when he was young and they had a daughter. He sent money to support her after he returned to Russia. Kaji said: 'I think Mendeleev supported his granddaughter financially, who was left behind in Japan, because he had a similar experience himself when he was young.'
The new report by Kenichi Ogata, Yomiuri Shimbun Correspondent in Moscow, said: 'There are no direct descendants of Mendeleev living today in Russia.
'Ofuji's later life is unknown, but her grandchildren or great-grandchildren could be living somewhere in Japan, carrying the DNA of the great Russian chemist'.
The Mendeleev Museum in St. Petersburg holds a letter which reads: 'Our daughter was born on January 28. I named her Ofuji after Mt. Fuji.'
It was written in Russian and was sent to Mendeleev's son Vladimir by Taka on 28 April 1893. The letter bears the signature of A. Shiga, who translated the letter from Japanese to Russian.
'Ofuji was the daughter of Vladimir and Taka. She was a granddaughter of Mendeleev,' said Nina Stradova, a curator at the museum.
Mendeleev was born in 1834 in the village of Verkhnie Aremzyani, near Tobolsk in Siberia, the youngest of a dozen ore more siblings.
He later went to university in St Petersburg before working as a teacher and professor. He died in 1907.