Soviet radar stations on Franz Josef Land. Picture: Natalia Bogorodskaya
Full radar coverage of the Arctic will be in place by the end of 2014, said Defence Minister Sergei Shoigu.
'We will complete our radar field this year, and in 2015 will be practically ready to meet unwanted quests both from the east and from the north,' he said at a meeting of his ministry's Public Council.
Russia will complete tern radar stations and 13 airfields in the Arctic to safeguard the nation's military security, said Lt. Gen. Mikhail Mizintsev.
'We are planning to build 13 airfields, an air-ground firing range, as well as ten radar and vectoring posts,' he said.
Shoigu stressed work was underway on restoring military airfields on the Novosibirsk Islands and Franz Josef Land.
Reconstruction of airports at Tiksi, Naryan-Mar, Alykel, Vorkuta, Anadyr and Rogachevo is also underway, giving the military a hugely enhanced capability across the Arctic.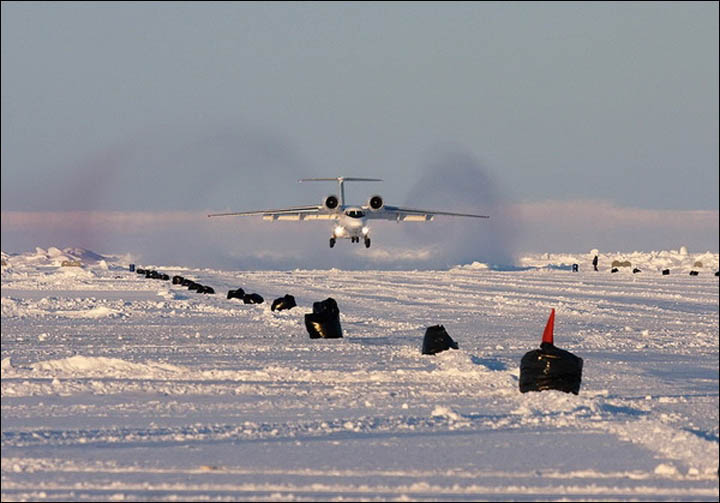 An-74 landing on ice airfield in Arctic. Picture: Russian Geographical Society
'The total value of useful minerals in Russia's Arctic region is more than $30,000 billion dollars,' reported RIA Novosti citing the Russian Emergencies Ministry.
'Gradually, the centre of gravity of Russia's oil and gas extraction will drift toward the Arctic sea shelf.'
The report continued: 'In recent years, Russia has been engaged in an active development of its northern territories, including extraction of hydrocarbon resources and also development of the Northern Sea Route, which is increasingly becoming an alternative to traditional routes from Europe to Asia.
'A range of measures has been taken to defend Russian interests in the Arctic, including of a military nature, taking into account the growing attention of NATO member states to the region.'
Paratrooper battalion landed on the Kotelnichiy island. Picture: Ministry of Defence
In April, President Vladimir Putin announced the creation in the Russian part of the Arctic of a unified system of surface ship and new-generation submarine bases.
Putin said Russia also had to increase the dependability of the protection of Russia's borders in the Arctic, including by strengthening its marine border forces group. Shoigu previously said that by 2014 Russia's forces would be deployed across the Arctic zone, from the northwest regions of the country to the Far East.