On the Red List of Threatened Species with only an estimated 450 Amur tigers left in the world. Picture: IFAW
A tiger released into the wild by Vladimir Putin was not guilty of attacking and eating farm chickens in a cross-border foray into China, it is reported. There were claims last month that the rare Siberian cub after swimming across a river into China and gone on a killing spree.
Satellite tracking showed it tried its luck in China after finding a shortage of its staple deer in eastern Russia, with blood and feathers near a farm suggesting the tiger had rampaged through a hen house and eaten five chickens.
Officials in Moscow alerted their counterparts in China amid fears angry farmers in the Heilongjiang province might target the 19-month-old big cat, named Kuzya.
But now, with Putin in Beijing at the APEC summit hosted by China's leader Xi Jinping, it has emerged the claims were unsubstantiated, with environmentalists tracking the tiger saying it has only eaten boars in the forests.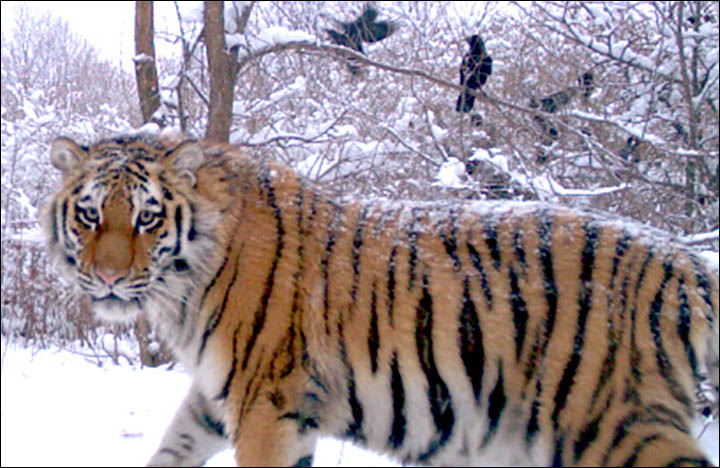 Kuzya crossed the border into China seeking food. Picture: 'Tiger' special inspection
---
Yevgeny Simonov, coordinator of the international coalition Rivers Without Borders, said: 'Only dung and remains of boars that he killed have been found. Also, Kuzya did not eat any cow, dog or human'.
Kuzya was one of three Siberian tigers released by Putin in a remote part of the Amur region, in eastern Russia, in May. Satellite signals beamed to Moscow from collar trackers showed two of them remained in Russia, but Kuzya crossed the border into China seeking food.
The Russian department of wildlife conservation and protected areas says the latest information shows the big cat has temporarily settled in the Heilongjiang province. Chinese officials are also monitoring the animal's movements, with an agreement from the foreign ministry in Beijing that it will be safeguarded, on the basis of an existing pledge of cross-border protection of Siberia tigers.
Experts now believe the cub will stay in China, near the Lesser Hinggan mountain range, during the winter where there is plentiful food, including deer and boar.
When the Amur River freezes over it is likely the tiger would be forced to roam backwards and forwards across the border between Russia and China.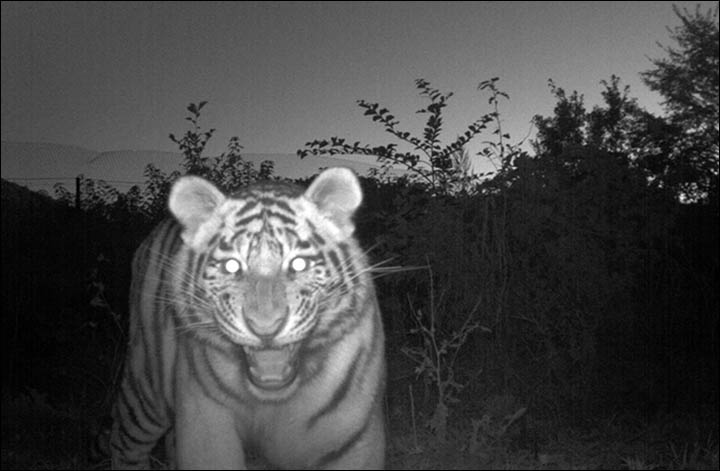 'Did not eat any cow, dog or human'. Picture: 'Tiger' special inspection
---
There are still fears, however, that the animal could attack humans if it runs out of food, although local foresters have warned people how to behave if they encounter a tiger.
Mr Simonov said: 'China is a densely populated place and the likelihood of meeting people here is great. There is a risk that, not finding places with food, Kuzya can attack humans. Or it might get stuck in a trapping net placed in the surrounding area to catch deer and wild boars'.
Claims of the alleged attack were reported by an official Chinese news agency last month after animal remains were found near tiger tracks, and feathers and blood located next to a farmer's smashed henhouse. The cub had been spotted in a nature reserve in the same province and 60 cameras were set up to track him, but no evidence was found that it was Kuzya that he had killed the chickens.
It will come as a relief to Putin, who has been praising the growing friendship between Russia and its 'natural ally' China, amid an increasingly difficult relationship with the West.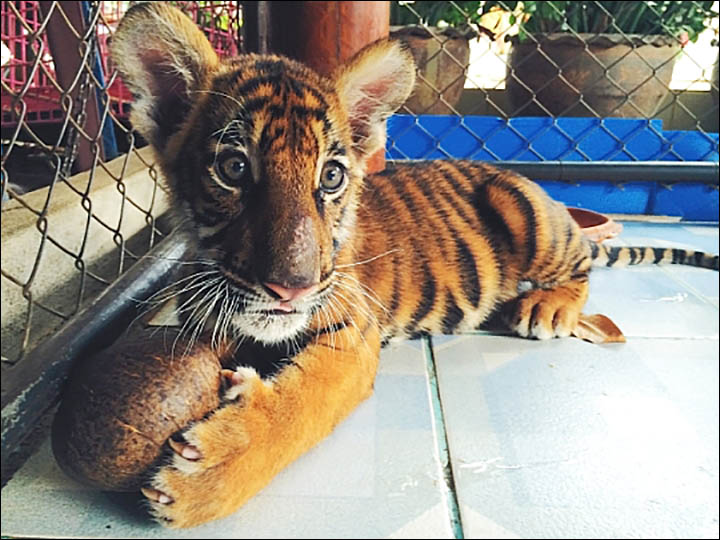 ---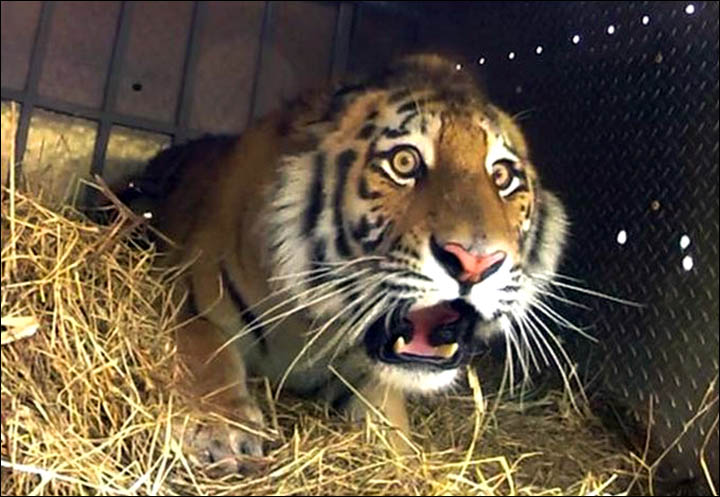 Kuzya as a cub and pictured moments before release into the wild. Pictures: Deita, 'Tiger' inspection
The Siberian tiger, also known as an Amur tiger, is on the Red List of Threatened Species with only an estimated 450 left in the world. Four years ago Russia launched a national campaign to protect the animal, which is the largest of the five tiger species.
Putin, an avid campaigner to save the species, was recently behind the unveiling of a computer animated tiger cub as a new character on Russia's longest-running children's TV show. The two other tigers, Ilona and Borya, remain in the Amur region in Siberia not far from where they were released by the president.
The area is plentiful in wild boar and roe deer, but experts are concerned about how they will adapt to winter, having been raised in Primorsky Krai.
Ivan Adamenko, the game manager at the Andreevsky Reserve, said: 'Where they live now, in Arkharinsky district, the snow layer reaches about 20cm. Still, I think that they will cope with the task of survival. They are cautious, they know how to hunt, and they are under surveillance'.