She slipped away from her comfortable new surroundings and returned to the hospital to continue a vigil. Picture: euronews
Our heartbreaking story of the Siberian dog waiting in vain for her owner touched people around the globe.
The Siberian Times was inundated with offers from kind animals-lovers from many countries ready to give a home to Masha who for the past year has waited patiently for her beloved master at Novosibirsk Regional Hospital Number One in Koltsovo.
Before he died at the hospital, she was the old man's only visitor.
A kind attempt was made in recent days by a local woman to give Masha a loving home, we can reveal.
But at the first chance, she slipped away from her comfortable new surroundings and returned to the hospital to continue a vigil which has seen her compared by the world's media with two legendary dogs - Hachiko from Japan, and 'Greyfriars Bobby' from Scotland.
Masha's determination to remain at the hospital has now won approval from the hospital's chief physician Vladimir Bespalov.
'It is so good to hear about the kind offers to adopt Masha from around the world,' he told The Siberian Times. 'But we have now taken a decision to let Masha stay in our hospital.
'We do not want her to go through the stress connected with another attempt to adopt her. Our patients, medical staff and officials do not mind.
'Patients, especially the elderly ones, are happy to communicate with her. It's a kind of therapy for them. Besides, I think that adoption abroad can be dangerous for her, we are afraid that she will not be able to survive this. Something may occur.'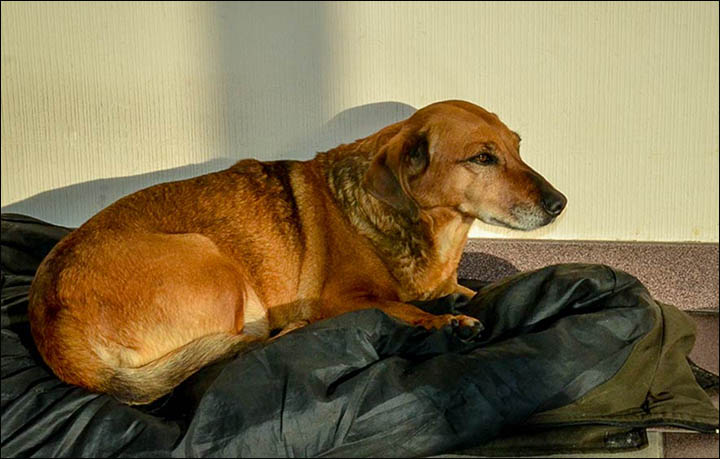 ---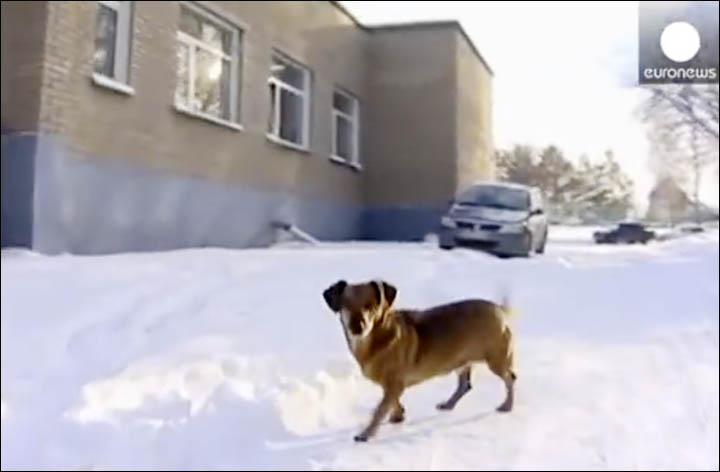 'We all love Masha and wanted her to find a new family, but as we see, she prefers to stay here.' Pictures: Svyatoslav Odarenko, euronews
Many countries demand complicated quarantine arrangements for pets before they can go to new homes.
'You see, we worry about her very much', he said.
Masha has been reporting to the hospital's reception daily for one year - since her owner, a pensioner from the village of Dvurechie several kilometres away, was first admitted. He had arrived at the hospital with his pet, say staff.
'We all love Masha and wanted her to find a new family, but as we see, she prefers to stay here. This is her home now, so we will good take care of her here.'
The hospital did not give details of the adoption attempt but it was from a 'good and kind woman, a local resident'.
But Masha knew where she wanted to be and found her way back to the hospital. Earlier the chief doctor had hoped Masha would find a home where she was happy.
As he told Novosibirsk Vesti TV before the attempted adoption: 'You see her eyes, how sad they are. These are not the usual shiny eyes for when a dog is happy. You can see this in animals in the same way as with people.
'There is nothing medicine can do for her here, but we are still hoping that Masha will be able to find another owner. One day, and we very much want this day to come soon, our Masha will trust somebody.'
She touched the hearts of staff as well as patients. Nor was this the first attempt to adopt Masha.
Nurse Alla Vorontsova said: 'She is waiting for him, for her owner. Just recently a family tried to adopt her, but Masha ran away and returned to the hospital. She was taken on Friday evening, and at 3 am on Saturday she was back here.'
After we ran the story on Masha, it was taken up by media on every continent, and we received kind offers from people asking to be put in touch with the hospital so they could care for the dog.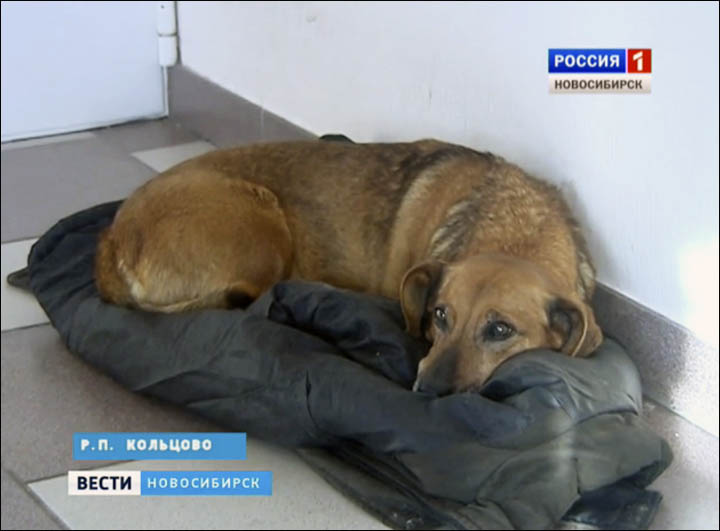 ---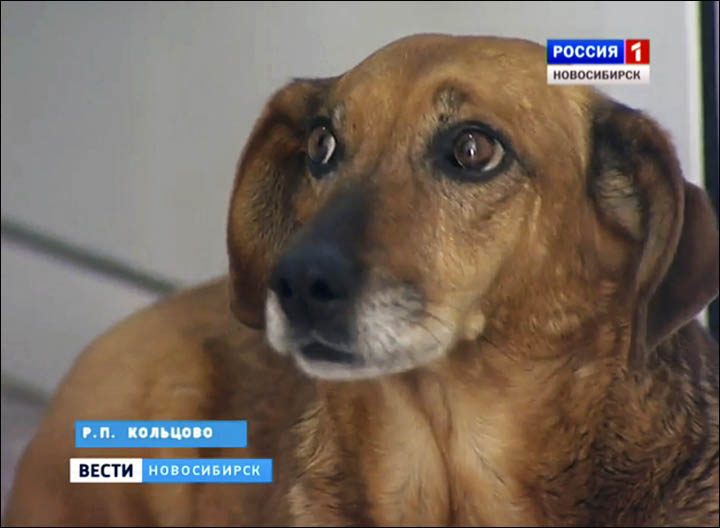 ---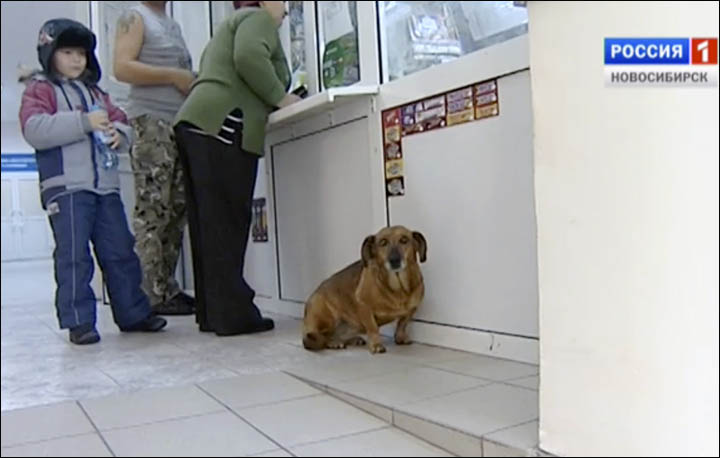 'You see her eyes, how sad they are - it's not the usual shiny eyes for when a dog is happy.' Pictures: Vesti. Novosibirsk
'I'm anxious to find out more about the dog, Masha, and what I might do to help her!!! I'm heartbroken at the very recent loss of my own dog, Eilidh, and her story and sad eyes has tugged at my heart.... I'd love to think I might provide her with a home but wouldn't know where to start in finding her or how she would even respond to another person 'interfering' in her life,' said Anne from Scotland.
Masha was also offered a home on a 'dog paradise' in the Netherlands - on a private island, all expenses paid.
Ms Wynter from America wrote to say: 'Although, I live in the United States I would love to care for Masha so that the light can shine in her eyes once again. She would definitely receive an abundance of love and nurturing from me.'
There were offers to help, too, from Israel and Argentina.
Monak Benedikt from Moscow said wisely: 'As much as I wish for a happy end to Masha I don't think it will be wise to take here away from the hospital. Wherever she will be taken, she just will run away and try to come back. And the further away from the hospital it is the worse it will be for Masha.'
Readers wrote from Indonesia, Sweden and Switzerland to say they were inspired by Masha's devotion.
Masha's story is similar to that of the famous Japanese dog Hachiko, who used to greet his master on his return from work at the Shibuya train station in Tokyo.
When his owner, agricultural science professor Hidesaburo Ueno, died in 1925 he continued to visit the station every night for 10 years still expecting to meet him off his 4pm train.
In 1935 the dog's body was found in a Tokyo street and his remains were stuffed, mounted and put on display in Japan's National Science Museum, while a bronze statue was erected outside Shibuya. A Hollywood movie of the sad story, starring Richard Gere, was released in cinemas in 2010.
There are also similarities to Greyfriars Bobby, a little Scottish terrier who was unwilling to leave his dead master's grave in Edinburgh, Scotland, for 14 years in the 19th century.
A well-known statue to the dog is a major tourist attraction in the city.