'We were told that they will not be broadcasting us. Just like that, we don't want to broadcast you - and we won't'. Picture: Melani Bachina
A Siberian television channel is threatened with closure amid claims local officials do not like its independent editorial stance. More than 300 people face losing their jobs with Tomsk-based TV2, which has prided itself on adhering to a journalistic code of conduct that often challenges the local authorities.
The closure move is now facing a legal challenge from TV-2.
Set up 23 years ago following the collapse of the Soviet Union, the station has been told by the Tomsk Regional Transmitting Centre it will not be allowed to broadcast after January. This is despite the fact that Roskomnadzor - the federal executive body responsible for the media in Russia - recently extended TV2's licence until 2025.
But staff working for the company insist they will fight the decision and say they still have the legal authority to broadcast.
Writing on the website of the Echo of Moscow radio station, one of Siberia's best known journalists Melani Bachina said: 'I don't know if the company will survive this time. Perhaps starting from this New Year, myself and 300 of my colleague will lose our jobs. Perhaps we will lose our profession.
'But I am certain the truth is on our side, and we are not going to give up. They will certainly not going to have an easy win here. We will fight - if not for the victory, then till the end'.
'We were told that they will not be broadcasting us. Just like that, we don't want to broadcast you - and we won't. From 1 January 2015 the transmitting centre unilaterally terminates the contract to broadcast TV2'.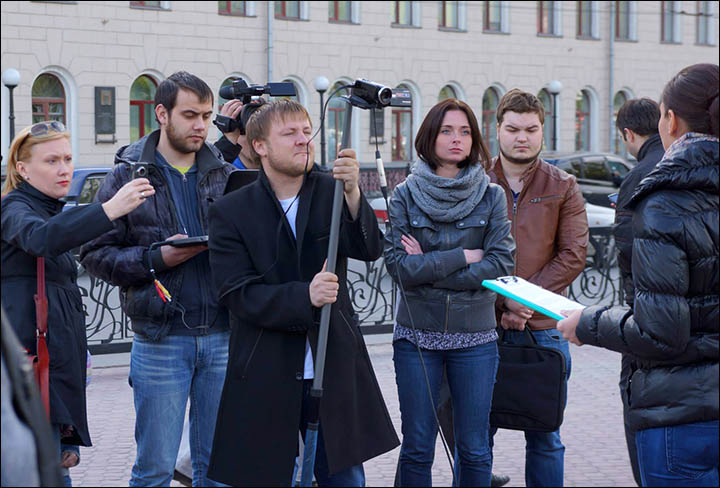 'TV2 is a small company that has worked in Tomsk for 23 years'. Picture: Melani Bachina
---
A letter was sent to the channel informing staff of the decision stating: 'The contract for the provision of telecommunication services for TV broadcasting will not be extended. We therefore notify you about the cancellation of the above mentioned contract starting from 31 December 2014. The broadcast will cease on the day following the specified date.'
Melani Bachina called the decision a 'legal absurdity' and insisted it sets a precedent in Russia since TV2 has two licences to broadcast, only one of which is being revoked. She said: 'There has never been a case in Russia of a media with a broadcasting license being shut like this, at least I've never heard of one like this. There were at least some formal reasons. This time they didn't even attempt to look for reasons.
'So what happened? We can keep guessing forever. Perhaps somebody wanted to get our broadcasting frequency, or maybe someone was unhappy with the company's editorial policy? Both versions are plausible. TV2 is known for its independence. The company's journalists adhere to a professional code of conduct and work for, and in the interests of, their audience, and not to please the authorities.
'TV2's news shows exactly what is happening in the city, and there is no way to influence the editorial policy. Perhaps it annoys someone. Because quite often the authorities don't want to hear about a real situation in the city, can't take criticism and often do not intend to solve problems of the so-called 'ordinary people'.
'The authorities often want things to be calm and smooth, and if they are not, then they want everyone to pretend that things are calm and smooth, and whoever doesn't pretend is against us.'
'TV2 is a small company that has worked in Tomsk for 23 years. We have grown up and developed as the city has. We have gone through a lot of things together. We are an equal part of the city, just as many other things'.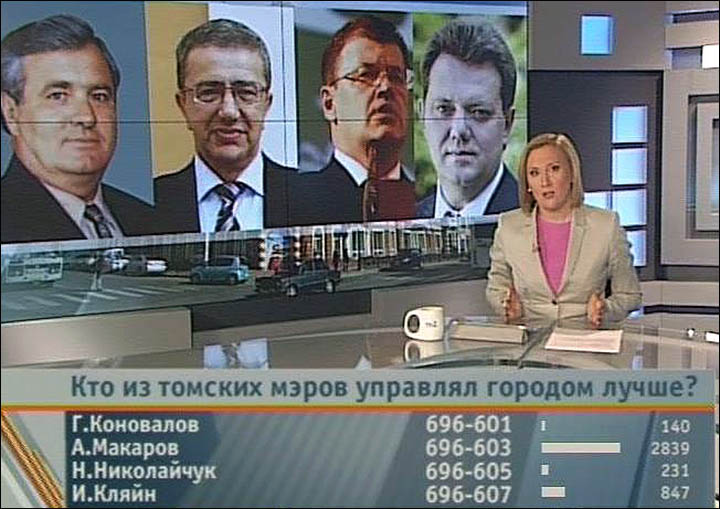 'The truth is on our side, and we are not going to give up'. Picture: Melani Bachina
TV-2, Tomsk Independent TV company, submitted complaints to general prosecutors and the Federal Antimonopoly Service, arguing against the move to halt its right to broadcast. Svetlana Sereda, TV-2 managing director, said: 'We have sent complaints to the Russian Federal Antimonopoly Service. There should be an answer on Friday. We submitted a complaint to prosecutors.'
'Tomsk Regional TV and Radio Transmitting Centre is on the State Register for natural monopolies. It means that it is obliged to provide communication services in Tomsk region, and that their reluctance to prolong the contract is illegal', Sereda stressed. TV2 editor-in-chief Victor Muchnik also said that similar complaints will be address to regional and federal business ombudsmen and social organisations like Russian Union of Journalists.