The missing helicopter was piloted by one of Siberia's most experienced pilots. Picture: Russian Ministry of Emergencies
Another air search for a helicopter that went missing with 13 people on board has ended in vain, it has been reported. Families desperate for news about those on the Tyva Avia (Tyva Airlines) aircraft that vanished in October had demanded the new attempt to uncover clues about its whereabouts.
A private Robinson R66 helicopter was used in the latest scour around remote stretches of the mountainous area, 200km east of Kyzyl. It is believed a psychic also took part in the attempt to help pinpoint the location of the missing MI-8 aircraft.
However, it has now been confirmed this has now ended without any sighting. No sign of the Tyva Avia aircraft has been found since it went missing in one of Siberia's remotest regions on October 10. Radio contact was lost as it travelled in a mountainous area between Sorug and the republican capital, and the helicopter's emergency beacon has given out no signal.
A mobile phone ringing on board after the aircraft crashed also did not lead to the location being established. Officials said a total of 1,000 people and machinery – including aircraft, helicopters, off-road vehicles and a drone - have now been used to locate the missing flight.
The searches have now looked at an area nearly 60,000 square kilometres in size. While rescue efforts have been hampered by poor weather, there are no reports of poor conditions other than high winds on the day of the flight. An air search for the helicopter has been suspended until the spring, but there is still a search party on the ground trawling the remote snow-covered region for clues as to what happened.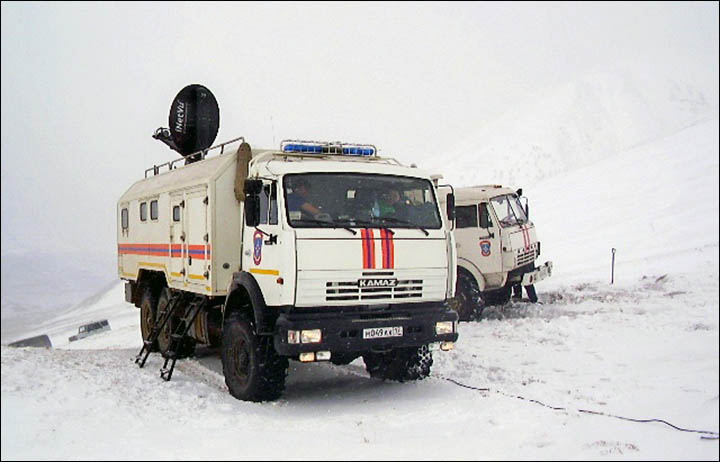 The helicopter went missing on October 10 2014. Picture: Russian Ministry of Emergencies
---
The head of the Tyva republic has said a 500,000 rouble (£6,000) reward will be paid to anyone that can help trace the downed aircraft before the end of the year.
The helicopter belongs to Tyva Airlines but was being leased for a private purpose. Most of the passengers on board were employees of 'Stroyline' company (republic of Khakassia), including the director Yuri Shin. Another said to have been on the flight is Alexander Kormilkin, the head of urology at the Khakasia Republican Hospital.
It was being piloted by Adar-ool Norbu, one of Siberia's most experienced pilots, himself a hero of a rescue mission last year after six young sportsmen were buried in an avalanche in the republic.
Founded in 1992 and based in Kyzyl, Tyva Airlines is a small company that flies to seven destinations. Tyva borders with the Altai Republic, the Republic of Khakassia, Krasnoyarsk Krai, Irkutsk Oblast, the Republic of Buryatia in Russia, and with Mongolia.