The main rule of munkha ice fishing is to share the catch with everyone. Picture: Alexey Tolstyakov
It was very much a case of 'like father, like son' as children in Yakutia took to the ice to learn the time-honoured, and difficult, skill of traditional fishing. Known as munkha, it involves brigades of men coming together to make holes in the ice in order to find and hunt the lake carp swimming below.
It has been practised for years in this part of the world and the art shows no signs of dying out, having been passed down the generations from father to son.
Our pictures show dozens of boys in the village of Oi, in the Khangala Ulus of Yakutia – also known as the Sakha Republic - being given a special lesson at school.
Joined by their fathers and grandfathers, who had taken a day off work specially, they are shown how to catch the fish for the first time.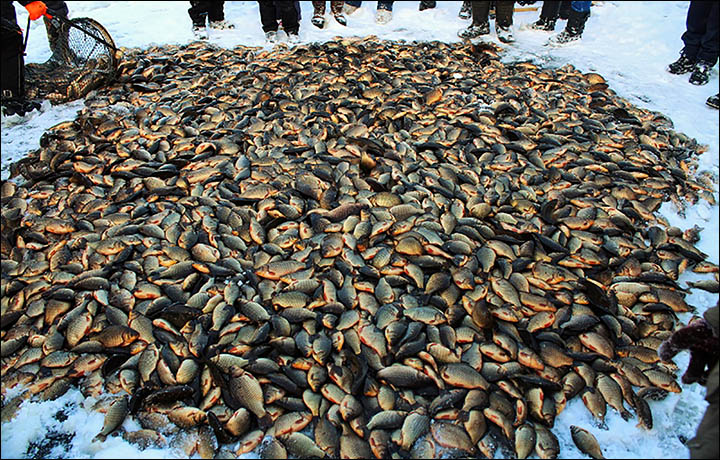 ---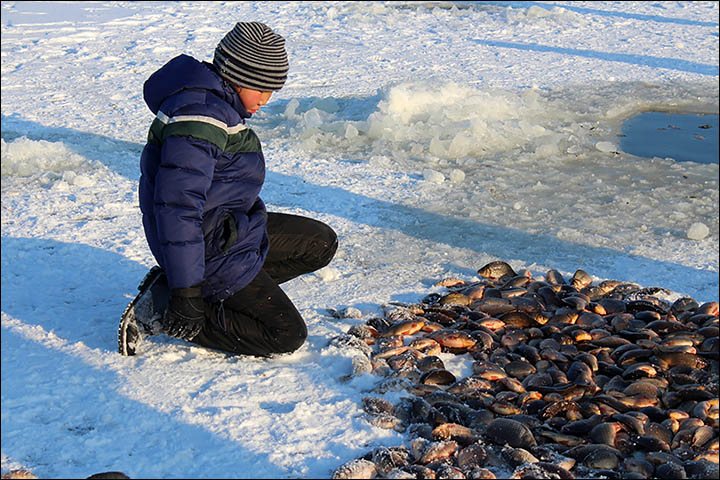 ---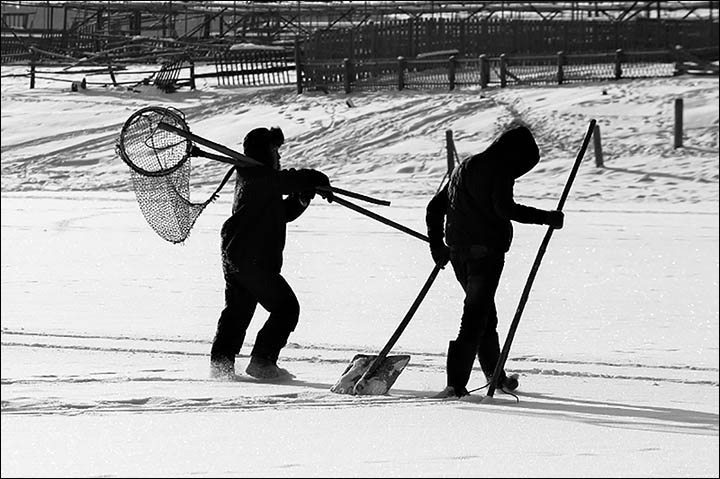 'Еvery man should know how to do it'. Pictures: Alexey Tolstyakov
---
'A day before we told the children about the theory of that kind of ice fishing', said Tatiana Danilova, the educational director of the Oi village school. 'Then the next day their fathers and grandfathers came to give practical advice. It was fantastic to have them coming, despite it being a working day.
'Many fathers and grandfathers postponed their work to take part in our lesson. It is a traditional winter fishing for Yakutia, and every man should know how to do it'.
Catching a lake carp under the ice demands a lot of effort and co-ordinated team work.
To begin with the adults and the boys make teams of up to 20 people, before then choosing the most experienced person – usually the eldest – to be the leader. This man usually has many years knowledge of munkha and knows where the best place is to make the ice holes and put in the mesh seine traps.
One of the teams then gets the mesh ready while the other prepares two large holes in the ice called chardaat in which to place the seine.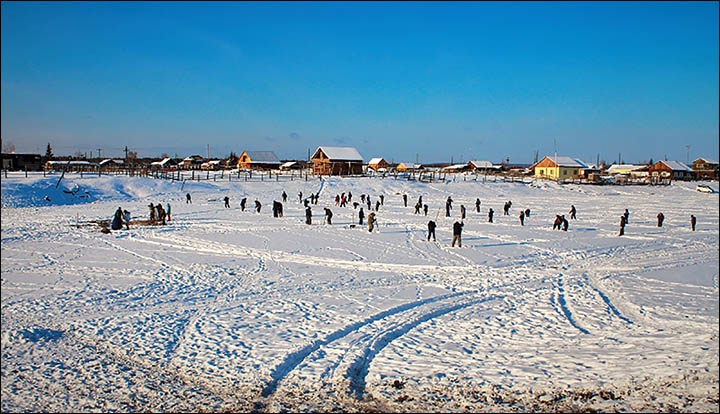 ---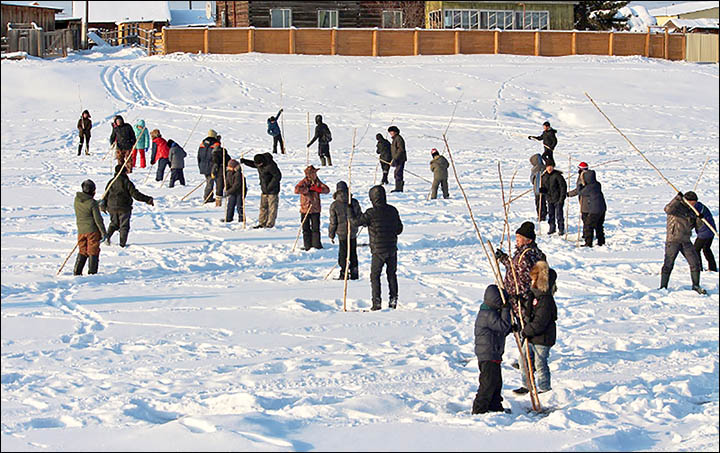 ---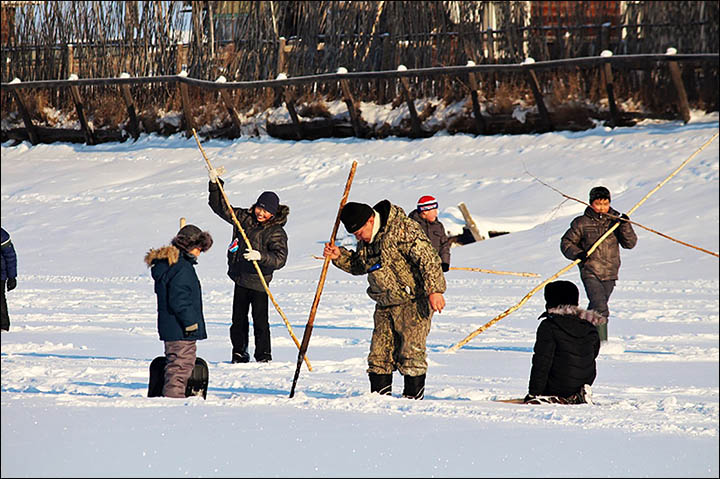 A lot of effort and co-ordinated team work. Pictures here and below: Alexey Tolstyakov
A series of smaller holes are then made between the two big ones to allow the net to be pulled from one end to the other, using wooden sticks with hooks.
As the seine gets into the water, the children were then shown how to use long sticks in the water to make the fish move towards the net.
The main rule of munkha ice fishing is to share the catch with everyone who is present, even if they were not taking part. This tradition dates back years to a time when people unable to go fishing – whether they were ill or elderly – but came to watch.
It was always ensured they went home with a good share of freshly caught lake carp, and a feast for the community.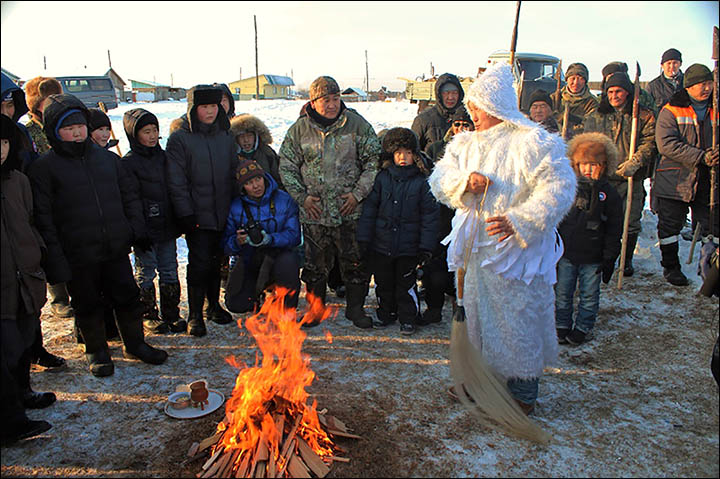 ---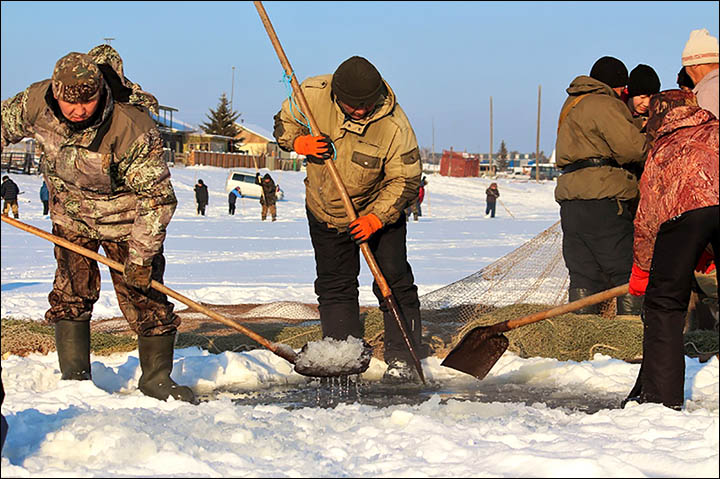 ---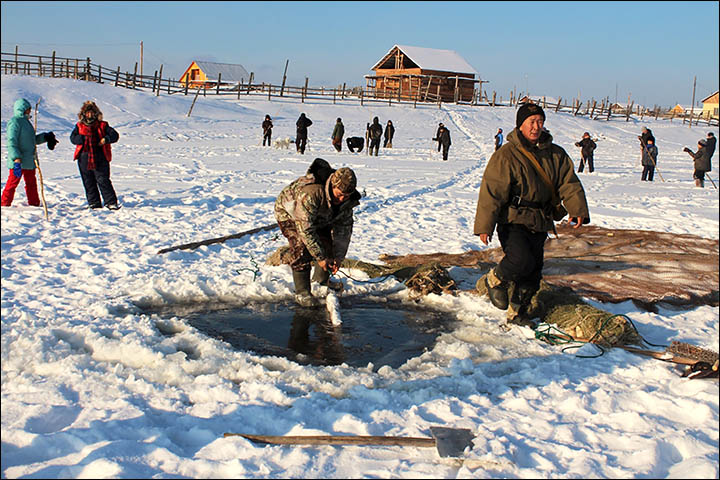 ---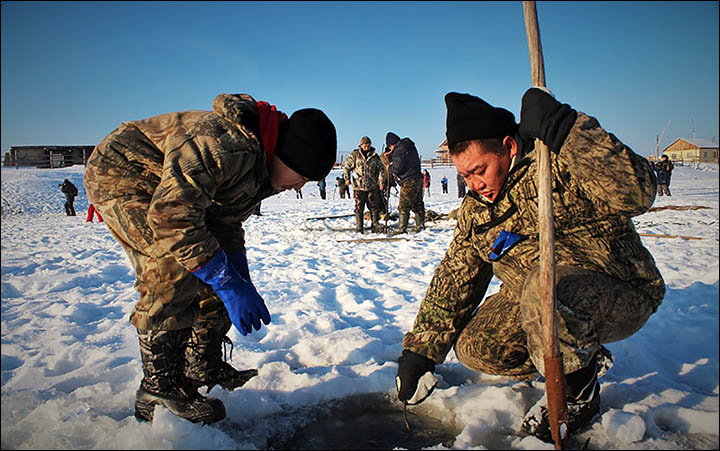 ---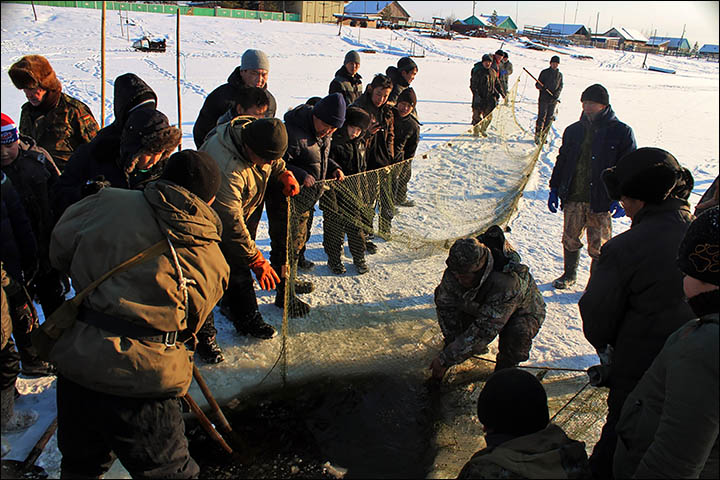 ---