'Stop destroying us - it it not about crushing a company, is it about destroying a part of the city'. Picture: globalsib.ru
A picket by viewers and journalists evidently had no impact on a decision to withdraw its permit to broadcast amid claims the authorities did not like its criticisms of key political players in the Siberian city. There were emotional scenes at the channel as it prepared for what seemed to be its final day on air after 23 years. Some 300 jobs were at stake.
Presenter Melanie Bachina said: 'I think we will remember this New Year's Eve for the rest of our lives, as well as the last year which was a year of farewell. It is a lot to which we are saying farewell today - our profession, our audience, each other, and freedom of speech.
'We always stuck to our principles, both ethical and professional.
'Many said that we are hopelessly out of date with them and that no-one needs them nowadays. But we stood on our principles firmly - and this is why we are getting shut today. This and nothing else. Because if there was something else, any single formal reason, they would have used it. This last pre-New Year's month was the hardest for us all, everyone that works for TV2. It's like being on Titanic when you know how it's going to end and yet to continue staying on board.
'People's lives are behind what's happening to TV, lives of those who spent a quarter of the century devoted to the company, and put their hearts into making it work.
'Some worked there for the biggest part of their lives and can't imagine working elsewhere, some families worked here together. All these people see their company being crashed in front of their own eyes, hopeless in their attempts to change anything. Our whole world in crumbling, and we honestly don't wish anyone to suffer what we and our families are going through these days.'
She concluded: 'Many will have Champagne and Olivier salad on their festive tables, and feel tomorrow as a celebration. But there will also be a lot of other people who will be watching clock ticking during the President's address to the nation, and Kremlin clock chiming the last seconds of 2014. And then with the first second of 2015, their TV screen will turn black'.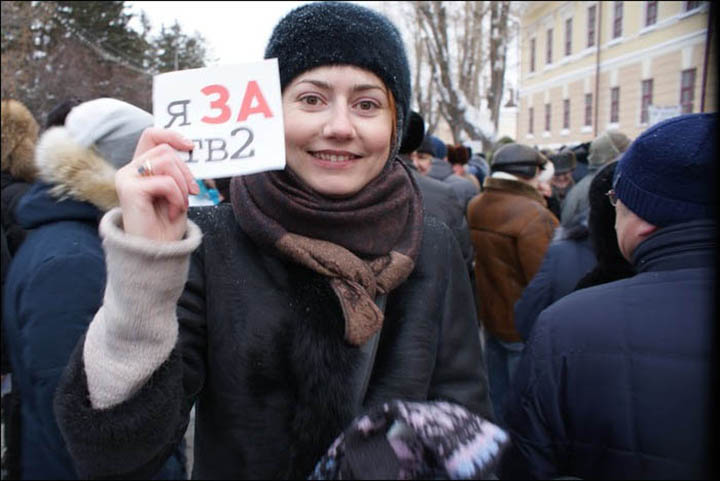 ---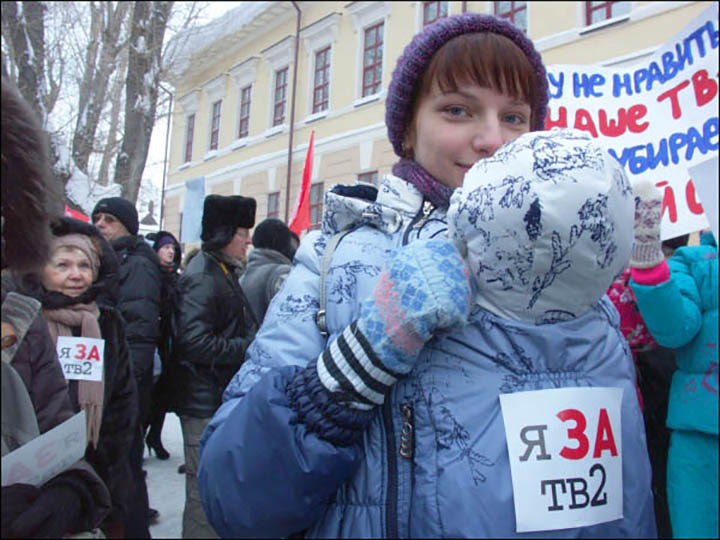 ---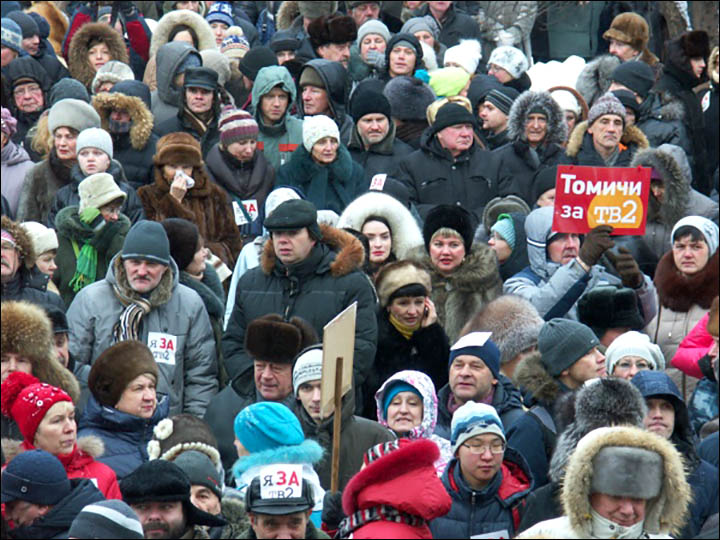 December protests against the closure of TV2 in Tomsk. Pictures: Melanie Bachina
---
The OSCE's representative on Freedom of the Media, Dunja Mijatovic, on Tuesday called on the Russian authorities to do their utmost to prevent the shutdown of TV2.
TV2 was notified by the Tomsk provincial branch of the RTRS state-owned national communications network that its transmission services would cease after its contract expired at the year's end, despite the fact that TV2 possesses a valid broadcast licence.
'Along with a recent de facto advertising ban on cable networks, an issue which I raised in July 2014, this action will threaten the very existence of independent media outlets and critical voices in the Tomsk region,' said Mijatovic. 'If enforced, the RTRS decision would effectively endanger media pluralism in the region and set a dangerous precedent aimed at silencing independent voices'.
TV2's director-general Arkadiy Mayofis said earlier: 'We have generations of people who were toddlers when we began broadcasting.
'Stop destroying us - because it it not about crushing a company, is it about destroying a part of the city. We therefore don't beg the Governor for help - we think that he must help us. He and the businessmen we helped, thousands of people of Tomsk whose stories we showed.'
He admitted TV2 needled the authorities, 'but this is what media is all about. And if you don't like us for that, at least respect us'.