'We are witnessing a case of mass psychosis similar to 'Bin Laden Itch'. Picture: Zamzagul Adrakhmanova
A Siberian woman visiting relatives in Kazakhstan has become the latest victim of a strange epidemic that has spread through a remote village sending people to sleep.
Novosibirsk resident Aliya Kurukhtina, 59, had travelled to Kalachi to be with her family and celebrate New Year when she suddenly fell ill.
Having unexpectedly fallen asleep, and showing other symptoms of the mystery condition, she was taken to the local hospital on the evening of January 1. Doctors gave her a diagnosis of the brain disorder 'encephalopathy of unknown aetiology', but it is thought she is a victim of the unexplained illness that affecting the town.
Four other women were treated on the same evening for the same symptoms of the condition, which has so far puzzled scientists and doctors.
The hospital said that a week earlier several other people were admitted, including a 58-year-old bank clerk, a 52-year-old nurse and a nine-year-old schoolboy.
The development comes as the heads of neighbouring districts say they are prepared to help move villagers to new homes and jobs elsewhere.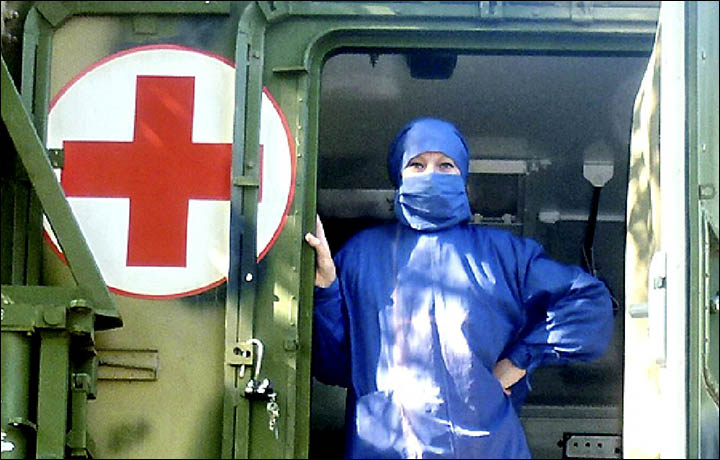 ---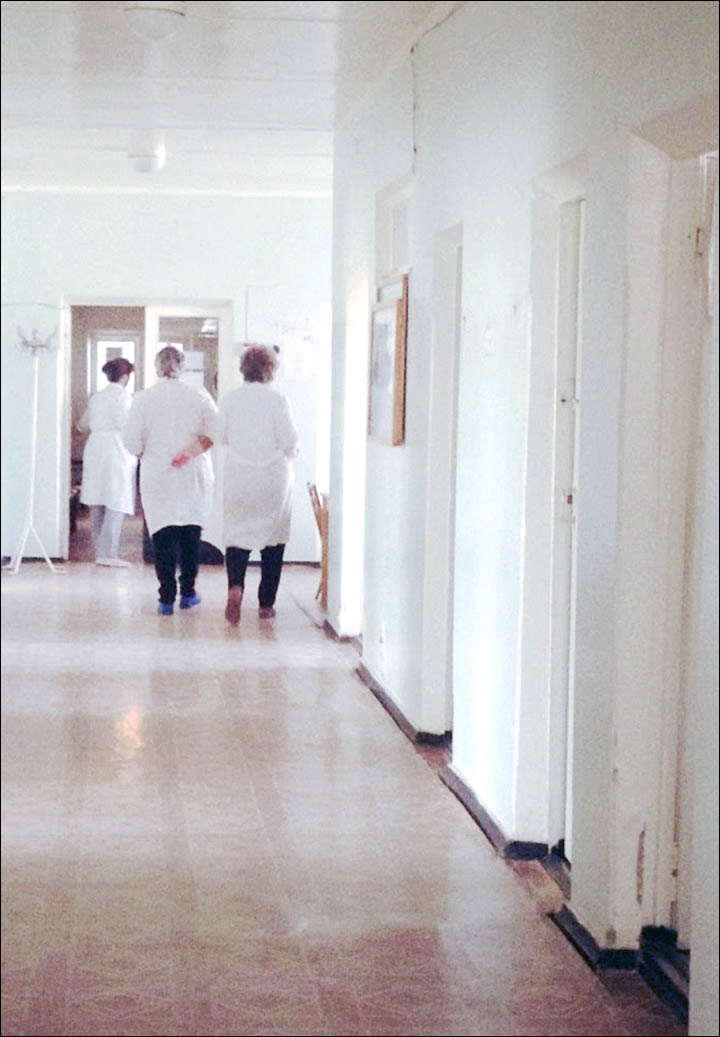 'The condition was unlike any of the 85 known sleeping disorders'. Pictures: Zamzagul Adrakhmanova
---
According to Saule Agymbayeva, the deputy head of the Esil district, the priority is moving families with children, with as many as half the residents prepared to leave.
Villagers in Kalachi – which has been given the nickname Sleepy Hollow – say instances of the disorder are becoming more frequent, with as many as 70 people having been affected. Almost all of the victims have fallen asleep suddenly, some literally as they walked, and remembered nothing at the point of awakening.
Many of the village's 582 residents have now suffered the condition several times and have even been unconscious for as long as five days at a time. Doctors have already ruled out viruses and bacterial infections, while scientists have been unable to find any chemicals in the soil or water that might be behind the epidemic.
However, suspicion has fallen on nearby former Soviet-era uranium mines that now lie abandoned. While official tests have shown that radiation levels in the village and the neighbouring ghost town of Krasnogorsk are the same as background levels, a TV documentary crew recently found radiation levels 16 times higher than normal.
The first reports of a problem in the area emerged in early 2010, but the number of incidents has been steadily rising over the past few years. Over the summer, 60 people were treated for signs of the condition, which leaves victims feeling dizzy, unable to stand, fatigued and with memory problems.
---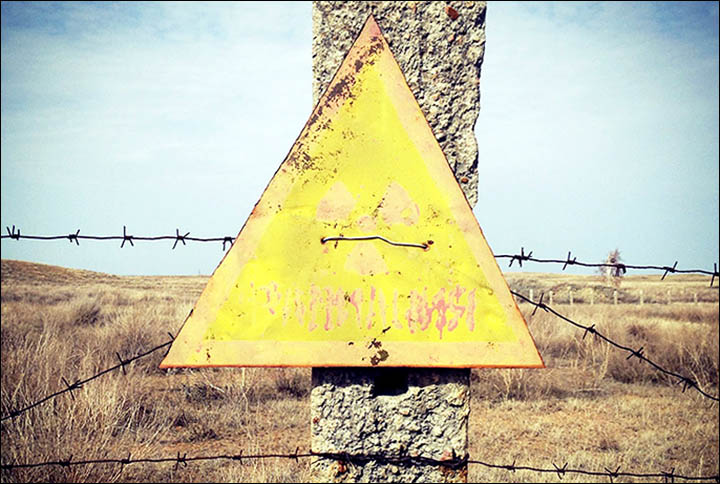 ---

Deserted uranium mines near the village of Kalachi. Pictures: Zamzagul Adrakhmanova
---
Lubov Belkova, who lives in the village, is thought to have been the first victim and she has now suffered the symptoms seven times since April 2010. Her daughter, Natalya Mikhel, has been taken to hospital twice and her granddaughter, Diana, has been affected once.
A number of children have been also affected, with two of them - Rudolf Boyarinos and Mikhail Plyukin - suffering heavily hallucinated dreams, in which they saw their hands eaten by worms, dragons flying around their mother's faces, and doctors with eight eyes.
On September 1 last year, eight children collapsed following their assembly at school. There have also been several cases of pregnant women falling asleep suddenly.
Doctors have been diagnosing the victims with encephalopathy, a disorder of the brain, of unclear origin. Scans have indicated that many of them have excessive fluid on their brains - known as oedema – leading to fears that there may be long-term consequences. Some local residents claim wind and smoke coming from the abandoned mines may be responsible for the illness. Others claim toxic waste has been buried in the area.
However, more than 7,000 different tests have shown no traces of heavy metal salts, viruses or bacteria.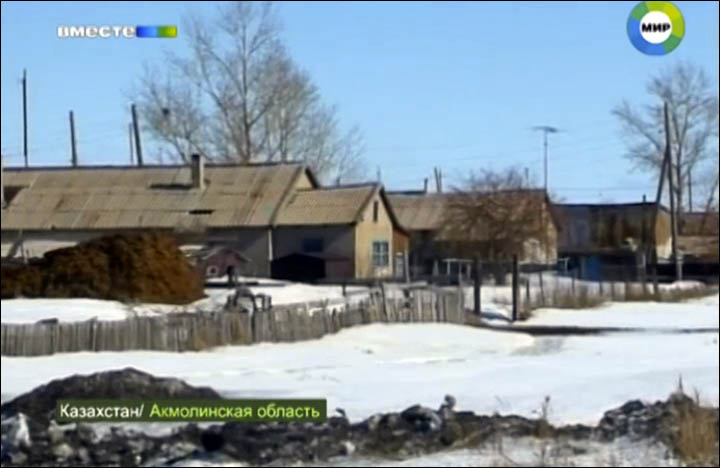 ---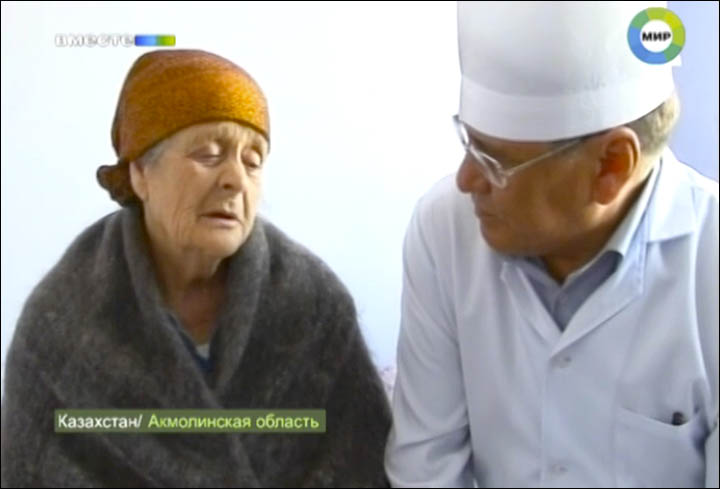 ---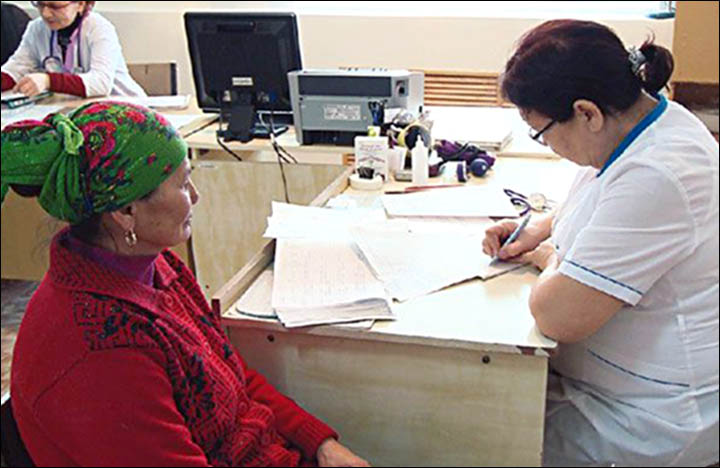 ---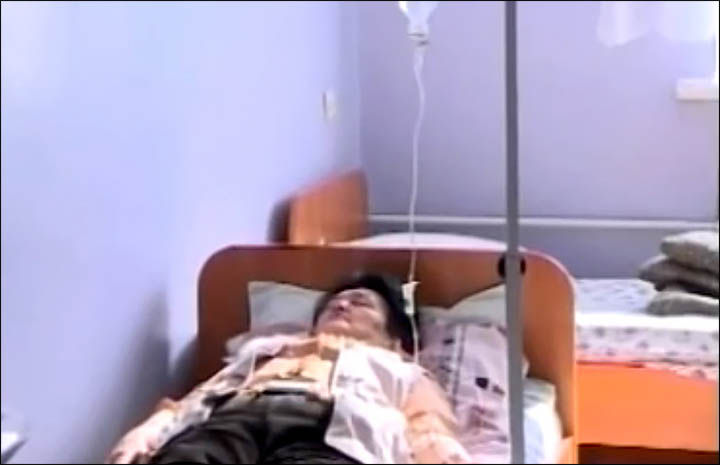 ---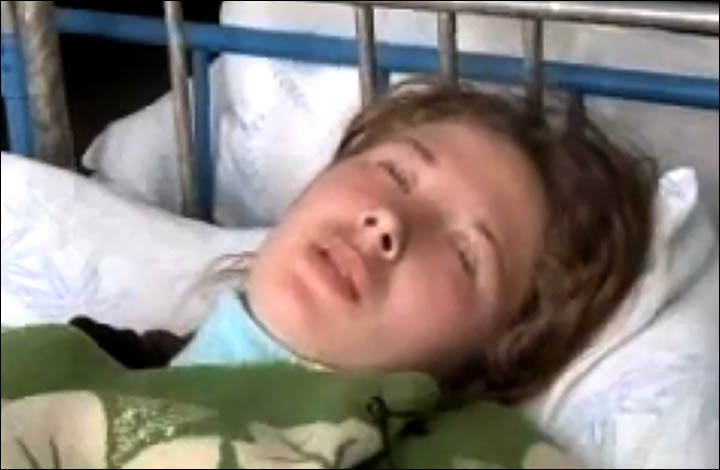 'Almost all of the victims have fallen asleep suddenly, some literally as they walked'. Pictures: MIR TV
---
Kabdrashit Almagambetov, the chief doctor of the hospital, said he is not convinced the condition has been caused by radioactive poisoning. He said:'If it was gas poisoning, why then didn't it affect other people that were next to the person that fell asleep? When we perform surgeries, we use a similar gas called xenon as anaesthetic, which produces a similar effect of a deep narcotic sleep.
'But then the patients regain consciousness at most one hour after we stop delivering medication, while here we have people sleeping for two, even six days'.
Somnology expert Mikhail Poluektov, an associate professor of nervous diseases at the Russian First Medical Institute, said the condition was unlike any of the 85 known sleeping disorders. He said: 'It doesn't seem to be a toxic encephalopathy, as people affected by it don't normally walk and speak, they just lie down and get deeper and deeper into sleep.
'In my opinion, it sounds more like it has psychogenic causes. Most likely, we are witnessing a case of mass psychosis similar to 'Bin Laden Itch', when hundreds of people in the United States found a rash on their skin because they were scared of an expected a bacteriological attack.
'It usually happens in closed communities'.