Daria (16) and Veronica (17), schoolgirls. Picture: The Siberian Times
A vox pop in downtown Novosibirsk by The Siberian Times found a surprising number of people ignorant over the murderous attack in Paris on the Charlie Hebdo attack by Islamic militants. Yet of those who knew the details of the horror, almost all we spoke to - close to the Lenin statue in Siberia's largest city - were outraged by the Charlie Hebdo slayings.
Daria, 16, a schoolgirl, said: 'This was the act of pure cruelty. I don't understand why those people killed cartoonists, what purpose did it serve, who did it help? I think that people are free to express their opinion, they should not be killed for it'.
Her friend Veronica, 17, said the attack was 'something beyond evil'.
Alexander, 22, an engineering student, said: 'This is shocking, disgusting, I am outraged. It is absolutely not acceptable in civilised society. My condolences to the relatives of the victims and I wish recovery to the injured. The actions of terrorists have absolutely no excuse'.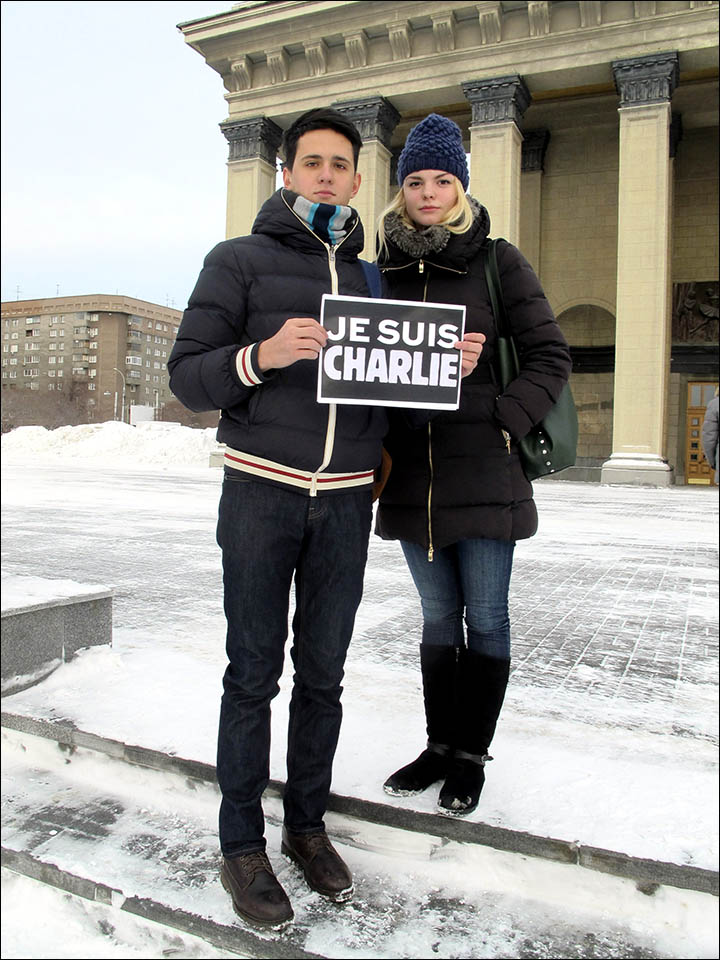 Mikhail (21) and Alexandra (21), students. Picture: The Siberian Times
---
Another student, Mikhail, 21, said: 'I am unambiguously negative about this. I believe that religion and religious people have no right to determine what a free media should publish or should not publish.
'They don't have a right to limit freedom of speech, freedom of expression. I've heard that some Russians say that French cartoonists deserved it, and I totally disagree. This should not have happened'.
Irina, 26, a lawyer and mother-of-one, said: 'It was horrible, there is no other way I could see what happened. I don't support terrorism, and I don't think anyone in his mind can support it. There is no justification for it and it simply should not have happened'.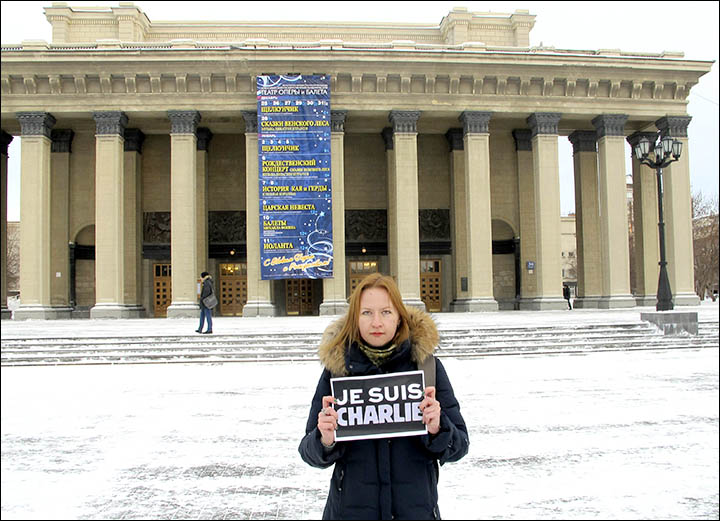 ---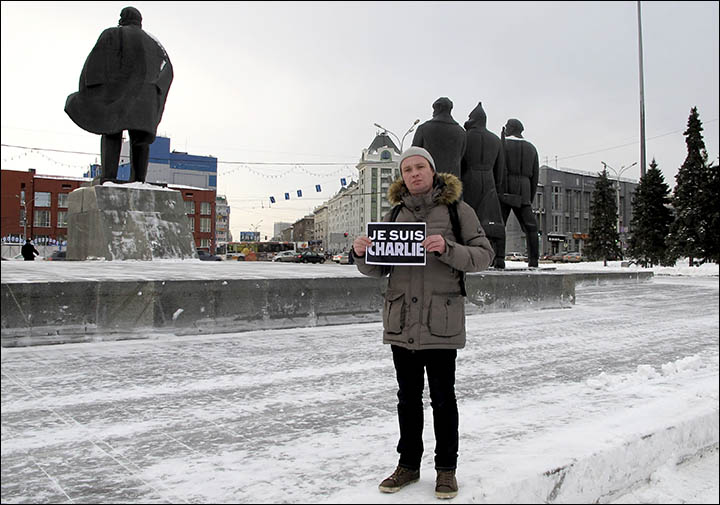 Anna, 31, a reporter and Alexander, 35, a software specialist. Pictures: The Siberian Times
---
A number of people declined to comment because they had not heard about the terrorist attack, even though it was covered on Russian TV news and the Russian government, led by President Vladimir Putin, unequivocally condemned the actions of terrorists in Paris.
Evgeny Antropov, 31, Curator of the Oral History Centre, in Novosibirsk, said: 'I've heard about this tragedy, of course. I wonder why so many people in Siberia still do not know about this? It's just pointless, blatant cruelty. These terrorists had no right to do this.
'I am outraged and I think there are no arguments to justify this. At the same time, I research the local ethnic communities and the behaviour of these communities in the cities. I think that for all of us this is a moment to pause and think and try to analyze what happened, as there is a strong feeling that something is going wrong'.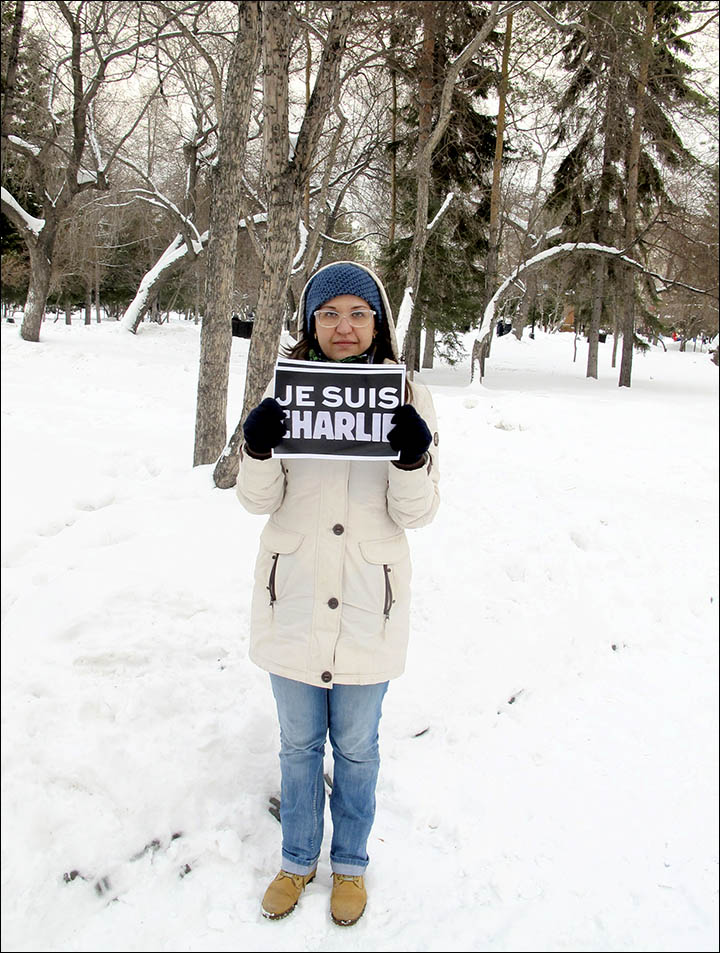 Irina, 26, a lawyer. Picture: The Siberian Times
---
Anna Ledovskikh, 31, a journalist, said: 'My condolences to the relatives of victims and a speedy recovery to the injured.
'There is no justification for such actions. Terrorism is an absolute evil, regardless of the country and religion. It has no logic, no reasons and we must fight with it or at least not turn a blind eye. We should not divide terrorism into 'good' and 'bad', as it is bad and unacceptable in any form'.
Alexander, 35, a software specialist, added: 'I'm shocked as this was an act of clearly unstable people, and this was not about religion or hurt religious feelings. This was madness and I condemn it'.
Vera Ivanovna, 65, who worked in the defence industry and declined to be pictured, said: 'My attitude is negative, of course. Terrorism has no nationality and no excuses. Journalists are always in danger, they are always a target. My mother worked in 'Sovetskaya Sibir' newspaper and I know what it is to be a journalist.
'What happened in France is a terrible tragedy, my sincere condolences go to relatives'.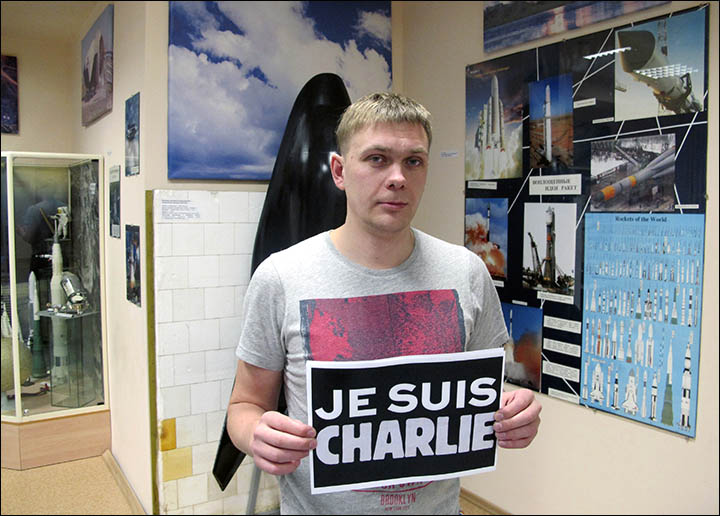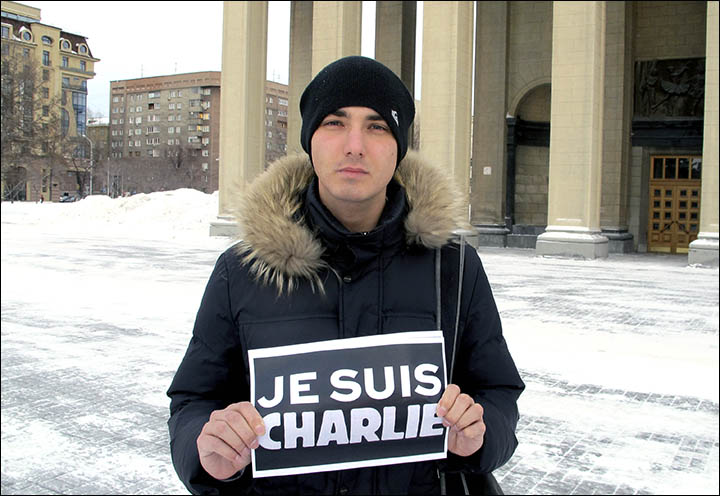 Evgeny, 31, and Alexander, 22. Pictures: The Siberian Times
---
Siberians spoke after the Russian government called on the West to co-operate to defeat the global terrorist threat in the wake of the French outrage.
The French attack follows Western sanctions on Russia linked to the Ukraine crisis. Vladimir Putin's spokesman Dmitry Peskov said: 'We are convinced that fight with terrorism is not possible without cooperation of many sides. There is not country which can fight this evil on its own'.
Senior Foreign Ministry official Maria Zakharova emphasised: 'The tragedy in Paris is a serious reason for realising that the fight against international terrorism requires permanent, uninterrupted collective efforts by the world community regardless of the political climate'.
She warned that the scale of the threat means 'the solution cannot be postponed until better days' otherwise it would not happen.
The influential chairman of the foreign affairs committee of the Russian parliament, Alexei Pushkov, insisted: 'The tragedy in Paris has demonstrated that it is not Russia that threatens Europe and its security. This is a bluff. The real threat comes from the adherents of terrorism. It is a fact'.