'I could not remember such an eventful birth'. Picture: ngs.ru
A premature baby delivered in the back of a trolleybus in a Christmas Day drama has been adopted and named after the woman who helped save her life. Little Olga arrived into the world early on the Number5 bus in Novosibirsk on December 25 after her mother went into labour ahead of her due date.
When she was born she was not breathing, and two quick-thinking passengers – a woman and an elderly man - leapt into action to clear her nose of mucus and massage her cold body. Their intervention worked and she was safely delivered into her mother's arms without the need for medical attention.
Sadly, with two other children at home, the mother announced she was not planning on keeping the baby and she was put up for adoption. Less than three weeks on and the drama has had a happy ending with Novosibirsk City Hall announcing that the baby has found a new family.
Officials said the little girl is 'doing well' and is already with her adoptive parents despite formalities still being finalised.
Her new mother and father kept the baby's name as Olga, given after Olga Naftayeva, the woman who had helped deliver her on the number 5 trolleybus.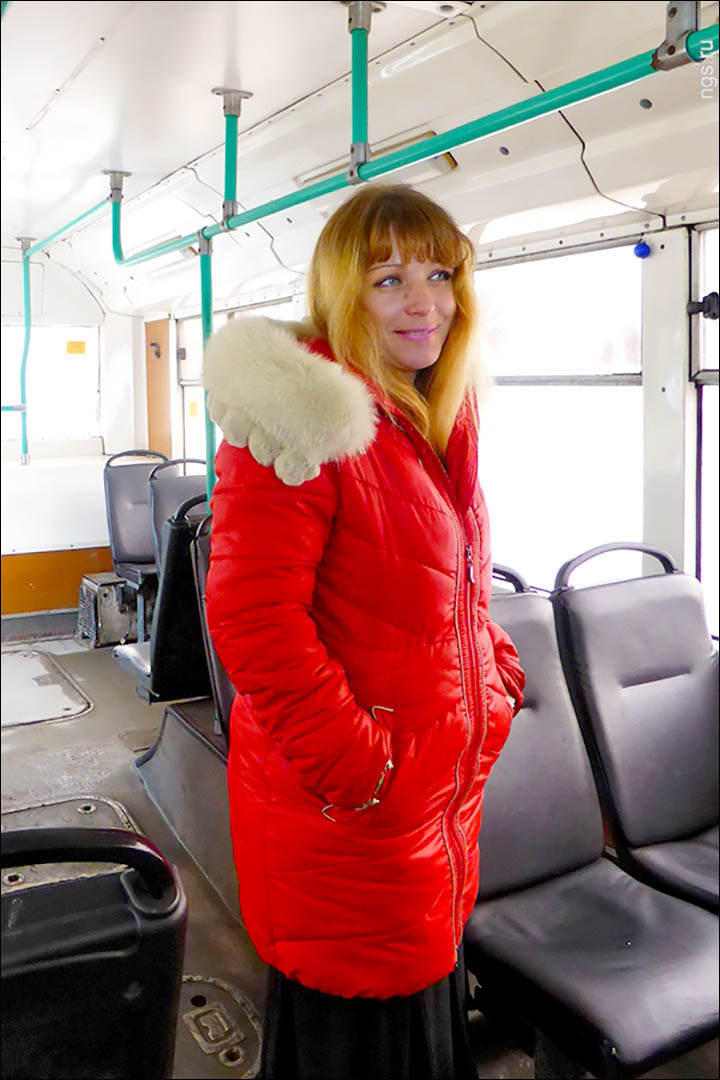 Olga Naftayeva by the 'delivery room' at number 5 trolleybus. Picture: ngs.ru
---
Mrs Naftayeva, herself a trolleybus driver, had been on her way home after finishing a shift when the medical emergency unfolded at 3.30pm on December 25. She ended up dressed only in her trousers and bra when the ambulance crew arrived, having taken off some of her clothes to keep the newborn warm.
The 38-year-old mother-of-three said it was her instinct to go and help when she heard moaning coming from the back of the bus. She recalled: 'I squeezed my way through a crowd of passengers and saw a dark-haired heavily pregnant woman obviously panting and moaning louder and louder.
'None of the people that watched her knew what to do, so I asked them to move, looked at the woman and realised that her waters had broken. She was still fully dressed, but it was obvious we needed to get her undressed right there and then despite the chilly weather.
'I asked her to lean backwards on the seat, and pulled her legs up so that they rested on the back of the front seat. The pain was so strong that she was unable to undress herself. Then I heard a voice saying 'we've got to cut her trousers off'. It was an elderly man touching my shoulder and showing me that he had a small knife on him.
'I asked all the other passengers to leave. Two young girls volunteered to run to a nearby chemist shop and buy sterile pads to put underneath the woman. Somebody else called the ambulance but by then it was clear we would see the baby before doctors arrive'.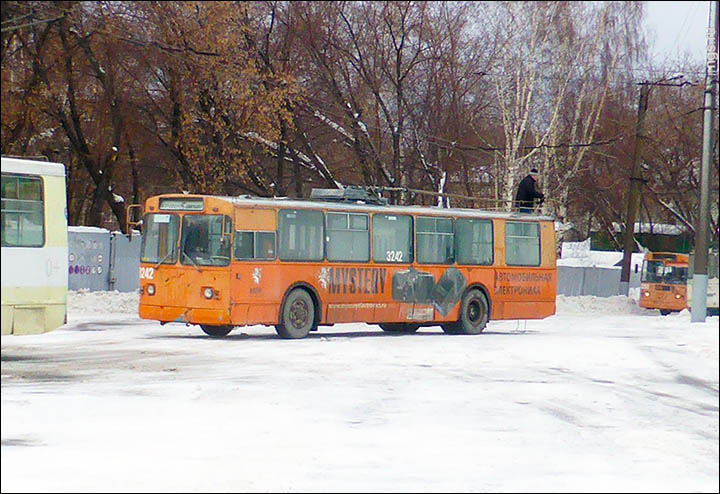 'I do hope this story has a happy ending with the adoptive parents taking care of baby Olga'. Picture: ngs.ru
---
Olga said that as they cut the woman's clothes off, the baby's head was already visible.
She continued: 'Then I saw the baby's shoulders. I touched them gently, and then pulled and the baby came out surprisingly easy. But it looked all blue and didn't cry.
'In panic I said, 'I think she's dead' but then I remembered that in movies people help babies to breathe by sucking out any mucus and giving them a slap on their back, or bottom. To be honest I hesitated for a second. I've never assisted delivery before, and here I was in the middle of it with somebody else's child.
'But the old man didn't wait for me and leapt into action straight away. He sucked the baby's nose and massaged her shoulders, and then I clapped her on the back.
'Her arms and legs started moving, and we heard her weak first cry'.
Worried about the possibility of causing an infection, Olga said they did not cut the umbilical cord while they waited for help, and then covered the baby up in her own clothes. The ambulance crew arrived about 30 minutes later, having been stuck in a traffic jam, and took the mother and child to hospital.
Irina Bolshakova, the chief physician at the Novosibirsk Ambulance Centre, said she could not remember such an eventful birth. She said: 'Last year we had about 85 births outside the hospital, either at home or in the ambulance. But I don't remember anything like this'.
Reflecting back on her brave actions, Olga added: 'I was very sad to hear later that the mother refused her little girl. I was even thinking about whether I was able to adopt her myself, but I've got three children to look after already'.
'I do hope this story has a happy ending with the adoptive parents stepping in to take care of little Olga'.