In Siberia's largest city, Novosibirsk, around 1,000 people gathered in Pimenova Square, some arriving by bus. Picture: ngs.ru
A large demonstration in Moscow was attended by 40,000, according to police, but it was preceded by gatherings in the Far East of Russia, and in Siberia.
Activists took to the streets in a show of loyalty to the Russian president amid unprecedented sanctions linked to the crisis in Ukraine.
'Ukraine's example has taught us a lot, and we won't allow a Maidan in our country!', said organisers of the rallies, referring to the coup in which President Viktor Yanukovych was ousted. The protests came ahead of a 1 March demonstration by opponents of Putin.
Reports said there were 150 people at a rally in Vladivostok and 40 in Khabarovsk. Vasiliy Polischuk, co-ordinator, said: 'It was a peaceful gathering, sadly we could not stay until five in the evening, as planned, because of very strong snowfall and wind. Other cities and towns in the Far East of Russia had people coming out in Dalnegorsk and Blagoveschensk'.
Speaking from Blagoveschensk, local organiser Vyacheslav Purinsh, said: 'We stand for the Russian State Bank's independence, and against agents from the West in Russia. We support our president Vladimir Putin.'
In Kransnoyarsk, some 200 people joined the anti-Maidan protest, holding posters reading 'For Putin' and 'Stop Revolution'.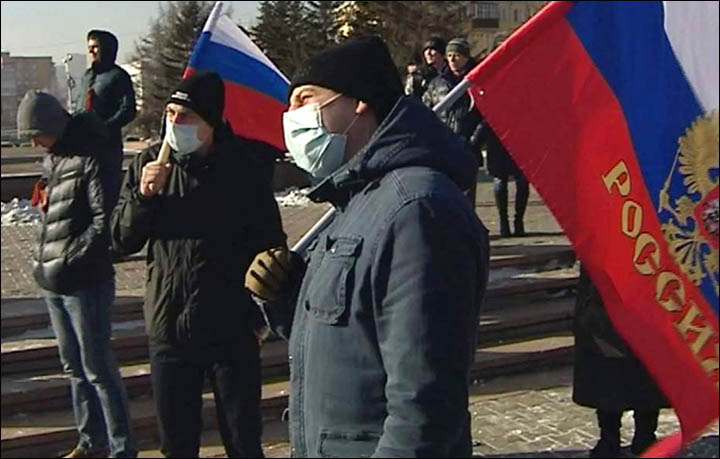 ---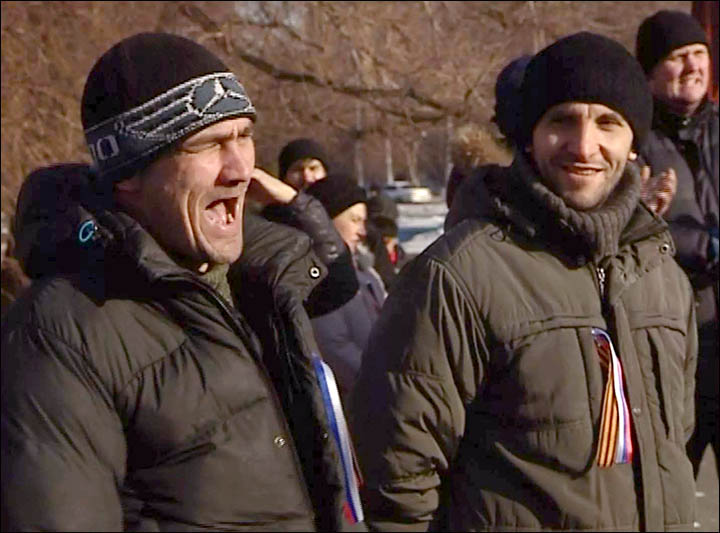 ---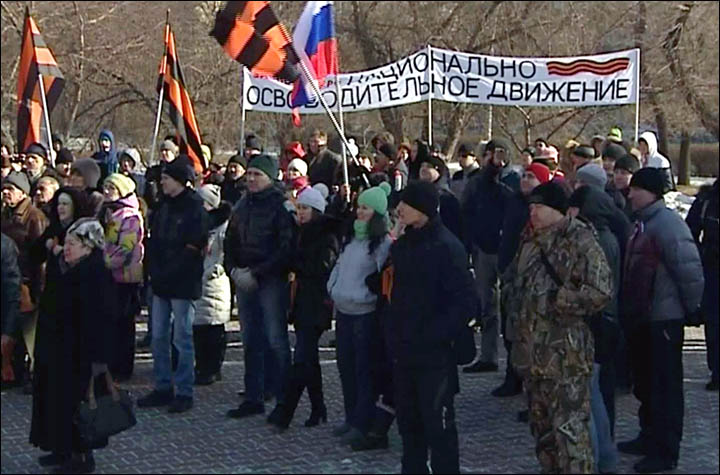 Demo in Krasnoyarsk. Pictures: TVK-6 Krasnoyarsk
Tatyana, a student of the city's Oil and Gas Institute said: 'I think such demonstrations will happen more and more often. Each time they will be attracting more people, and finally we will win. Russia will remain sovereign state, independent from America. This is why I am here.'
Two young men in medical masks told TVK-6 Krasnoyarsk TV Channel: 'We are sick, this is why we're wearing masks, but we came here despite it because if we let the Americans come in, this will be worse than any illness. You know that they are preparing a state coup in Russia? Who? The fifth column.'
They named opposition figures Alexei Navalny, Mikhail Khodorkovsky, Ksenia Sobchak and Boris Nemtsov.
'You've got to be dumb or blind if you don't see it coming.'
In the capital of the Altai Republic, Gorno-Altaisk, more than 1,500 people gathered in temperatures of minus 17C.
Aleksandr Vilisov, one of the organisers from 'Military brotherhood' organisation, said: 'We called everyone to unite in these complicated times around the leaders of our country to prevent colour revolutions and unrest. We speak against any signs of fascism and said that we are ready to stand against attempts to destabilise the political situation in the country.'
In Siberia's largest city, Novosibirsk, around 1,000 people gathered in Pimenova Square, some arriving by bus. The action was organised by Novosibirsk regional office of 'United Russia', the ruling political grouping. According to the organisers the purpose of the meeting was the desire 'to shape public opinion on the issue of double standards in the assessment of the tragedies by the United States and Europe - the attack on the newspaper 'Charlie Hebdo' and the murder of civilians in the Donbass' - a reference to eastern Ukraine.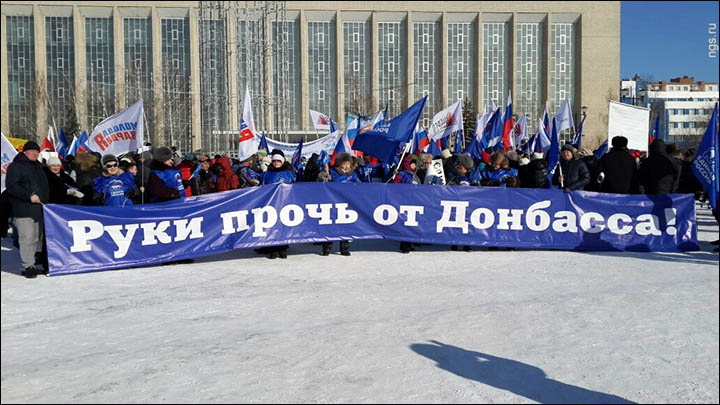 Pro-Vladimir Putin demo in Novosibirsk one year on from the Kiev uprising. Picture: ngs.ru
'Participants came to the rally with the same posters 'Je suis Donbass' and a banner 'Hands off the Donbass!'.
Valery Ilyenko, a local MP from 'United Russia', who organised the local protest, said: 'The tragedy which now lasts for a year, has touched almost all of us. Today I broke off relations with my relatives who live in Mariupol. We cannot talk, we have different languages.
'This is very bitter, and highly insulting. We understand that the people who now die in eastern Ukraine are our brothers.
'The result of the information brainwash is that the word 'Russian' in Ukraine causes rejection, they begin to hate us. This is thanks to the efforts of the United States, the efforts being made by the European Union, which are trying to bring us, Russians, to our knees.'
City council member Sergey Bondarenko said: 'I think we should support the Donbass. It is necessary to take those families who come to us (from eastern Ukraine). One family came to me, they work with me, if necessary I can take more. We must support those who are fighting there.
'They are great lads who on 23 February 'hit in the teeth' the Nazis, and proved that Russia exists not only here, but also in the Donbass'.