Emilia Markov, 'when we heard that Agafya had sent out a plea for assistance, we ourselves were deeply moved and determined that one day, if God allowed, we would go and assist her'. Picture: Markov family
Siberia's famous hermit has been offered prayers and assistance from an American couple inspired by her religious beliefs and tale of survival in the wilderness.
Emilia and Luchian Marcov, who are devoted Old Believers, felt they heard a 'call for action' to travel to the other side of the world to be with elderly recluse Agafya Lykov. They want to spend two months with her in her primitive forest retreat and chant prayers, collect firewood and build her a better way to keep her home warm.
But they face a financial obstacle in order to fulfil their wish – they require at least 720,000 roubles ($12,000) to hire a helicopter four the four-hour return journey to Agafya's remote mountain location in the Kemerovskaya Oblast. Emilia, who was born in Dallas, Texas, said: 'When we heard that Agafya had sent out a plea for assistance, we ourselves were deeply moved and determined that one day, if God allowed, we would go and assist her.
'It is our humble prayer to fulfil this and to share her heart also with others. We share many of her beliefs, only we look to her as being very strong and steadfast.
'Forgive us sinners. We are the most unworthy helpers of all but have willing hearts and hands'.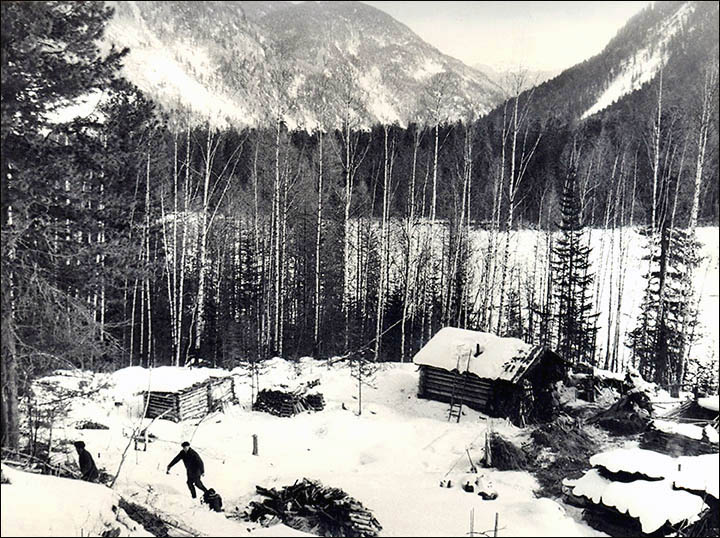 ---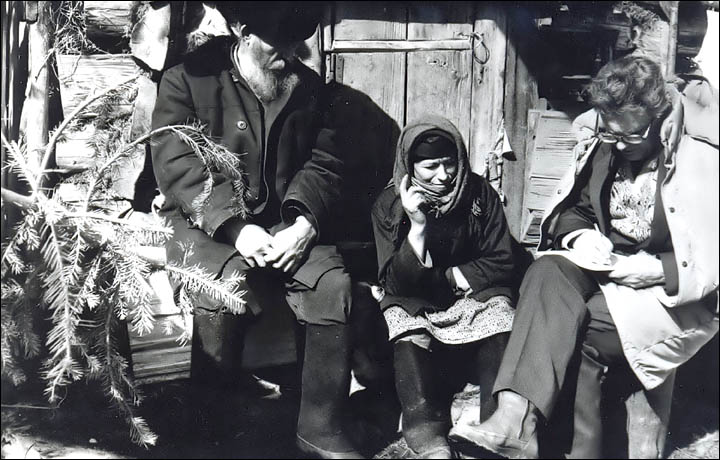 ---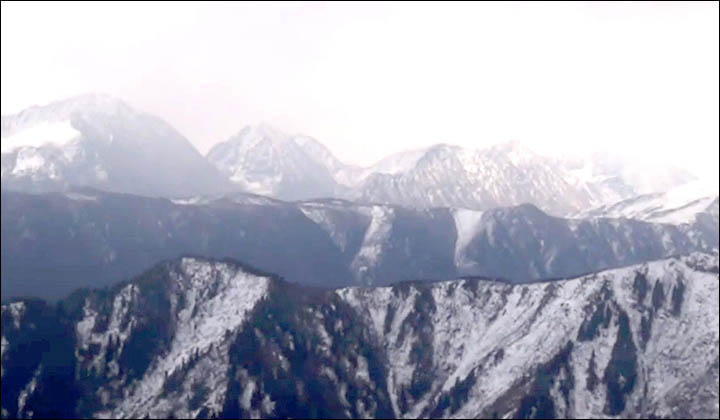 First picture of Lykov family's house in Siberian mountains, Agafya with her father and a scientist from Krasnoyarsk
---
Agafya Lykov is the sole survivor of family of Old Believers that cut themselves off from civilisation for decades and in 1978 had no idea the World War Two had ended.
Members of a fundamentalist Russian orthodox sect that had been persecuted since the days of Peter the Great in the 18th century, the Lykovs had fled deep into the Siberian wilderness amid a Stalinist purge of religions in 1936. As the years passed they retreated deeper and deeper into forests, foraging for whatever they could find and once even being forced to eat their leather shoes to survive.
Now the last remaining member of the family, even to this day Agafya has only ventured out from isolation six times in her 71 years.
The Marcovs are no strangers to this lifestyle themselves, having lived at one point in a Romanian monastery and now being part of a simple Amish Settlement in Tennessee. Emilia first heard about Agafya in 1998 when, during a stay with monks in the Appalachian mountains in north-eastern America, she was given a book about the Lykovs.
'I wept and I wept and was determined to find such Christians', she said. 'I found a way to travel across country 2,000 miles to visit the Old Believers in Oregon, but was sorely disillusioned to find they had been affected by the modern ways.
'I was then invited by a priest to visit Romania where I would find more what I was searching for. In the autumn of 1999 I journeyed to the Moldova region of Romania and from there we began our quest to find Old Believers who believed like the Lykovs'.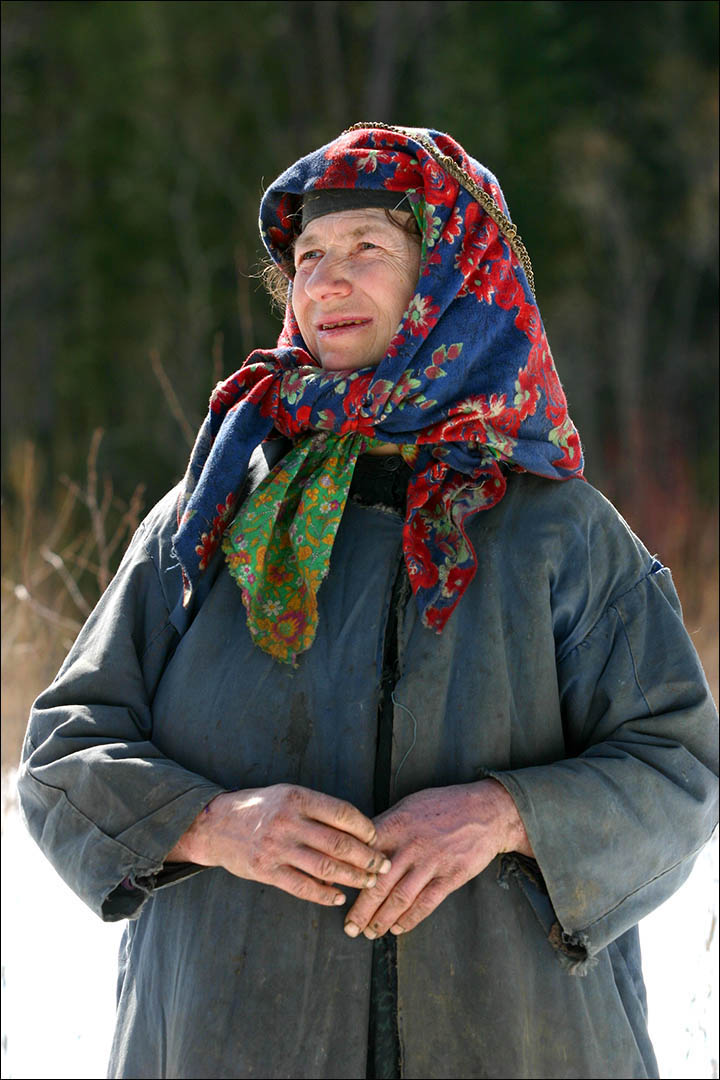 Agafya Lykova. Picture: Krasnoyarsky Rabochiy newspaper
---
Emilia said eventually she found the village of Manolea and a group of Old Believers, who invited her to stay with them for three months. She later returned to Romania to stay for three years in a monastery, where she met translator Luchian, who would become her husband in 2004.
'Being younger than me he made many selfless sacrifices for us', explained Emilia. 'He established me in a simple home in the Amish Settlement [in the US]. Here we live off-grid as Old Believers, following news reports of our sister in Christ, Agafya. We raise Collies and live in anticipation of the soon coming of Christ seeking to live in humility as brothers and sisters in Christ'.
She added: 'Before Lucian and I came back to America, he promised me that one day we would go and find Old Believers in Siberia like Agafya'.
The Marcovs have launched a fundraising website to help them fulfil their dream to travelling to Russia to care for their 'Forest Sister'. So far they have received no donations, but they hold out hope of getting enough money.
Emilia said: 'We have offered our humble hands and hearts to visit for a period of two months initially. During this time we will chant prayers with her in Old Slavonic, help her with firewood, gardens and whatever other way we can assist. We also hope to raise enough funds to help build her an efficient wood heater.
'In anticipation of our trip to Agafya, Luchian went to visit his family recently while I visited mine in Texas. He is waiting for me to join him as soon as possible and continue our journey to Agafya. We intend to stop in the Romanian mountains where our Old Believer confessor is, so we can have his blessing'.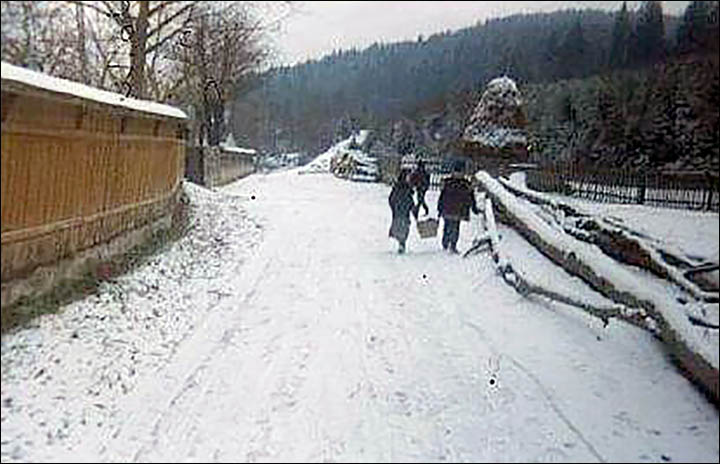 ---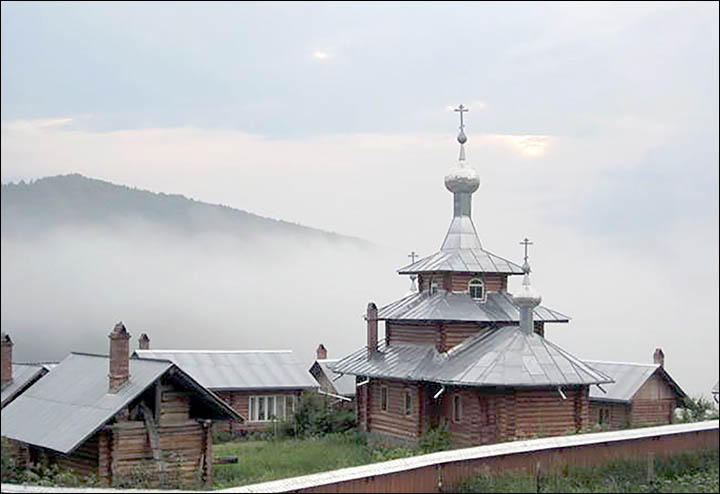 ---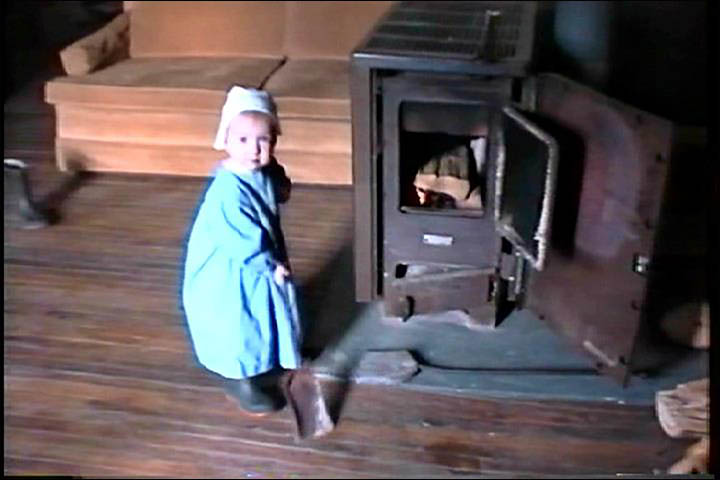 Emilia and Luchian Markov on way to an Old Believers monastery; their daughter Molly during first days at the monastery. Pictures: Markov family
While local people have been keeping an eye out for Agafya, and brining her provisions such as vegetables, she has struggled to keep her izba log house warm, and animals have been stealing her food. Her forest home is 500 feet up a mountain in the Abakan Range, in south-western Siberia, and is difficult to access.
A television crew that visited her in December gave her a handful of presents, including batteries for her torch, candles, food for her goats and a pack containing fruit and sweets. But life in the Siberian countryside is beginning to get tough for her and she told NTV correspondent Sergey Syrkin that she is now finding the harsh winter 'unbearable'.
She was the fourth child of Karp and Akulina Lykov and for the first 35 years of her life she had no contact at all with anyone outside her family. It was in the summer of 1978 that geologists accidentally stumbled across the group, with scientists reporting that Agafya spoke a strange blurred language 'distorted by a lifetime of isolation'.
Once the family was discovered they continued to live in the wilderness and, apart from salt, knives, forks and handles, they opted not to adopt any methods or items from the modern world. Sadly just two years later three of the four children also died: Savin and Natalia suffered kidney failure and Dmitry died of pneumonia. Agafya's father died in his sleep in February 1988, but despite her age and the risks to her health she continues to live on the little homestead.
Emilia said: 'The Abakan Reserve has welcomed us and offered their kind assistance. We have been notified that the helicopter expense is very high, perhaps over $6,000. We believe we can learn from her and share that with others. Won't you help us help her?'
· To donate to the appeal, visit www.indiegogo.com/projects/help-us-help-agafya--3