Appearing in court, Alexander Khoroshavin plead not guilty. Picture: NTV
A treasure trove of riches including one billion roubles ($16.7million) in cash was seized during a raid on the home of a Far East governor suspected of taking bribes. Investigators probing Alexander Khoroshavin also discovered 800 items of expensive jewellery, including a diamond-encrusted pen worth 36 million roubles ($600,000).
The Sakhalin region governor was arrested last week, along with several other individuals, accused of corruption on 'a particularly large scale'. Court officials were told at the time that he is suspected of taking bribes worth 371 million roubles ($5.6million), an offense that could carry a 15-year prison sentence.
Details about what was found during searches of Khoroshavin's home on Sakhalin Island were revealed by the Head of the Investigative Committee, Vladimir Markin. The cash retrieved was in a number of different currencies, while it is believed the diamond pen was made-to-order.
According to a declaration of income, in 2013 the 55-year-old governor earned 8,862,000 roubles and held no apartments or land in his property portfolio, while his wife, however, has two flats of about 100sq metres.
But an investigation found three more flats belonging to him in upmarket houses in Moscow as well as a dacha that was recently renovated for 130million roubles. The exact estimate of all the real estate owned by Khoroshavin will be revealed in the near future.
It emerged last week that investigators, assisted by FSB federal security agents, carried out 10 searches on Sakhalin Island as well as five at the governor's other properties. Local media reported the search in Khoroshavin's office lasted almost 24 hours and the governor was at work during the examination.
The others who stand accused in the case are the governor's assistant Andrey Ikramov, his deputy Boris Usachev, and the head of secretariat Vyacheslav Gorbachev.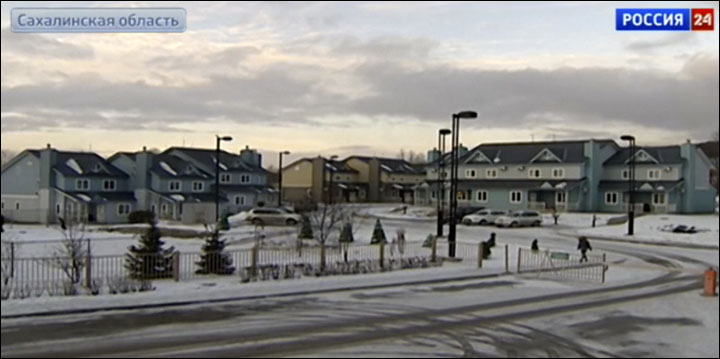 ---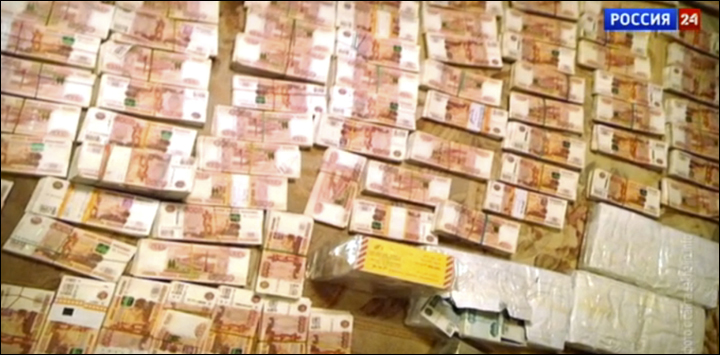 A treasure trove of riches including one billion roubles ($16.7million) in cash was seized during a raid on the home of a Far East governor. Pictures: Vesti.ru
The arrests were heralded by the Investigative Committee as a sign of the government's determination to stamp out corruption and abuse of authority.
According to the All-Russia People's Front in 2013 the regional authorities in Sakhalin were one of the highest spenders in terms of purchases for their administrations.
In particular, 8million roubles went from the budget to buy cars for the heads of the region and 333million roubles were allocated to build a garage for the government vehicles.
Khoroshavin, who has been governor of Sakhalin since 2007, stands accused of taking bribes at the conclusion of a state contract for the construction of part of the Yuzhno-Sakhalinsk thermoelectric plant.
Mr Markin said: 'We are talking about an amount of more than $5.5million, and this is only one instance, and as we know there are more instances.'
Appearing in court, Khoroshavin plead not guilty and said: 'I was charged with some contract on the construction of the power unit. I will say this - I do not have any relation to this contract, I did not sign it, and do not have any relation to the movement of funds.'
Lyubov Shubina, deputy of the Sakhalin Regional Duma, said: 'In terms of everything related to the testimony against the governor, I don't really believe it because I really appreciate the work of our governor. I'm certainly not an investigative body and I am not a court, but I do not believe it.'
A group of people in support of the governor have asked President Vladimir Putin to examine the case.
Born in the city of Svobodny in Amurskaya, Khoroshavin has been living on Sakhalin since 1960. In 1981 he graduated from the Far Eastern Polytech Institute, and became first vice-mayor of the city of Ocha and Ochinsky district in 1997.
A decade later the married father-of-two has risen to become the governor of Sakhalin.