Alexander Lishefay, 30, believed there was gas in his flat and thinking he was saving the little boy's life he dropped him out. Picture: Investigative department in Oktyabrsky district, Omsk region
A man threw his three-year-old son out of a window after developing strong hallucinations from taking a new synthetic drug. Alexander Lishefay, 30, believed there was gas in his flat and thinking he was saving the little boy's life he dropped him out.
It was only the quick-thinking of a passer-by realising that something was wrong that the youngster, called Anton, was saved.
The drama unfolded on March 16 in Omsk as Vladimir Kuznetsov, 53, walked with his wife Olga Kovalenko, and their own three-year-old grandson. Hearing screams they looked up to the building above them.
Olga recalled: 'I just thought that the children were crying, but then I looked up and saw some guy in the window. He was screaming like an animal. It was not fear, not panic, but some hysteria. It could be seen from afar: he was a drug addict.'
Her husband continued: 'Then he shouted, 'Help!' People on the street were screaming, 'Man, what are you doing?' and he replied, 'You do not understand, some gas is here'.
Suddenly his wife let him go, he picked up the child and we saw the boy. I shouted, 'Let the baby go!'
At that moment the father threw the boy over but Vladimir reacted quickly and stepped forward to catch him. He said: 'I fell and hit my head on the ice, and my shoulder still hurts. The boy was lying on me.'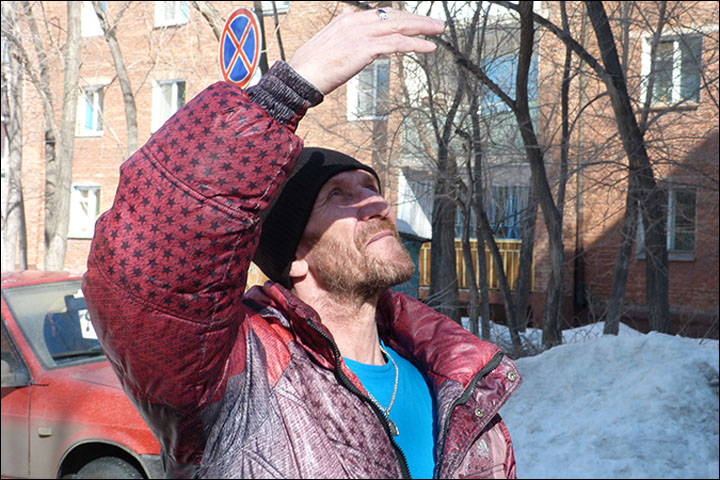 ---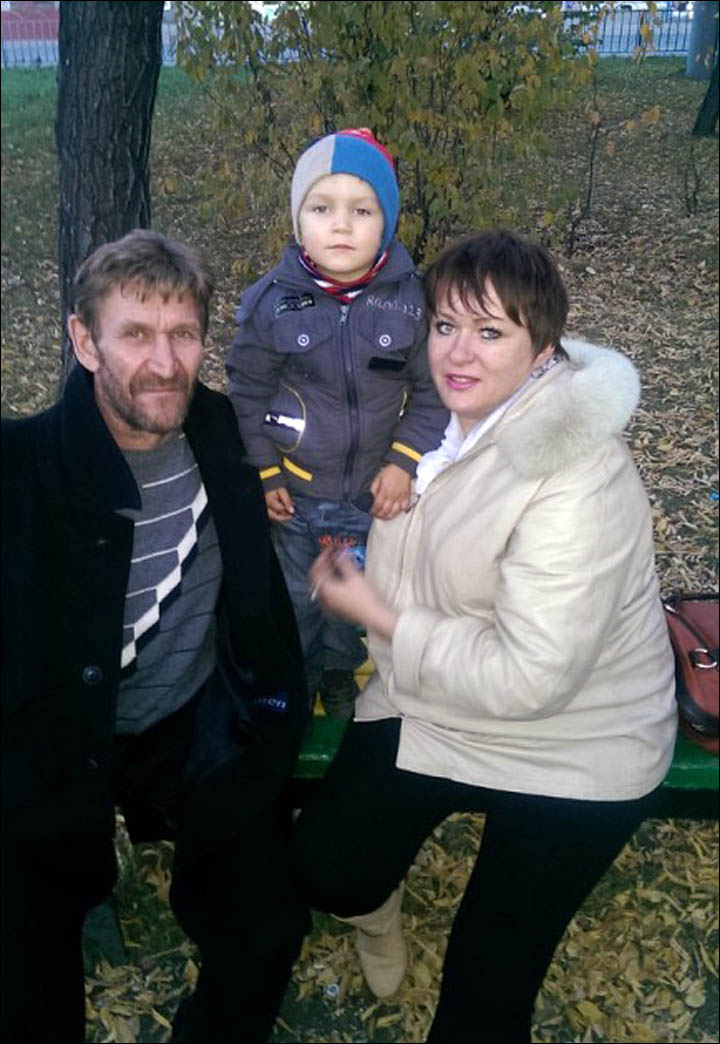 Vladimir Kuznetsov, 53, and his family. Pictures: Ksenia Uglanova, Odnoklassniki
The boy was wrapped in a jacket and taken to a nearby café before he was taken to hospital with a concussion.
Olga said the youngster had a 'wild horror in his eyes' and added: 'He did not understand what had happened. The mother, when he fell, looked down and looked at all of us. She made a gesture, as if saying 'my husband is crazy', then disappeared.'
Police questioned the father and he admitted he had thrown his son out of the window because of a drug called 'salt'. Alexander, who works as a small truck driver, said he and his wife had been smoking the substance in the bathroom.
He said: 'We smoked. And it seemed to me as if the smoke was going under the door. I lost consciousness for a few seconds then there was a feeling like I could not breathe.
'I looked at my wife and she also seemed to feel bad. I just got up and rushed to the room.'
He opened the door to the balcony, then opened the window to ventilate the room. He continued: 'I cried for help. A guy below shouted, 'Throw' so I threw the baby.'
The boy's mother is in hospital with her son, only arriving a day after the incident. She is reported to have told journalists that her husband suffered from hallucinations and thought that the apartment was 'full of gas'. 'He even said he saw the mist and felt the smell,' she added.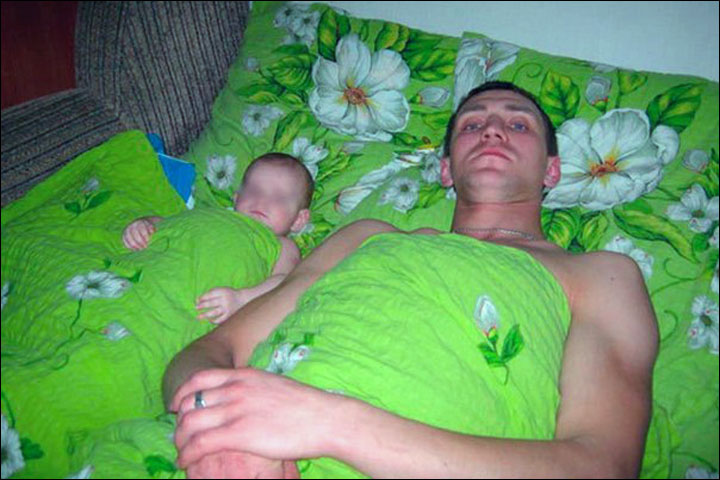 Alexander Lishefay and his son Anton. Picture: Vkontakte
The woman added that her husband had quit drugs and had only taken some that night because he had found them near their home and wanted to recall his youth.
She said: 'I repent and feel guilty. If I did not care, I would not be telling you the truth. I am ashamed. I tried to talk to Anton and asked him if he remembered what happened. He replied, 'Dad threw me in the snow.'
'I asked 'Why?'. My son was silent. But I told him, 'Dad did not want anything bad, he just tried to save you and he loves you.''
Recalling his heroic rescue, Vladimir was modest about his actions. 'I had only one desire - to save the boy,' he said. 'I was thinking about one thing: catching him. If only I could not, I would have reproached myself until the end of my life.'