There has been no comment from the Emergencies Ministry or the regional government on the cause of the hole. Picture: Gorod Novostei
The latest crater to appear in Siberia measures around 20 metres in diameter and around 25-to-30 metres in depth. Its sudden appearance in recent days close to Novokuznetsk region is around 3,500 kilometres from other craters found in Arctic Russia in recent months.
Initial theories suggest mining subsidence caused the collapse, but locals remain concerned about methane gas in the disused shafts. They have been told to avoid fires amid concern over methane leaks.
The hole was spotted by Rinat Sharifullin, whose house is 100 metres away. He immediately called to the Emergency Ministry. The gaping crevice was fenced and specialists have now filled it using soil from an adjacent hill.
Despite this, the crater is causing concern among locals.
Rinat's wife Natalia said: 'We need to move from here. Under our garden are mines, too, and the site nearby was once the entrance to a mine. In the 1990s it was closed and the ground was filled in.'
There has been no comment from the Emergencies Ministry or the regional government on the cause of the hole.
Apparently, another smaller hole is nearby which was filled with water.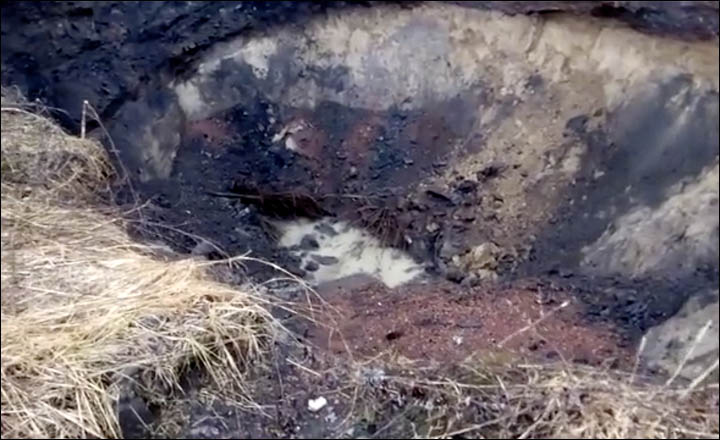 ---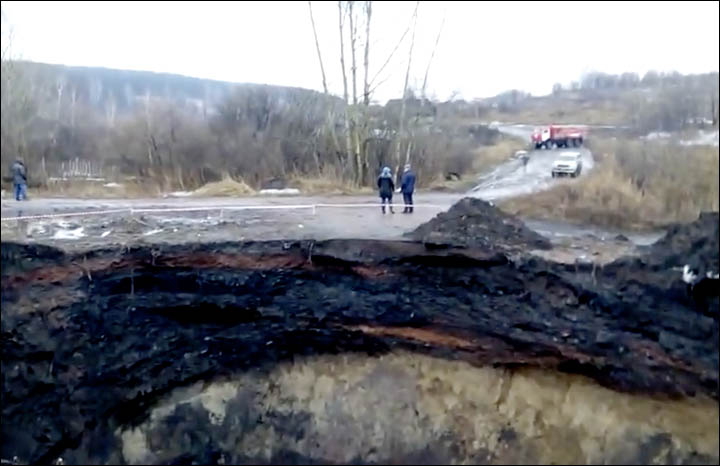 Subsidence from old coal mine a possible cause of latest mystery hole. Pictures: Gorod Novostei
Other holes have received worldwide attention after appearing in the Yamal region of northern Siberia, with another in a remote location in Krasnoyarsk region, near the Taimyr peninsula.
In February, The Siberian Times revealed the existence of four new mysterious 'giant craters', and many smaller ones, in these areas, sparking fears over a looming natural disaster in the Arctic. Their cause is seen as methane released from melting permafrost but this is not yet confirmed by scientists.
Observation from space revealed the dramatic mushrooming of the holes, believed to be caused by methane gas eruptions in melting permafrost due to climate change, scientists revealed today. A leading Russian expert sounded an alert over safety because one new Siberian crater, surrounded by at least 20 'baby holes', is just six miles from a major gas production plant.
He predicts up to 30 more are waiting to be discovered. Scientsts are still baffled by the exact processes causing the craters and respected Moscow expert Professor Vasily Bogoyavlensky today called for 'urgent' investigation of the new phenomenon amid safety fears.