It is thought the situation will worsen, particularly if the dam breaks. Picture: AltaPress
An emergency has been declared across parts of the Altai region after major flooding caused by the spring thaw of snow. Residents have been evacuated from some areas as rivers threaten to burst their banks, with more than 250 residential buildings affected.
Authorities have set up 34 temporary housing shelters for people forced to move out, and at least 1,150 gardens and farming plots are under water. In the town of Zarinsk, students from the state university are assisting rescue workers while volunteers are being sought to help shore up a dam on the brink of bursting.
Photographs from the region show roads and fields flooded and homes under water.
By yesterday afternoon 27 settlements across 16 municipal areas where flooded by the melting snow. Zarinsk, which has a population of about 48,000 people, is among the worst affected residential area, with the Chumysh River having swelled by 19cm over the past day.
By 8am local time on Monday 173 buildings and 306 gardens and farming plots were under water and 166 people, including 27 children, were evacuated. However it is thought the situation will worsen, particularly if the dam breaks.
---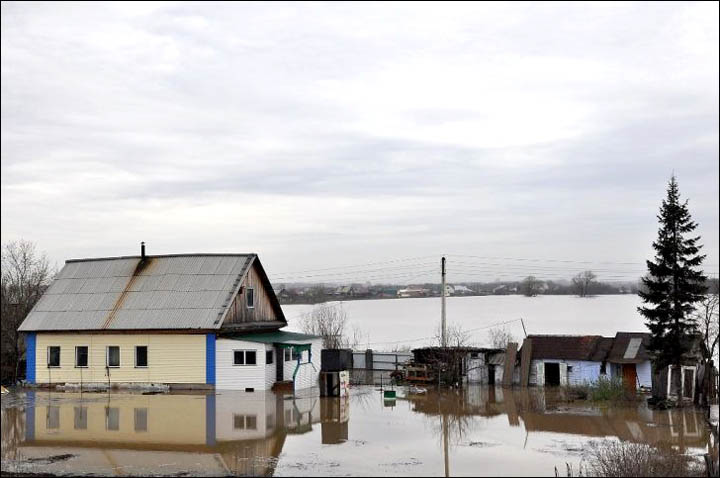 Melting snow causes spring floods across Altai Picture: AltaPress
---
Sergey Ivanov, head of the emergency department at Zarinsk City council, said: The work to reinforce the dam and Chumysh basin were carried out but it didn't allow to keep control of the situation because the water is spreading massively. It was simply impossible to stop it'.
A council statement added: 'An evacuation of the residents of the Lesokombinat district of Zarinsk has been launched, given the danger of the dam bursting.
'Volunteers are kindly requested to come and help to enforce the dam. Students of Altai State University are arriving to the city to assist in the recovery after the emergency situation in Zarinsk'.
The local branch of the Emergencies Ministry said that almost 400 people in 163 vehicles have been deployed to assist across the Altai region.