The immortal Regiment in Novosibirsk, 9 May 2015. Picture: Anzhelika Lukina
The simple aim is to allow relatives to honour those who served their country, many of whom paid the ultimate price. Unannounced, President Putin joined yesterday's vast march carrying a picture of his father Vladimir Spiridonovich Putin just as other marchers held photographs, often unframed, of their relatives.
The march came after the annual Victory Day parade in Moscow and other Russian cities commemorating the 70th anniversary of end of the conflict - known here as the Great Patriotic War - in Europe.
The morning parades paid tribute to the at least 27 million Soviet citizens, including both civilians and servicemen, who gave their lives to defeat Hitler.
'I think that my father, like millions of ordinary soldiers, and he was an ordinary soldier, has all the right to walk through this [Red] square,' said President Putin.
Praising the initiative 'born in people's hearts' he said: 'It affirms our commitment to keep the high bar set by the defenders of our Motherland. It also shows our confidence in ourselves, in our strength and in the bright future of our children.'
The president's father (1911-1999) is believed to have served in the an NKVD battalion before he was transferred to the regular army.
He was severely wounded in 1942.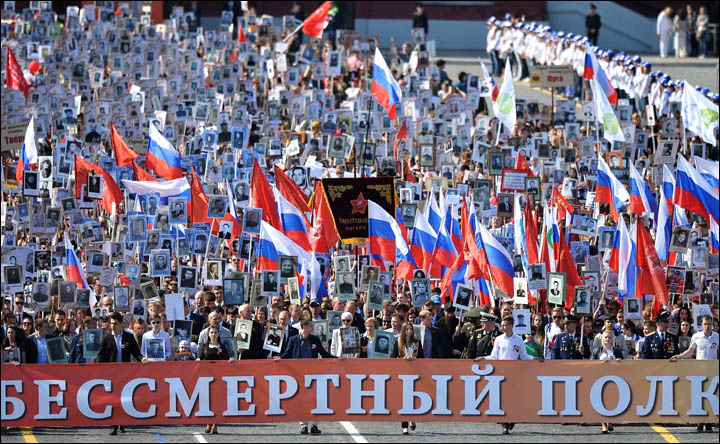 ---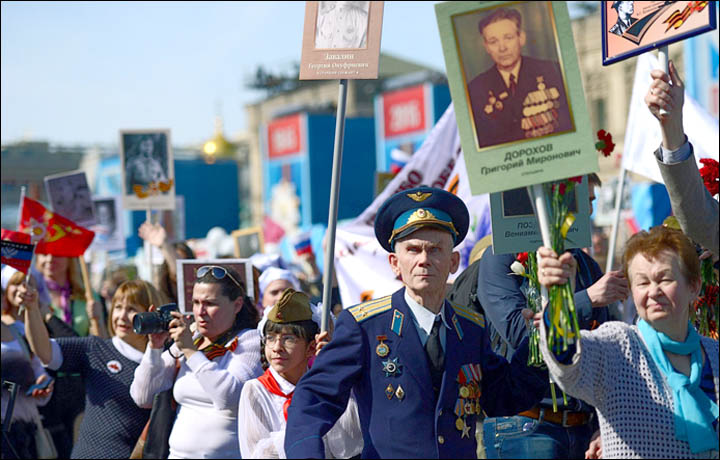 ---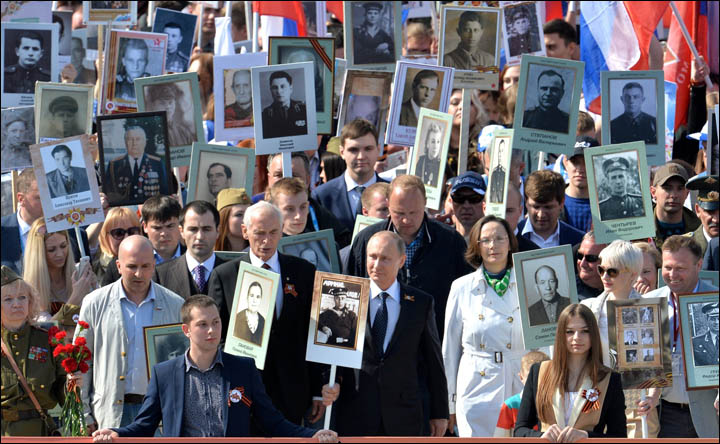 ---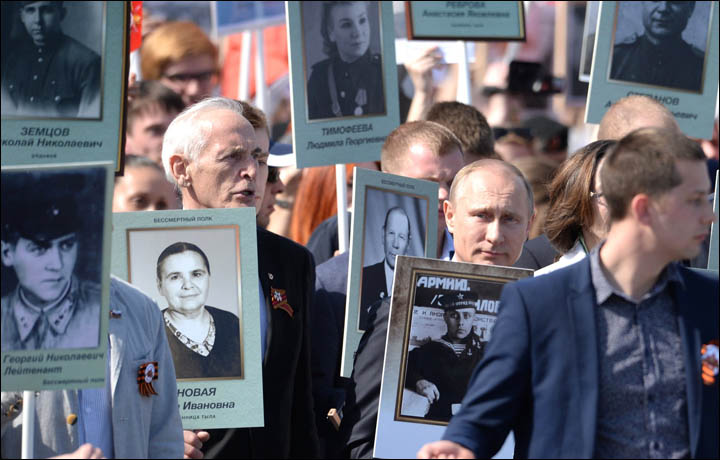 To honour the unsung solder relatives who saved the world. Pictures: Kremlin.ru
---
Sergey Lapenkov, from Tomsk, founder and chairman of the Immortal Regiment Council, said: 'When the president stood up to join the squad, he did what a normal man should have done, as he loved his relatives'.
Another marcher, Lyudmila, 72, said the world owed Russia a debt for ridding the world of the Nazis.
'Europe is forgetting that the USSR won the war,' she said.
It was estimated that one million people took part in other Immortal Regiment, sometimes called Immortal Squad, marches around the world yesterday.
The idea came Sergey Lapenkov, who registered a website in honour of war veterans including who paid the ultimate price, giving their lives in the war. They did not take part in victory parades, until now.
His grandfather Ivan Lapenkov left in 1940 for the Finnish front, then fought in Smolensk, Stalingrad and Kursk. He lost both legs, but came back home.
This year marches were held in the US, Norway, Germany, Ireland, Lebanon, Austria. Some 10,000 joined a march in Almaty, the largest city in Kazakhstan.
Around 15,000 attended a similar rally in Yekaterinburg. More than 70 percent of Russians say a close family member was killed or went missing during the war, making Victory Day an emotional symbol of unity for the nation.