Pamela Anderson during a meeting with Sergey Ivanov in Kremlin, Moscow. Picture: Alexey Druzhinin, Ria Novosti
Feted in the Kremlin this week, the actress and model had a rare female Amur leopard named after her. Head of the presidential administration, Sergey Ivanov, presented a certificate and a photographic portrait of the big cat - previously known as Leo 38F - to her.
Pamela the leopard is currently in the Land of the Leopard National Park, near Russia's border with China.
This big cat has a habit of posing for wildlife camera traps in the park, like her keeper who has featured on Playboy's cover a record 14 times since 1989.
'She is rather posing for cameras instead of ignoring them,' said TASS about the leopard.
Ivanov told her about the major conservation progress in keeping alive these Siberian leopards in the wild.
'A few years ago, when we focused on their preservation, they really were on the edge of extinction, there were only 30-40 of them left. Now we have 80,' he said.
It is the rarest big cat on the planet.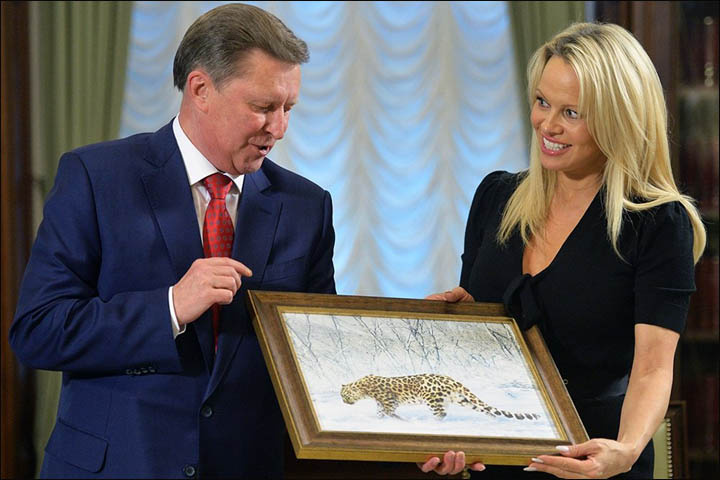 ---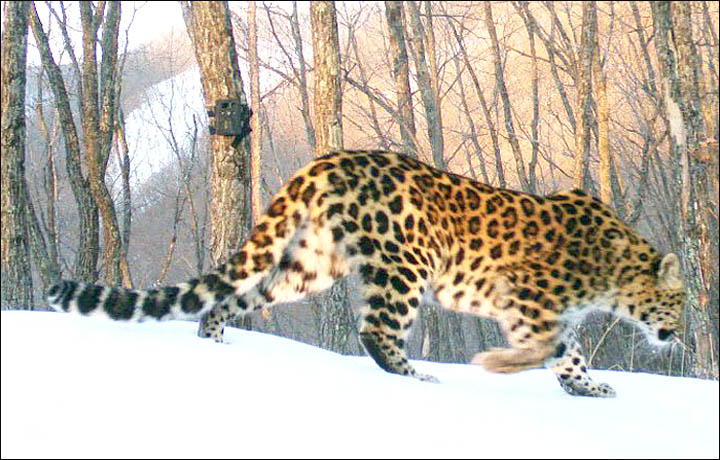 ---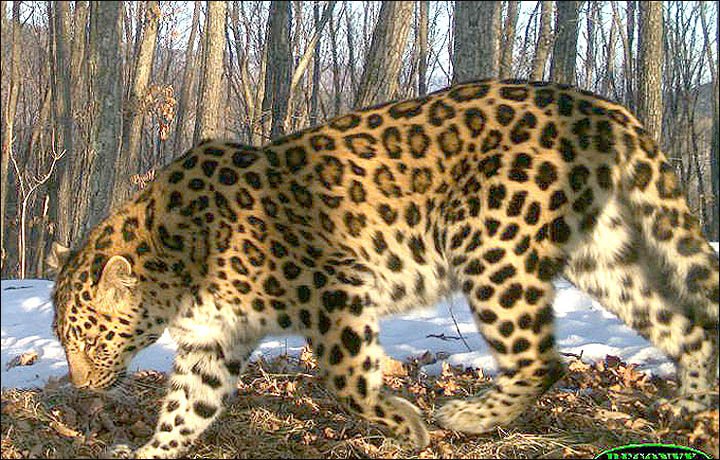 Pamela Anderson and Pamela the leopard. Pictures: Alexey Druzhinin, Ria Novosti and The Land of the Leopard Nature Reserve
---
Anderson said she wanted to explore Russia further, after two trips in less than half a year, both dedicated to the preservation of wild animals.
Indicating she planned to cross Siberia by train, she said: 'I don't know anything about the middle of Russia. I've been to Vladivostok, I've been to Moscow, St. Petersburg. But what's in the middle?'
She said: 'So I think I am going to take my kids on a train maybe and go through the whole of Russia.'
Later she said she would use a train or plane 'whatever it takes'.
'I have seen some photographs, and I have seen some beautiful places,' she explained, meeting the media.
Americans 'have no idea how beautiful' Russia is, she added. 'I would like to know it [Russia], I want to see it,' she said.
The 48-year-old Canadian born celebrity met Ivanov and Russian Natural Resources and Environment Minister Sergey Donskoi.
In July, the actress sent a letter to President Putin asking him to block the passage of the Winter Bay cargo vessel through the Northern Sea Route.
The vessel was reportedly carrying more than 1,700 tons of whale meat from Iceland to Japan. Later Anderson asked for a meeting with Putin to discuss environmental issues with him. So far she has not met the president.
Pamela Anderson claims to have Russian origins on her mother's side. Her great grandmother was Russian, according to her, and she reportedly emigrated from Russia to the Netherlands and then to Canada.