The local authorities claim her running repairs to city highways could be counterproductive and dangerous. Picture: Konstantin Khalilov
So far she has gone out at night to mend five potholes with concrete and gravel, and intends to carry on while also inspiring other people to do-it-yourself repairs of local roads. Veronika, 26, a florist, said: 'I got fed up with the state of our roads. I keep hitting potholes, so I thought I'd just go and fill them.'
She has won local acclaim for her actions, but this is not shared by the local authorities, who claim her running repairs to city highways could be counterproductive and dangerous.
Undeterred others are joining her, getting their hands dirty and fixing potholes which, they claim, the city government are neglecting.
Vladimir Lyubimov - subscriber to a group inspired by the 'road fairy', said: 'We're creating units to help the city council. We will be fixing roads ourselves.'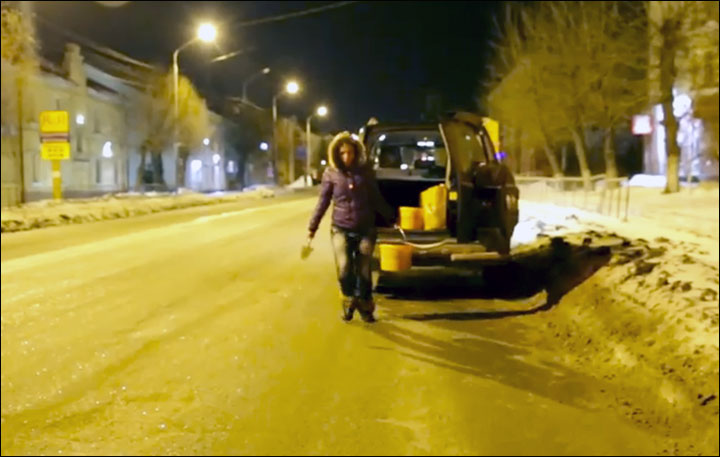 ---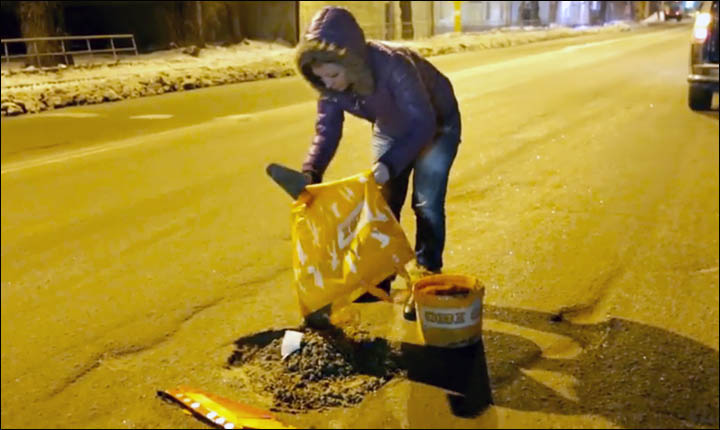 ---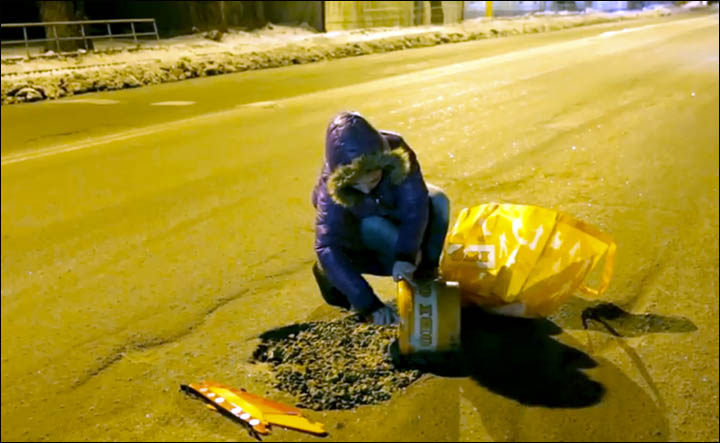 ---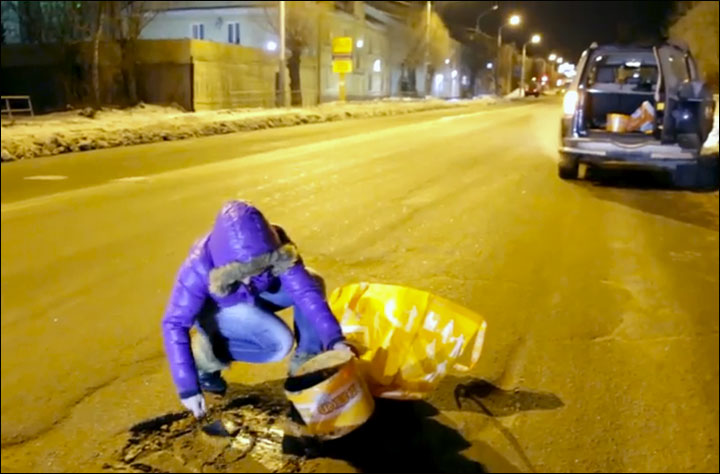 So far she has gone out at night to mend five potholes with concrete and gravel, and intends to carry on. Pictures: Konstantin Khalilov
One online comment said: 'The girl did the right thing, but shame on the government.' Others said that if many people follow her lead in going to war on Omsk's potholes, soon the city roads will be in good condition.
A parliamentary deputy from the ruling United Russia grouping has criticised the Omsk authorities over why a 'road fairy' is needed to mend the holes.
'The prosecutors' office must find out why the streets of Omsk are fixed by a local woman, and why local officials are talking about road safety when discussing her,' said Alexander Vasiliyev. 'The phenomenon of the 'road fairy' is a shame on Omsk city council. It turns out that the residents can only rely on themselves.'
One social media user demanded: 'Give the mayor a bucket and a spade, let him repair the roads.'
The mayor Vyacheslav Dvorakovskiy, however, takes a dim view of the repairs. 'If this kind of job is done using unknown materials and unknown skills, it can actually be a disservice,' he said. 'The best thing to do is report any defects in the road surface to us, and we'll do our best to repair them as soon as possible.'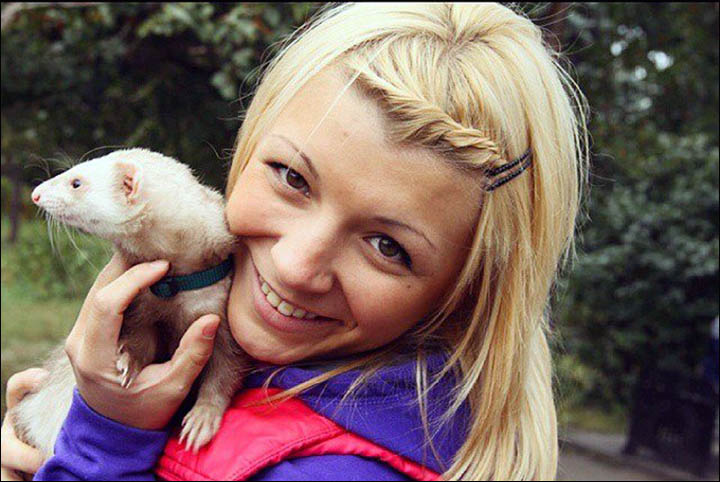 ---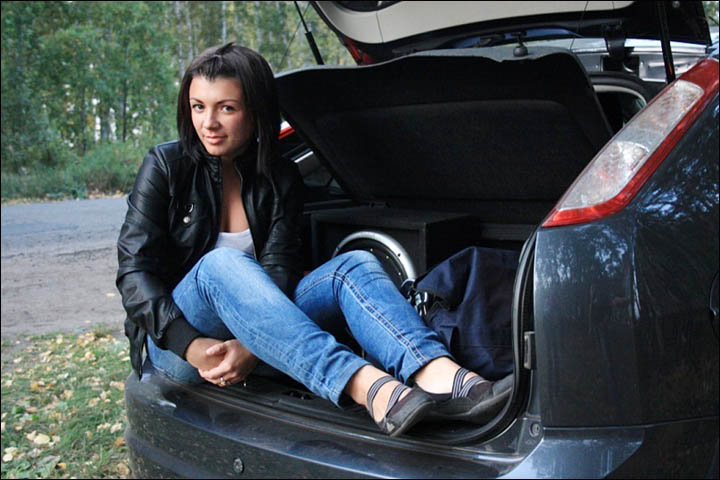 Veronika, 26, a florist: 'I got fed up with the state of our roads. I keep hitting potholes, so I thought I'd just go and fill them.' Pictures: Veronika Bobrus
Vladimir Kazimirov, director of the city's road and landscaping department, warned that people who fix the potholes will be blamed for the road traffic accidents close to potholes fixed by activists.
It is not the first time when Siberians have taken action on road repairs. Last year Vasily Zavgorodny, a farmer from Preobrazhenka village, also in Omsk region, used an inheritance to start raising money to build an asphalt road.
Other residents contributed cash and 100 local people constructed a 1.3-km road themselves.