No significant abnormal waves were reported on Baikal, which contains some 20% of the world's unfrozen fresh water. Picture: The Siberian Times
Tremors were felt in the Republic of Buryatia and in Irkutsk region which border the huge Siberian lake, with those affected reporting a 'terrible rumble' and a 'roar' as the earth shook.
The epicentre was near Olkhon Island, 26 kilometres from the village of Khuzhir in Irkutsk region and 35 km from Gremyachinsk village in Buryatia. It struck at 2.27 am local time on Thursday (6.27 pm GMT on Wednesday), said the Baikal branch of the Russian Geophysical Service .
No casualties were reported but the tremors were felt up to 220 km from the epicentre, with many people woken at night by their beds shaking - and a loud 'roar' that preceded the quake.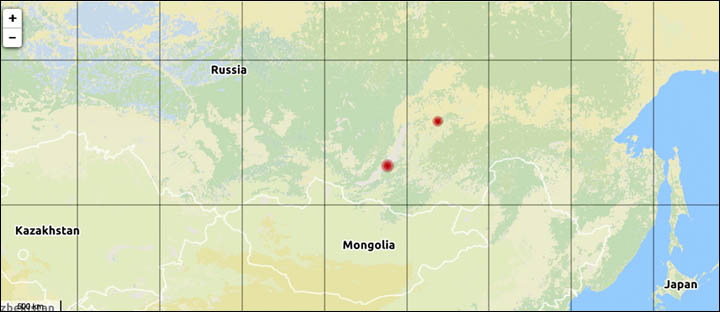 ---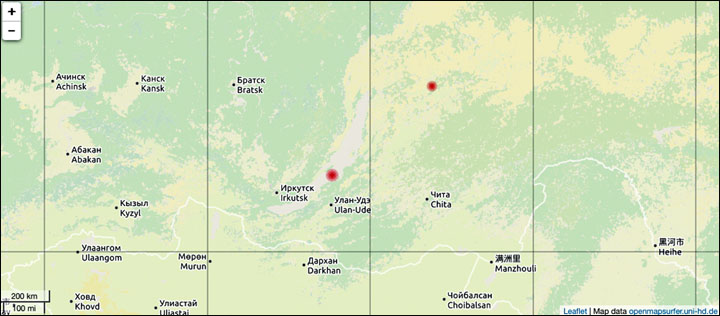 http://siberiantimes.com/science/opinion/features/f0058-is-a-potentially-catastrophic-earthquake-on-the-way-in-siberia. Pictures: Geophysical Service of the Russian Academy of Sciences
No significant abnormal waves were reported on Baikal, which contains some 20% of the world's unfrozen fresh water. 'There were neither casualties nor destruction,' reported the Emergencies Ministry.
The social media was alive with accounts of the quake. 'I live in Sontikovo, in a private house, and at first there was a roar for a few seconds, then the tremors. Even the lamp was blinking,' wrote one.
'I felt two small and one big tremor. I live on the 8th floor - how scary... and did you hear the noise? It's terrible...', reported another. 'Has anyone heard the terrible rumble when the tremors started?' asked one more.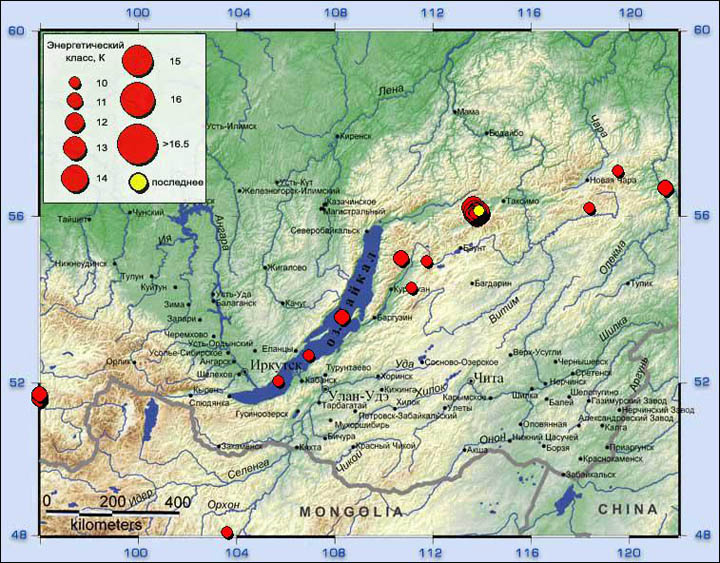 More than 50 major tremors have been registered around the north of Lake Baikal in first half of 2015, varying in magnitude from 3.0 to 5.0 on the Richter Scale. Picture: Baikal Branch of Geophysical Service, Russian Academy of Science
Another account said: 'I was lying alone in the room, a terrible roar, all starts to shake... I almost lost my mind.' Beds and furniture were 'shaking', with chandeliers and dishes rattling.
Ahead of the quake dogs and cats appeared know of the impending earthquake, said residents. 'Dogs barked for seemingly no reason - now we know why,' said one. 'My cat went crazy before the earthquake. Ran like crazy, screaming,' wrote another. 'After the the house was shaken, she ... calmed down. Scary.'
Another householder said: 'Our rabbit was running around the cage, as if 'looking for the fifth corner' during the earthquake! Poor guy.'
A second earthquake was reported near Severomuisk in the north of Buryatia at 8 am on Thursday. Experts say the Baikal region is located in a seismically active zone.