1 May parade in Yakutsk, Siberia. Picture: The Siberian Times
The festive march along Lenin Street in the centre of Yakutsk lasted for nearly four hours, despite cool weather (14C) and light rain.
The May Day Parade, known in Russia since 1917 as The Day of International Solidarity of Workers, has always been a favourite holidays in Yakutsk, with people preparing costumes and rehearsing performances to present their enterprises in the most impressive way.
A small podium under a statue of Lenin in the centre of the city was used by senior city officials to wave at the passing columns - just like in Soviet times.
A separate stand was allocated for honoured citizens of Yakutsk and veterans. Two presenters announced the participants marching past, listing each company's honours and often exclaiming 'Hurray, Comrades!', to which crowds of onlookers cheerfully responded with mighty hurrahs.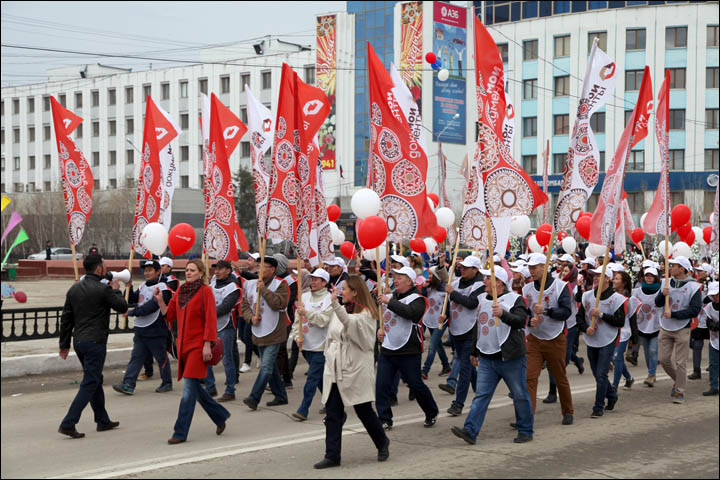 ---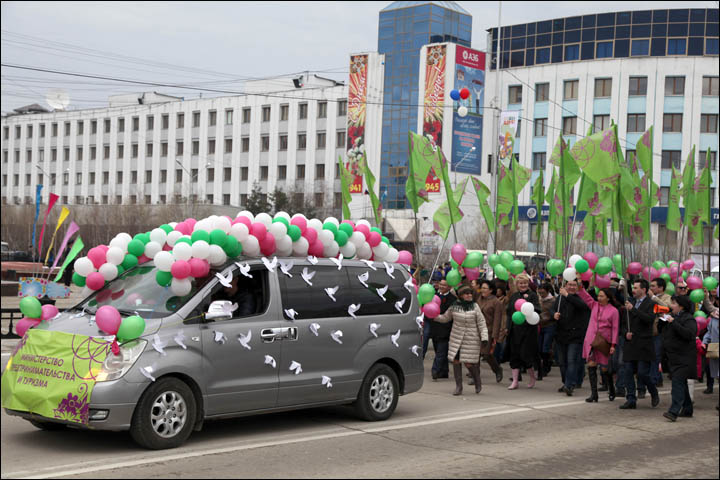 ---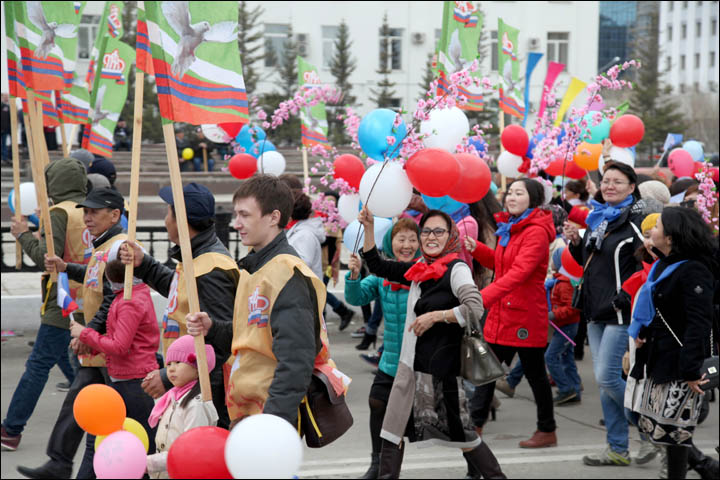 ---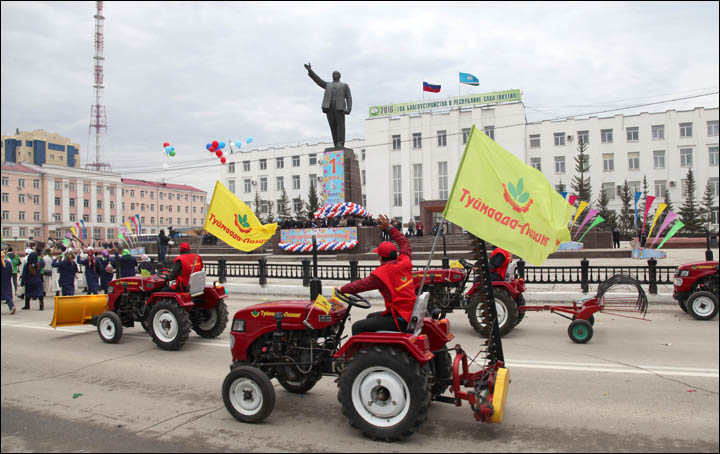 ---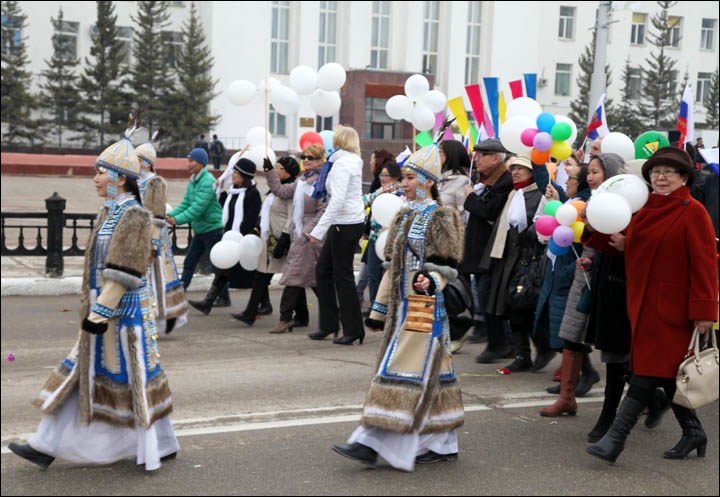 'I didn't see any May Day parades of such scale and passion since Soviet Times'. Pictures: The Siberian Times
---
There were banks and schools, gas and diamond mining companies, theatres and rescue services, all waving bright red, white or green balloons, or carrying paper flowers and doves. Teenagers joined the columns on bikes or roller skates, many parents had babies and toddlers with them.
City Mayor Aysen Nikolayev sent his best wishes to people of Yakutsk, the coldest city in the world. and the largest build on permafrost.
'Our city is a true labourer, and today we are united in celebrating this special day. I wish you all happiness, health, and love,' he said.
A visitor from Novosibirsk, Svetlana, 37, said: 'I didn't see any May Day parades of such scale and passion since Soviet Times. It was just like a time machine.
'I came to the centre of the city because I heard this loud 'Hurray, comrades!' and was stunned to see so many people cheering and marching as if we were back in the 1980s. It is clearly one of the most favourite holidays for people of Yakutsk, and the central square was packed.'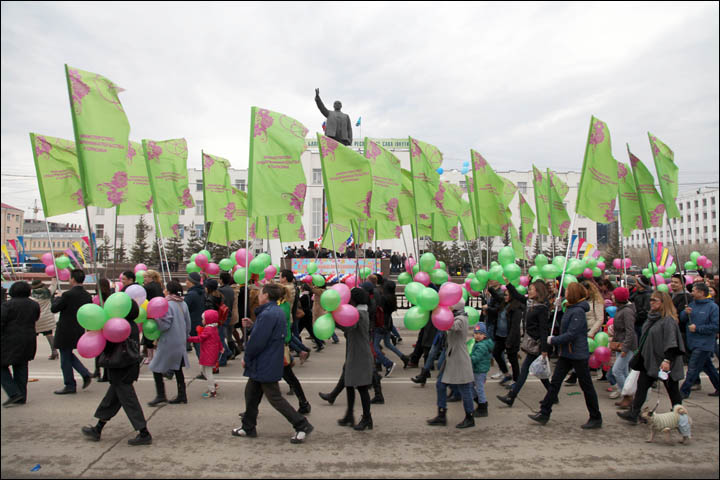 May day march and below Easter night service in Yakutsk, Siberia. Pictures: The Siberian Times
---
Elsewhere, residents marked Orthodox Easter Sunday on 1 May by baking the biggest kulich (an Orthodox Easter holiday cake) in the world.
A dozen bakers and pastry cooks at a local bakery spent about three days creating a 1.5-meter tall treat weighing 400 kilograms (over 880 pounds).
According to RIA Novosti, it took 200 kilograms of flour, 60 kg of sugar, about 900 eggs, nearly 50 kg of icing, 20 kg of candied fruit and 18 kg of raisins to bake this culinary wonder.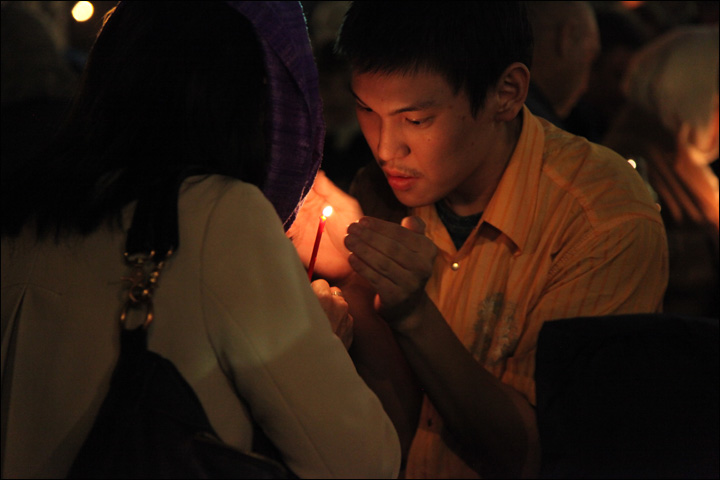 ---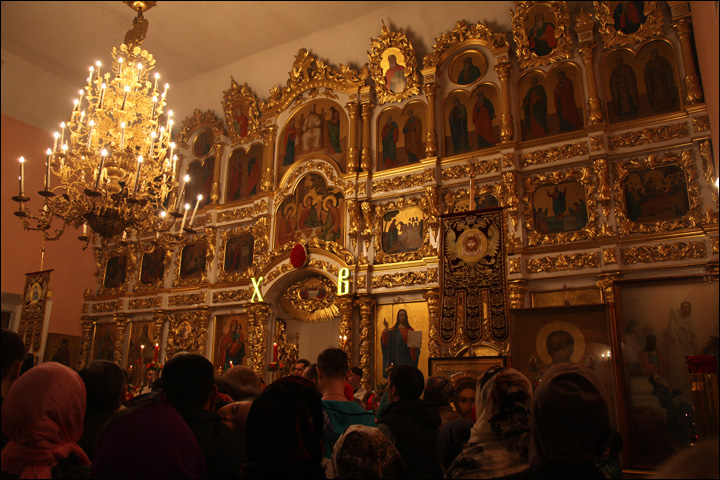 ---