Yoann Barbereau is accused of posting online a picture of himself and his daughter in which they were both naked. Picture: Facebook
A petition is demanding the release of Yoann Barbereau, detained in Siberia on suspicion of distributing child pornography in February 2015.
The director of the French cultural and language centre Alliance Francaise in Irkutsk was held for 71 days in a detention prison, placed under observation in a psychiatric hospital, and is now under house arrest.
He is accused of posting online a picture of himself and his daughter in which they were both naked.
But his supporters allege he has been framed and is the victim of 'preposterous and scandalous accusations' which can be easily disproved yet he now risks up to 20 years in prison.
The accusations are based on 'fabricated evidence and falsified documents without regard for the most elementary principles of legality', according to the petition.
'It is high time to end the suffering of a great friend of the people, of Russian culture and language, an artisan of the friendship between France and Russia,' it adds. The case centres around one picture deemed 'pornographic' uploaded to a website dedicated to advice for young mothers.
His legal team say the claim is 'absurd', and that there is proof that Barbereau was not at his home when the account from which the upload originated was opened.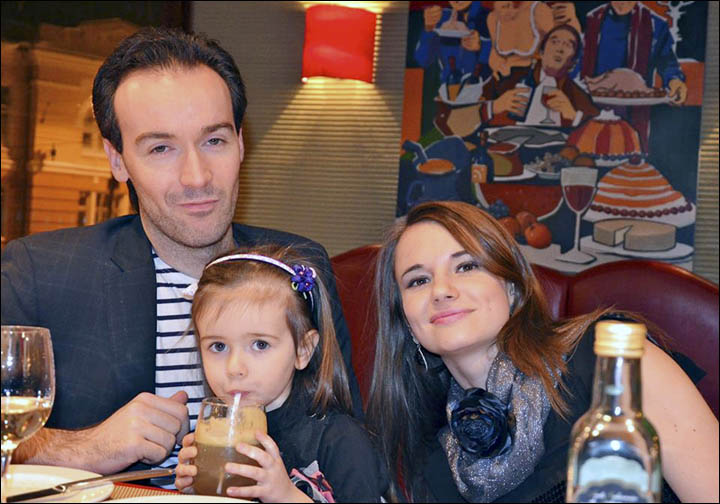 ---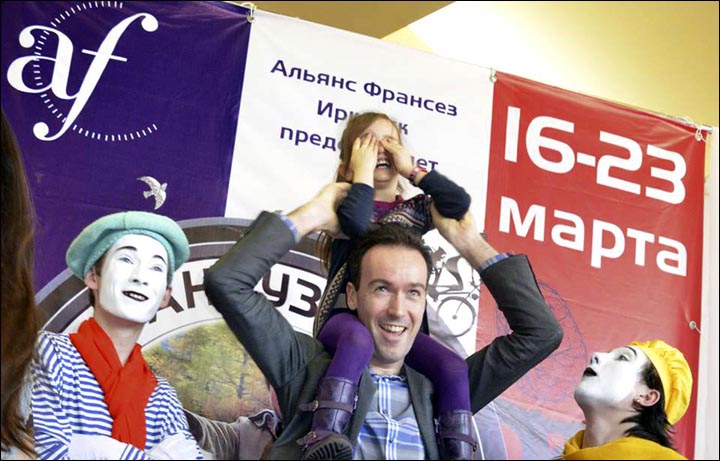 Yoann Barbereau's wife claimed Irkutsk law enforcement 'ruined our family' and made her daughter 'unhappy'. Pictures: Facebook
'Thus, Yoann Barbereau cannot physically be the individual who uploaded the incriminating images. He is evidently the victim of this act,' said a statement. The main offending picture is 'a banal scene of family life', according to the cultural official's supporters.
He and his young daughter - believed to be under seven - 'are separated by more than a metre' and the image 'has no sexual character'. Among 10,000 images confiscated from his storage hard drive 'no single other photo was found' with pornographic content, it was claimed.
'In these conditions, the absurdity of the accusation is striking,' states the petition. Yet Barbereau is also alleged to have sexually assaulted a minor - his daughter, it is claimed.
'The accusation is based solely on the interpretation by the investigators of a report written by an expert who has never met the child, as well as on interviews of which a part is fabricated (the non-recorded portion not on the video) and of which the other part (recorded) permits the entire accusation to be discredited, given how visible it is that the child was odiously manipulated to answer in the affirmative to the investigators' suggestions,' it is claimed.
'Neither the mother nor the child have accused Yoann Barbereau. No witness supports the accusation. During the entirety of the investigation, Yoann Barbereau has never been questioned concerning these alleged pedophilic acts.'
Yoann Barbereau is now under house arrest. Picture: France Bleu
The accused's wife Dasha is said to be Russian. She has accused Russian law enforcement bodies of 'cruelty' as well as 'lies (and ) frauds'. She claimed Irkutsk law enforcement 'ruined our family' and made her daughter 'unhappy'.
Poet and philosopher Jean-Claude Penson claimed last month that Dasha was forced to sign false accusations that her husband was a threat.
'Under pressure of the investigators, she signed these statements. She refused the statements as soon as she was able to leave Russia.'
The petition was created by Thierry Guidet, head of Barbereau's support committee, calls for action from Russian president Vladimir Putin and his French opposite number Francois Hollande. Putin should intervene to stop 'multiple infringements of the law', while Hollande should seek Barbereau's freedom.
'We demand that Yoann Barbereau be freed, that his status as victim be recognised, and that those who participated in the fabrication of a case against him be prosecuted.'
The Russian Investigative Committee said that in late December 2014, the Frenchman 'posted pictures and video with pornographic images of minors' on to a website. He was detained when 'investigative actions' were conducted.