The park's director denied the accusation. Picture: Dmitry Mezentsev
The friendship between tiger Amur and goat Timur, intended as the big cat's lunch, was a fake, said former Primorsky Safari Park Evgenia Patanovskaya.
The odd couple were shown around the world after they forged their apparent bond.
The ex-PR said that said that initially when Timur was taken to the Siberian tiger, it was a 'mistake' because the predator was already well fed.
'Amur the tiger just did not eat the goat Timur, because he was not hungry,' she wrote. 'Since he did not eat it, I asked the staff of the park to feed Amur, so he would not eat Timur. That's how we held out for two months.
'They called it 'friendship' of the tiger and a goat, though the tiger was just well fed, and, as we know, a tiger not in the wild does not make food stocks.'
She claimed park director Dmitry Mezentsev seized on her idea as his own and behaved 'inadequately' to her.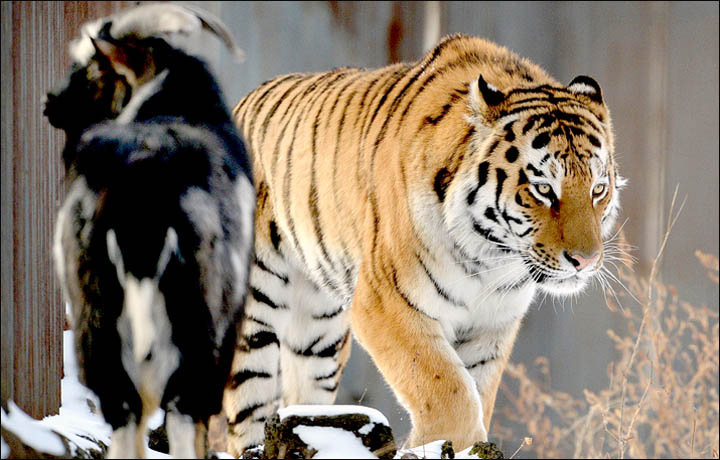 An extraordinary friendship, or a PR stunt? Picture: Dmitry Mezentsev
---
After she left, the tiger lashed out at the goat, and the animal required surgery.
Patanovskaya provided her version in an online resume detailing her career, which was found by journalists.
Mesentsev not only denied her version but also called her a 'sick woman'.
'There were a lot of fakes around this [Timur and Amur] story, and this is just one of them,' he said.
He claimed his ex-employee thrived on 'conflict' and that he did 'not want to remember her'.
'She is the only employee who clashed with the whole team. She is a sick woman.'