Little Tserin with his parents. Picture: Dan-Khayaa Kurzhepey
Little Tserin Dopchut - who vanished when he was playing with a dog and two puppies - was hailed as a local hero after his survival ordeal during which he sheltered under a larch tree. Now his mother 22 year old Dan-Khayaa Kurzhepey has revealed her son has suffered no ill-effects from his frightening experience, but admitted she told him off for wandering unnoticed into the forest.
Our picture shows him with his mother, and father Arzaan Dopchut, 23, a soldier in the Russian army. The dogs all stayed with lost boy for the first night, but on the second day he had only one puppy as the others made their way home, she said.
But the third night, Tserin was all alone.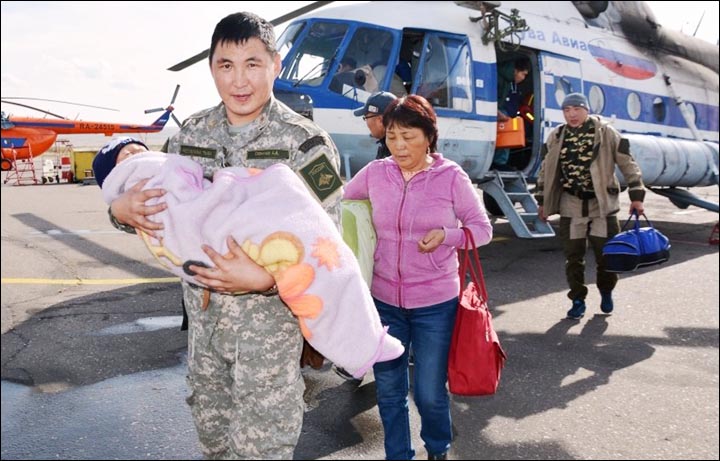 'He's a fighter, I knew he'd survive', says Tserin's mother. Picture: Sholban Kara-Ool
---
Yet rescuers followed the direction from which the puppy had come, and eventually found him. He told his mother he was desperately cold and how he plaintively had called out in vain for the second puppy to come back to him to keep him warm.
With tears in her eyes, she said: 'He spent three days in forests, with only the trees around. God knows what he saw in the night. He told me how he was calling me: 'Mama, mama...'
'God knows how long he was calling me that way.'
Speaking from hospital in Tuva region where he is being monitored, she said: 'He talks like before and remembers everything. He is all the same, my Tserin.
'He doesn't tell me much about what happened, but doctors say this is normal.'
She insisted: 'For all these days, I did not lose hope, not for a second. I know my son, he is a fighter. I believed that he will survive.
'Of course, I worried terribly, but I tried not to think bad things. I forbade myself because all the bad things can become real and that should not be.
'I knew, we should never give up.'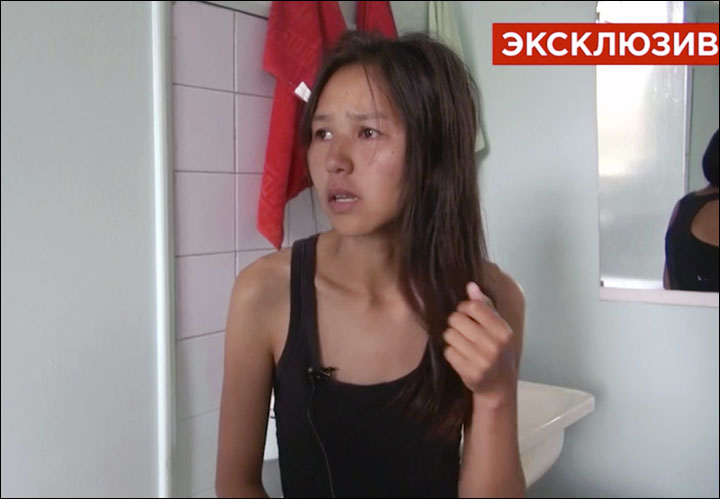 ---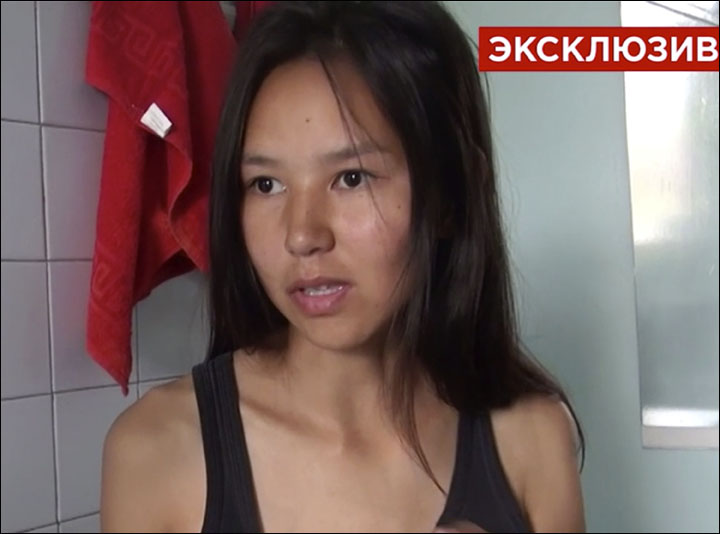 ---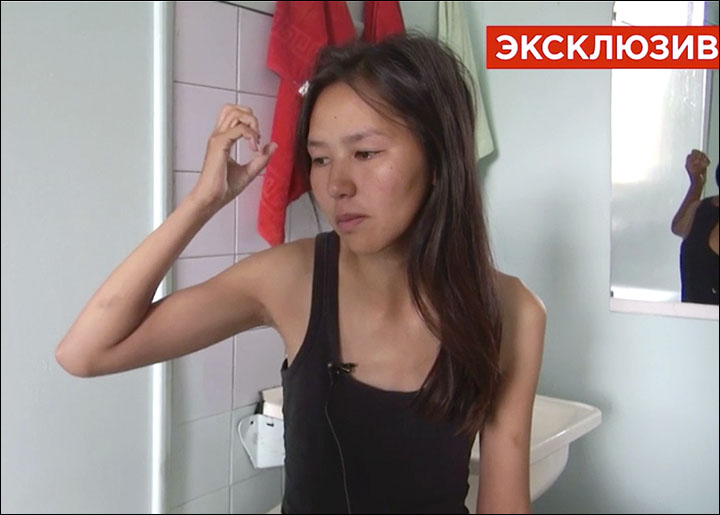 Tserin's mother Dan-Khayaa speaking from a local hospita. Pictures: Life News
---
His mother - a law student - was helping her husband's family bring in the last hay in their village when her son, looked after by his great grandmother, went missing.
'He went with three dogs - two puppies and one adult,' she said. 'He himself told me about this.
'I asked him - why did you go so far away, you know the forest is prohibited? He doesn't reply to me, obviously he aware of his guilt, that he was not supposed to wander so far.
'During the first day he was with three dogs, on the second day only one puppy was with him, and on the third day he was all alone.
'He told me: 'I was calling the puppy - come here, come here puppy!'.
'He also told me he was very cold.'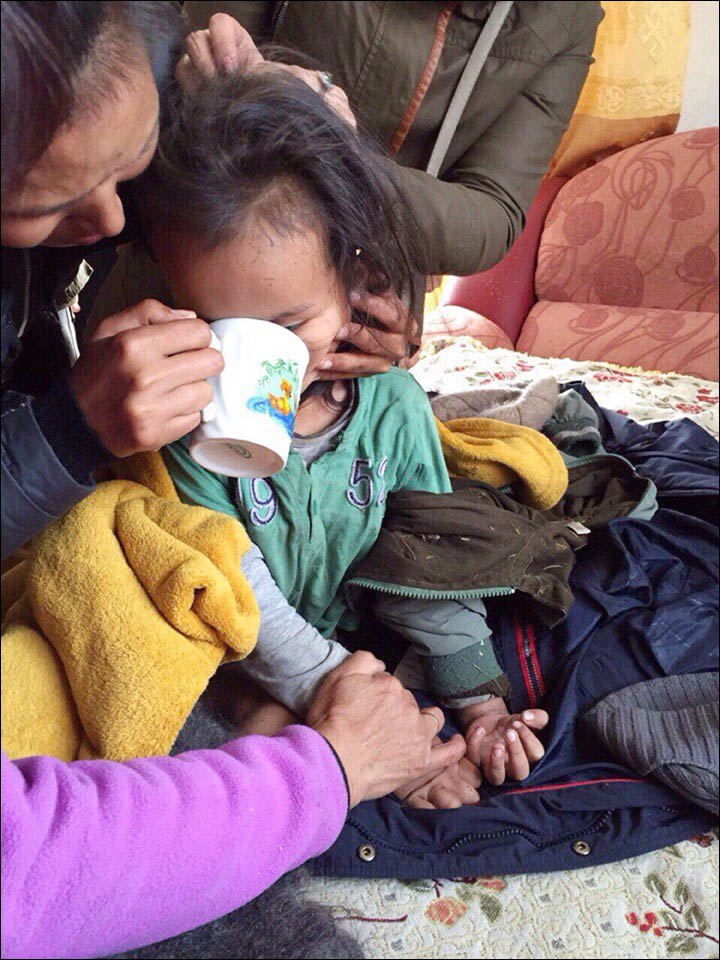 Found safe and sound, Tserin pictured minutes after he was discovered. Picture: Sholban Kara-Ool
---
Yet somehow Dan-Khayaa remained astonishingly stoical as hundreds of searchers sought her son.
'Knowing my child well, I did not despair,' she said. 'Even when my neighbours told me there were wolves there, how cold it is, and all about the taiga, and by then he was already missing for three days, and how an adult cannot spend even a day in the forest like that....
'But I did not think something bad had happened. I knew that my child was alive, that he can endure everything - and on the third day he was found and now he is next to me.'
She said: 'We got such a support, people from Tuva and from all over Russia, passing the words of support and joy that all ends well.
'I'm so touched with this.'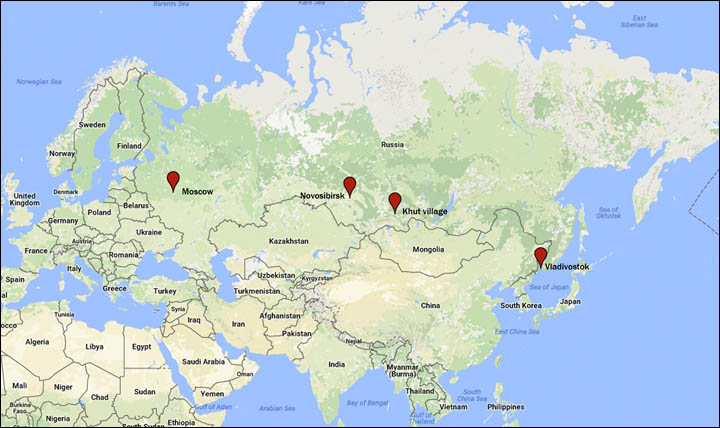 Khut village marked on the world map. Picture: The Siberian Times
---
Tserin was wearing only flimsy clothes for the warm day when he was lost, but but temperatures sank to freezing or below at night.
Tuva governor Sholban Kara-Ool was involved in the search for the boy, and announced its success on his blog.
'He recognised his uncle's voice calling his name, and called back. Once his uncle hugged him, the little boy asked if his toy car was okay.
'He said that he had some chocolate which he ate during the first day; then he found a dry place under a larch tree and slept there between the roots.
'The whole village is throwing a party to celebrate his survival. He was given the second name of Mowgli.
'It is now predicted he will become a rescuer himself, because he showed incredible stamina for his age by surviving for so long alone in these cold woods."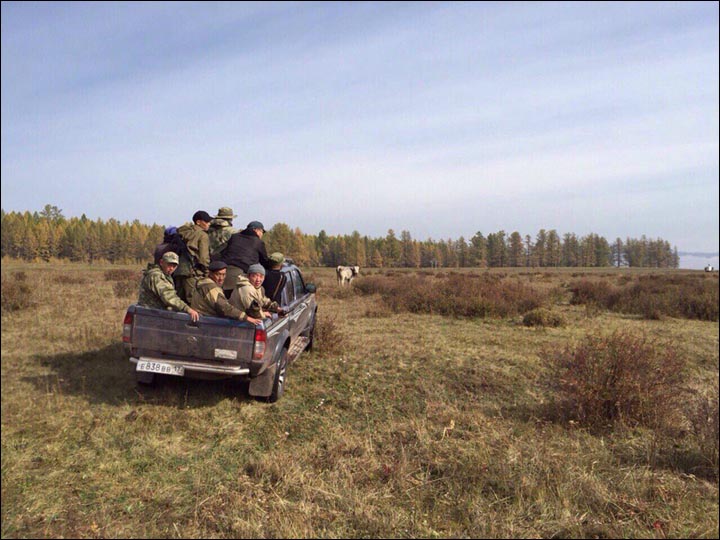 'The whole village is throwing a party to celebrate his survival'. Picture: Sholban Kara-Ool
---
Tuva emergencies' chief Ayas Saryglar admitted:'The situation was very dangerous. The River Mynas is fast and cold; Iif a small child fell in, it would be certain death.
'There are wolves and bears in the forest. The bears are now fattening for the winter, so they attack anything that moves.
'And while it is still warm during the day, at night there are even frosts.
'If we consider that the kid disappeared during the day, he was not properly dressed - only a shirt and shoes, no coat.